by Staff writer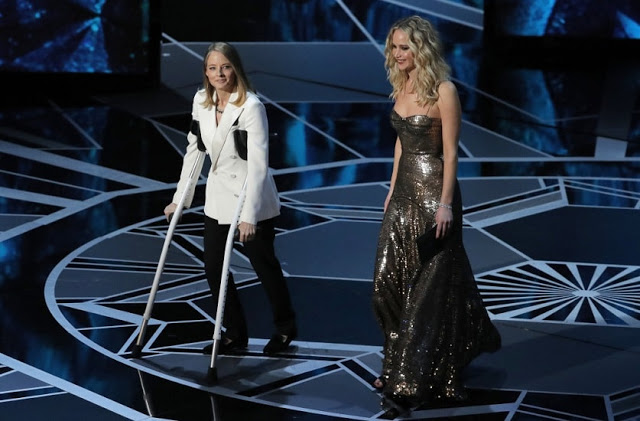 When award-winning actress Jodie Foster and Jennifer Lawrence appeared onstage at the 90th Annual Oscars on Sunday night to present the award for Best Actress, audiences were surprised to see Foster in crutches.

Helpfully, Lawrence asked her what was up.

"She I, Tonya'ed me," Foster joked, referencing Meryl Streep, who was seated in the front row, and the 2017 Oscar-nominated movie that hinges on Nancy Kerrigan's infamous injury.

The two went on to lightly poke fun at Streep's vaunted Hollywood status before getting down the business of awarding the honor — to Frances McDormand for her work in Three Billboards Outside Ebbing, Missouri.

But of course the truth is that Streep had nothing to do with Foster's need for crutches.

The Streep joke however made for a much better onstage banter.

In any case, it was great of Foster to handle her injury with soothing humor and grace, even matching her blazer-and-pants combo with her sharp black-and-white crutches.

Hopefully she'll be back to hitting the slopes in no time.

Here is a video of Jodie Foster playing Defense Secretary Delacourt in 2013 action film Elysium: