by Staff writer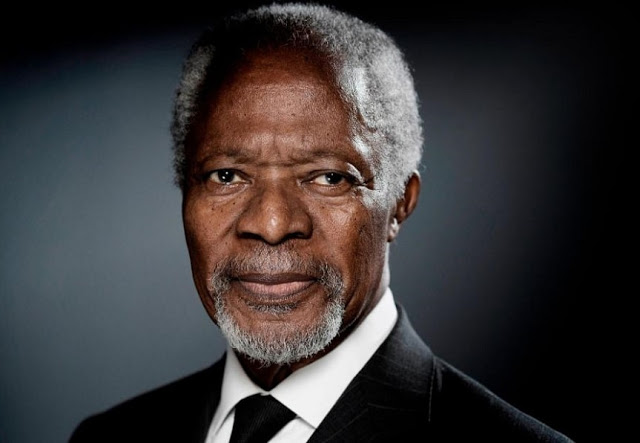 Kofi Annan, the only black African to become UN secretary-general, has died.
The 80-year-old "passed away peacefully on Saturday after a short illness", the foundation named after him said.

His home country, Ghana, has declared a week of national mourning. Mr Annan served two terms as UN chief from 1997 to 2006, and was awarded a Nobel Peace Prize for his humanitarian work.
He later served as the UN special envoy for Syria, leading efforts to find a solution to the conflict.
In a statement announcing his death, the Kofi Annan Foundation described him as a "global statesman and deeply committed internationalist who fought throughout his life for a fairer and more peaceful world".
"Wherever there was suffering or need, he reached out and touched many people with his deep compassion and empathy."
The career diplomat died in hospital in the Swiss city of Bern. He had been living near Geneva for several years.
He was awarded the Nobel Peace Prize in 2001 for helping to revitalise the international body, during a period that coincided with the Iraq War and the HIV/Aids pandemic.
However, Mr Annan was not immune from criticism. His critics blamed him for the UN's failure to halt the genocide in Rwanda in the 1990s when he was head of the organisation's peacekeeping operations.
Later, after the US-led invasion of Iraq, he and his son were accused of being involved in the "oil for food corruption scandal" that led some to call for his resignation, though he was later exonerated.

Tributes have been pouring in from world leaders and diplomats, including UK Prime Minister Theresa May and Nato chief Jens Stoltenberg.

President Vladimir Putin of Russia said the memory of Annan would "forever live in the hearts of Russians".

Indian Prime Minister Narendra Modi said "the world has lost not only a great African diplomat and humanitarian but also a conscience keeper of international peace and security".

Announcing the week of national mourning, Ghanaian President Nana Akufo-Addo called Annan "one of our greatest compatriots".