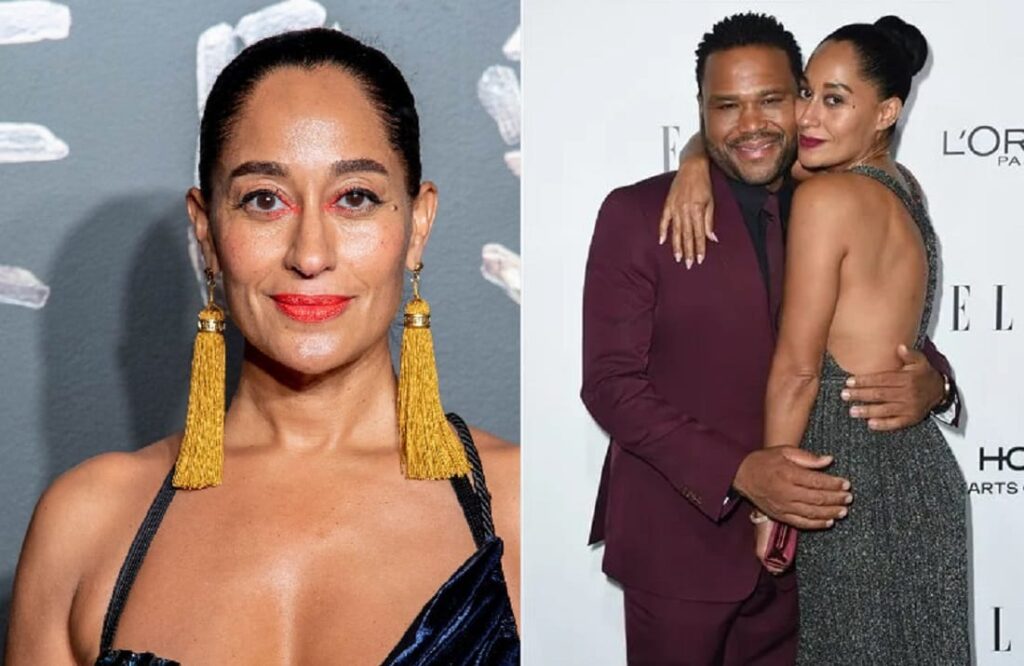 Who is Tracee Ellis Ross?
Tracee Ellis Ross is an award-winning American actress, television host, producer, director and former model. She is best known for her role as "Joan Carol Clayton" in the television series "Girlfriends "and her admirable performance as Dr Rainbow Johnson in the comedy series "Black-ish". She also owns Pattern Beauty, a hair-care line for curly hair.
Tracee Ellis Ross' real name is Tracee Joy Silberstein. She was born on October 29, 1972, in Los Angeles, California, to the iconic Motown singer Diana Ross and music executive Robert Ellis Silberstein. She is 49 years old as of April 2022.  
Tracee Ellis was raised in New York City and Switzerland. Growing up, she and her siblings enjoyed the love and care of their superstar mum, but she didn't raise them with a sense of entitlement. She instilled in them a sense of diligence and dignity, which has helped them to thrive in their chosen careers and walks of life.
Tracee Ellis Ross has two sisters named Rhoda Ross Kendrick and Chudney Lane Silberstein, and two half-brothers, Ross Arne and Evan Olav. She also has three step-siblings, Katinka, Christoffer and Leona Naess.
Her parents separated when she was 5 years old. This early divorce didn't affect her relationship with her dad as she is very close to her dad. She dropped Silberstein when her father decided to drop the name.
She once explained that "I really felt strongly that I wanted my father's name in my name because everyone knows I'm my mom's daughter. But I'm also very much my dad's daughter. And I wanted him, when my name hit a screen, to know that I was also part of him. So, Tracee Ellis Ross, it is."
Tracee Ellis Ross' marriage and Wedding
As of the time of publishing this article (June 2022), Tracee Ellis Ross is not married and does not have a husband.
In a November 2020 interview with Shape, Tracee Ellis talked about her single status, saying:
"I am happily single, though that doesn't mean I am not open to and don't want a relationship. But in my wonderful and robust experience of being single, I have learned to have a productive relationship with loneliness and an intensely juicy relationship with my joyful solitude – I really enjoy my company". 
In her acting career though, Tracee has played both women obsessed with getting married and married women with five children. But in real life, she is very single. She's not completely unconcerned about her single status; she probably just rates living a fulfilled and happy life above society's expectations of marriage and family.
In one of her interviews with Marie Claire, Tracee Ellis Ross was asked if she ever once dreamed of a life with a large family and she answered:
"Well, how could you not? Our society spoon-feeds it to you. I used to put myself to sleep dreaming of my wedding."
She also added:
And I would still love all of that, but what am I going to do, just sit around waiting? Shut up. I've got so many things to do.
About Tracee's rumoured boyfriends
Tracee Ellis Ross tends to keep her love life private because she doesn't like inviting the public and their opinions into her private matter. Her experience growing up in a famous Hollywood family probably informed this decision. She prefers not to talk about who she's seeing.
Tracee Ellis Ross is not in any relationship at the moment, but there were unconfirmed rumours that Tracee has dated men like Nas, Henry Simmons, DeRay Davis, Chris Webber and the Black-ish creator, Kenya Barris. The only relationship of hers that made it to public knowledge was when she dated Akon's younger brother and music manager, Abou 'Bu' Thiam.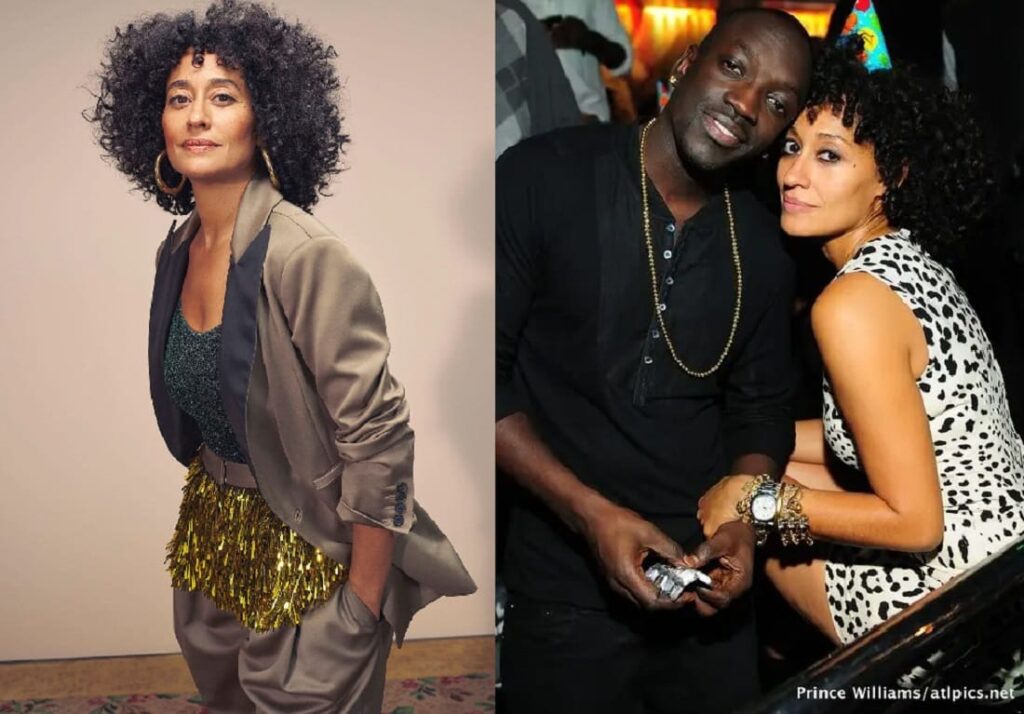 About Tracee Ellis Ross' relationship with Abou "Bu" Thiam
Tracee Ellis Ross' relationship with Akon's younger brother Abou "Bu" Thiam first began as speculation before Abou "Bu" Thiam confirmed it himself after they broke up. Tracee Ellis Ross, on the other hand, never made any comment about the affair during and after it ended.
In 2016, Abou "Bu" Thiam confirmed he dated Tracee Ellis Ross on The Breakfast Club radio, adding that despite that they were no longer together, they would forever be lovers.
He said:
I really do believe that me and her have this genuine unconditional relationship. Out of all the females that I've dated, and not to discredit all other girls, because I have been with some good females in life, she has to be one of the most unconditional, loving, spirited people".
Tracee Ellis Ross and Kenya Barris's relationship
There were rumours in 2020 that Tracee Ellis Ross and Black-ish creator Kenya Barris were dating. The rumours started shortly after Kenya Barris and his wife of 20 years, Dr Rania "Rainbow" Barris announced their intention to split in 2019. It was also reported that Tracee Ellis Ross' character in Black-ish was inspired by Kenya Barris's wife.
Kenya Barris and Tracee Ellis Ross never confirmed they were dating. In fact, the two adults never addressed the rumours. Interestingly, Kenya Barris and his wife Dr Rainbow Barris reconciled in September 2020 and the divorce never happened.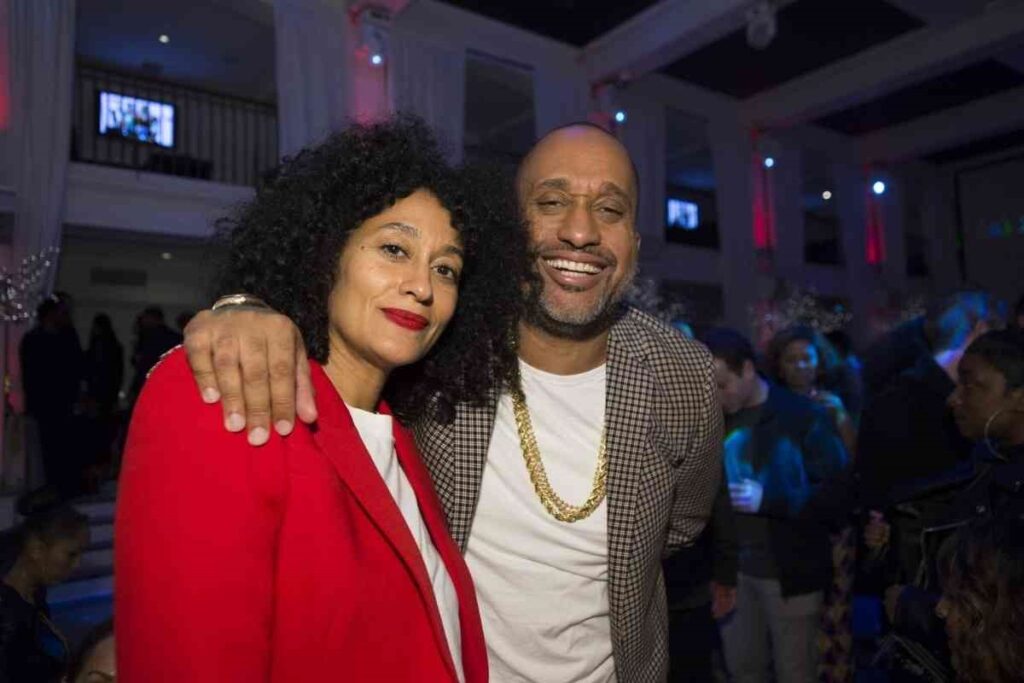 Tracee Ellis Ross' Children
As of the time of writing this article (June 2022), Tracee Ellis Ross has no children of her own.  She appears to be happily pursuing her life goals at the moment. Despite not being a mother, Tracee Ellis Ross loves and cares for her siblings' kids so much. She's a proud aunt to them all.