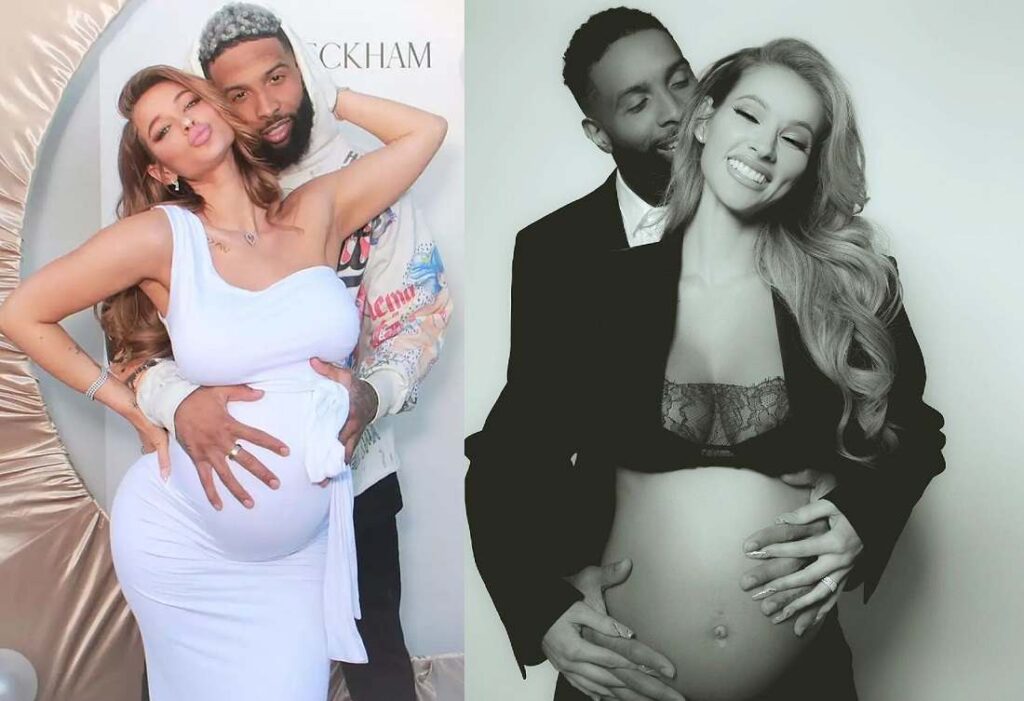 Who is Odell Beckham Jr?
Odell Beckham Jr is an American football wide receiver for the Cleveland Browns of the National Football League (NFL). Throughout his career, Odell has been one of the most productive and popular players in the NFL. Aside from being a footballer, Odell is also an actor known for his appearance in movies like "Ballers", "Code Black", "King Bachelor's Pad" and others. He is also referred to by the nickname "OBJ" by his fans worldwide.
Odell Beckham Jr's full name is Odell Cornelius Beckham Jr. He was born on November 5, 1992, in Baton Rouge, Louisiana, United States. He is 29 years old as of July 2022. Odell was born to his parents, Odell Beckham Sr (father) and Heather Van Norman (mother) as the only child. His father was an American athlete who later became a philanthropist involved in several charity projects including the "Beckham Legendary Inc". His mother, Heather Van Norman is a coach and a track-and-field athlete.
According to reports, Odell Beckham Jr's parents never got married. However, his mother later got married to Olympic gold medalist, Derek Mills with whom she shares a daughter named Jasmyne Mills. On the other hand, Odell's father later got married to Lisa Littlefield with whom he shares two children. In addition, he also has a son with an unknown woman whom he never married. Altogether, Odell has four younger half-siblings – three from his father's side and one from his mother's side. They include Jasmyne Mills, Kordell Beckham, Sonny Odell Beckham, and Summer Odalis Beckham.
About Odell Beckham Jr's half-siblings
| | | | |
| --- | --- | --- | --- |
| Name | Age | Gender | Mother |
| Jasmyne Mills | Mid-20s | Female | Heather Van Norman |
| Kordell Beckham | 20 | Male | Unknown woman |
| Sonny Odell Beckham | 7 | Male | Lisa Littlefield |
| Summer Odalis Beckham | 5 | Female | Lisa Littlefield |
a. Jasmyne Mills is the younger half-sibling of Odell from his maternal side. Although her birth year is currently unknown, Jasmyne is speculated to be in her mid-20s. Apart from this, no other information is known about her.
b. Kordell Beckham is Odell's younger half-brother. He was born on May 27, 2002, to Odell Beckham Sr and an unknown woman. He is 20 years old as of July 2022. Kordell studied at Dawson High school, Texas, the United States of America where he played for the school team until he graduated in 2020.
c. Sonny Odell Beckham is the younger half-brother of Odell. He was born on September 1, 2014, in the United States. He is 7 years old as of July 2022. Sonny is the son of Odell Beckham Sr and his wife, Lisa Littlefield.
d. Summer Odalis Beckham is the youngest child of the Beckham family. She was born in February 2018 in the United States to Odell Beckham Sr and Lisa Littlefield. She is four years old as of July 2022.
Odell Beckham Jr's marriage and wedding
At the time of publishing this article, Odell Beckham Jr is currently unmarried and does not have a wife. The football star has never been married, as of the time of writing. However, Odell Beckham Jr is currently in a relationship with his girlfriend, Lauren Wood. The couple started dating in 2019 and welcomed their first child Zydn Beckham in 2022.
List of Odell Beckham Jr's girlfriends
Although Odell Beckham Jr has tried his best to protect his privacy and keep details of his relationships away from the media, some of his dating secrets surfaced online and even became trending topics. Here is a full list of Odell's girlfriends and rumoured relationships. The list also includes his current girlfriend, Lauren Wood.
Odell Beckham Jr and Amber Rose dated briefly in 2015.
Odell Beckham Jr and Zendaya dated in 2018, reports say.
Odell Beckham Jr reportedly dated Khloe Kardashian in 2016.
Odell Beckham Jr and Bella Hadid had a one-off relationship in 2016.
Odell Beckham Jr and Polyxeni Ferfeli dated in 2017.
Odell Beckham Jr and Laura Cuenca Serrano dated in 2018.
Odell Beckham Jr and Nevaeh Jolie dated in 2018.
Odell Beckham Jr and Lauren Wood started dating in 2019.
About Odell Beckham Jr and Polyxeni Ferfeli's relationship
Polyxeni Ferfeli is a greek model and social media influencer who hit the spotlight following her relationship with Odell Beckham Jr. She was born on March 28, 1994, in Thessaloniki, Greece. She is 28 years old as of July 2022.
Polyxeni and Odell Beckham Jr were first spotted together at the Six Flags Magic Mountain amusement park in California, USA. They were later spotted at Cancun Beach, Mexico and tongues got wagging when photos of them surfaced online. At that time, fans were curious to know about Odell's current girlfriend, but most people knew her because she was previously linked to popular British pop star, Harry Styles. Odell Beckham Jr is known to keep his private life away from the media, but being a football star almost made that impossible because each time they stepped out in public, photos of them were always taken and posted online. After a while, the pair parted ways without revealing the true cause of their breakup.
About Odell Beckham Jr's and Laura Cuenca Serrano's relationship
Laura Cuenca Serrano is a French model and social media star. She was born on September 12, 1987, in Rheda-Wiedenbruck, North Rhine-Westphalia, Germany. She is 34 years old as of July 2022.
According to reports, Laura Cuenca and Odell Beckham Jr probably hooked up during the Paris Fashion Week in 2018. Weeks later, Laura Cuenca leaked a video of Odell that got many people angry, including the New York Giants management. The 7-second video showed Beckham in bed and holding something which appeared to be weed and talking dirty with a girl in the room who was later identified as Laura. Laura was seen holding a credit card and chopping a suspicious white powder which everyone believed was cocaine.
As a result of this, some football fans insisted the Giants Organization should consider trading Odell to another team.
However, Odell later took to his Twitter page to post a tweet that reads:
Old news still makes a good story I guess. #Catchupwerein18
The tweet implied that the video was old but then fans were quick to compare both tattoos on his arms, indicating that the video was recorded recently. It was later confirmed by Laura that the video was a recent one, and she even went as far as inserting a timestamp to prove it. According to sports analysts and commentators, it wasn't a big deal to date beautiful women, but it was indeed a shame and a disappointment to be caught in a hotel room with cocaine.
Unfortunately, Odell Beckham Jr was dragged by many fans who called him names for not being cautious especially when he was asking for an extended contract that would make him the highest-paid NFL wide receiver. Though the request for the extended contract happened before the whole cocaine incident, Odell was eventually traded to Cleveland Browns.
About Odell Beckham Jr and Nevaeh Jolie's relationship
Nevaeh Jolie is an American actress, model and recording artist born in New Jersey, United States. It was reported that the pair had been dating for a while and wanted to make their relationship public. Considering Odell's past relationships, Nevaeh revealed that she didn't want to deal with a "fuckboi" and Odell should be on his best behaviour for things to work out between them. However, during an interview, Nevaeh denied the dating rumours stating that she was quite surprised by the rumours when she saw them online. Therefore, it was never certain if she and Odell were ever an item or only had a secret affair.
About Odell Beckham Jr and current girlfriend -Lauren Wood's relationship
Lauren Wood is Odell Beckham Jr's current girlfriend, as of July 2022, and the mother of his first child. Wood is an American model who is famous for her appearances on the sixth and seventh seasons of the MTV comedy show "Wild 'N Out". Lauren Wood was born on March 13, 1993, in Texas, United States of America. She is 29 years old as of July 2022.
According to information gathered by DNB Stories Africa, Beckham Jr and Lauren started dating months before going Instagram official in November 2019. The couple had initially kept their relationship on the low, until Lauren Wood posted a compilation of photos of them on Instagram to celebrate Odell's 27th birthday. A year later, they made their first red carpet debut as a couple at the 2020 Vanity Fair Oscars Party which took place on February 9, 2020, in Beverly Hills, California. On March 14, 2020, which was Lauren Wood's 27th birthday, Odell also posted the same compilation of pictures she used for his birthday with a heartwarming caption that reads:
It's all about the person you can be yourself with. I find that this world takes itself a little too seriously. Life is full of moments, happy or sad but…what you chose to fill them with is on you. I thank you for being you. YUMI… happy born day.
On January 16, 2021, the couple went for a daycation to Sedona, Arizona, United States, and months later, they both announced they were expecting their first child. A year later, the couple welcomed their first child on February 17, 2022.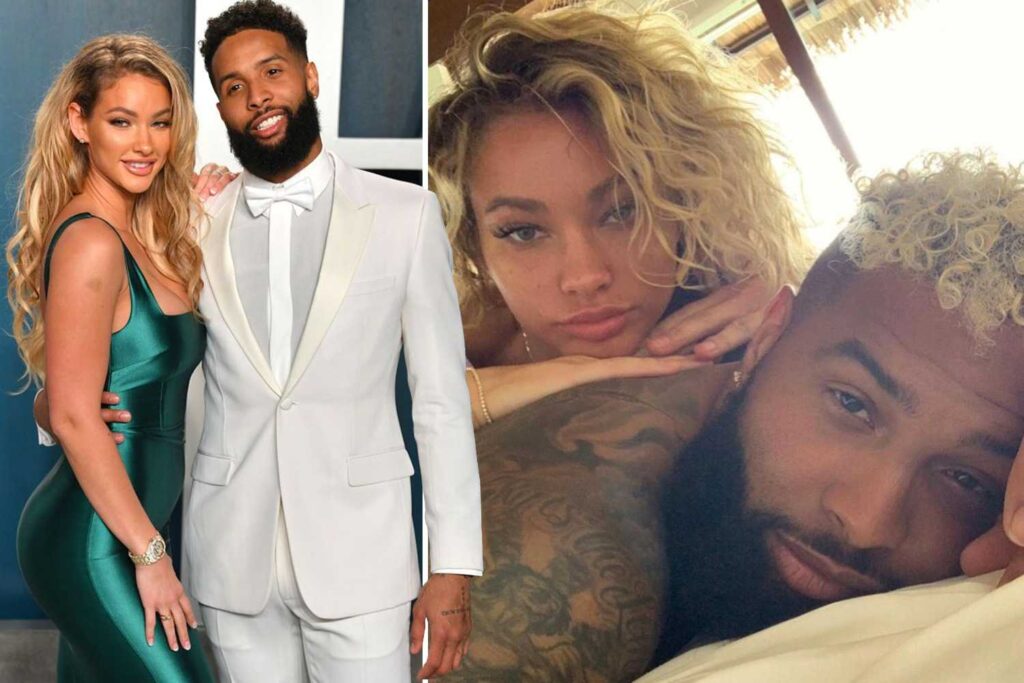 Odell Beckham Jr's children
As of July 2022, Odell Beckham Jr has one child named Zydn Beckham whom he shares with his current girlfriend, Lauren Wood. Zydn Beckham was born on February 17, 2022, in the United States of America. He is five-month-old as of July 2022. Zydn was born a few days after his father won his first Super Bowl ring with the Los Angeles Rams. The excited football star took to his Instagram page to announce the arrival of his son.
He wrote:
2-17-22,0605. The biggest blessing I've ever had in my life arrived here on earth! The words, I can't even put together for the overwhelming emotions that ran thru me…a moment I will never forget and cherish forever. Zydn was born n at that moment I knew my life changed for the better.
He also penned down a heartwarming note for Lauren as an expression of his gratitude.
Lauren Wood, u changed my life forever and delivered the most beautiful gift of all…EFFORTLESSLY! Ur strength throughout this gives me the courage to keep going because I now know with u by my side and holding it down for me, I can get thru anything.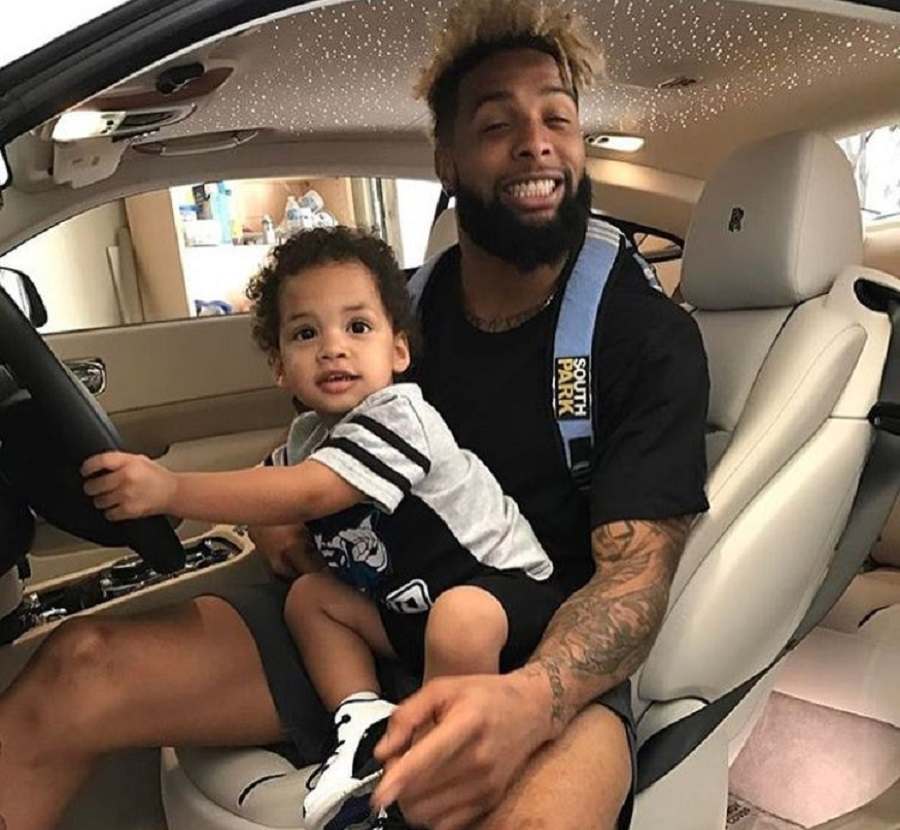 Odell Beckham Jr's gay and sexuality misconception
Rumours about Odell Beckham Jr being gay surfaced online after the athlete shared a photo with his teammates sharing a hot tub. The rumours intensified after fans started pointing out that Odell was always surrounded by men and kept details of his love life away from the media. Some even went as far as calling him an emotional player which implies being low-key gay. As the comments and speculations mounted, Odell Beckham Jr had to clear the air by telling everyone he is straight and wasn't in any way offended by the rumours. He further disclosed that he had gay friends and is always going to do the opposite of what everyone wants him to do.