Who is P. Diddy?
P. Diddy is a famous American rapper and music producer. He is the founder of the record label "Bad Boy Records," which birthed top American artists like Usher and Mary J. Blige. P. Diddy is known for his hit songs like "I Need A Girl," "Bad Boy For Life," "I'll Be Missing You," and many others.
P. Diddy, aka Puff Daddy or Puffy, became popular in the late 90s following the success of his debut album, "No Way Out." Aside from being a musician, Diddy is a successful businessman. For instance, he owns a thriving clothing line called "Sean John." He is also a major distributor of the popular alcoholic drink, Cîroc, owned by Diageo PLC. Though P. Diddy is not a Forbes-confirmed billionaire yet, he is one of the richest rappers in the world.
P. Diddy's real name is Sean Love Combs. Born on November 4, 1969, Diddy is 52 years old as of July 2022. The phenomenal rapper was born to Janice Combs (mother) and Melvin Earl Combs (father). When Diddy was two years old, his father died. So Diddy was raised only by his mother, Janice Combs, in Mount Vernon, New York.
In 2015, P. Diddy was arrested and accused of assault with a deadly weapon at the University of California, Los Angeles. However, he was later released on bail the same day. In 2022, Combs officially dropped his stage name "Diddy" for his real name "Love."
About P. Diddy's siblings
P. Diddy's only known sibling is his sister – Keisha Combs. Unlike her brother Sean, Keisha is naturally a private person. Hence her details are currently scarce in the media. However, Diddy's sister has graced red carpet events on a few occasions alongside her talented brother and their mother, Janice.
P. Diddy's marriage and wedding
As of July 2022, P. Diddy is not married and has no wife. In fact, the hip-hop star has never been married. It seems Diddy is not ready for marriage at this time, or perhaps he is unsure if he would make the best husband.
He disclosed in an interview in 2013:
"I'm brutally honest with myself. I don't want to get married and not make that woman be the best."
While Diddy is not married, he has dated many beautiful female celebrities. Most notably, he dated singer Cassie Ventura and actor Kim Porter for many years. In fact, P. Diddy dated Cassie for over 10 years, and most people even believed he married her in 2014. However, they never got married. Instead, they ended their relationship in 2018 because Diddy wasn't ready to get married, reports say. Recently, Diddy confirmed that he is dating singer Yung Miami.
List of P. Diddy's girlfriends
American rapper P. Diddy has reportedly dated or hooked up with over 10 women. Here's the full list of all the women P. Diddy has dated:
Kim Porter and P. Diddy dated for about 8 years after meeting in the 90s.
Sarah Chapman and P. Diddy secretly started dating in the 90s. And in 2006, they had a fling resulting in the birth of their daughter, Chance.
Misa Hylton-Brim and P. Diddy briefly dated in 1993. Their brief romance resulted in the birth of their son, Justin Combs.
Jennifer Lopez and P. Diddy were in a relationship between 1999 – 2001.
Naomi Campbell allegedly dated P. Diddy in 2001.
Cameron Diaz and P. Diddy had a fling in 2008.
Cassie Ventura and P. Diddy were in an on-and-off relationship for several years before separating finally in 2018.
Lori Harvey, the adoptive daughter of comedian Steve Harvey, and P. Diddy allegedly dated briefly in 2019.
Gina Huynh and P. Diddy had a fling in 2019, reports say.
Miracle Watt and Diddy sparked dating rumours in 2021.
Joie Chavis and Diddy allegedly dated in 2021.
Yung Miami and P. Diddy are currently dating, as of July 2022.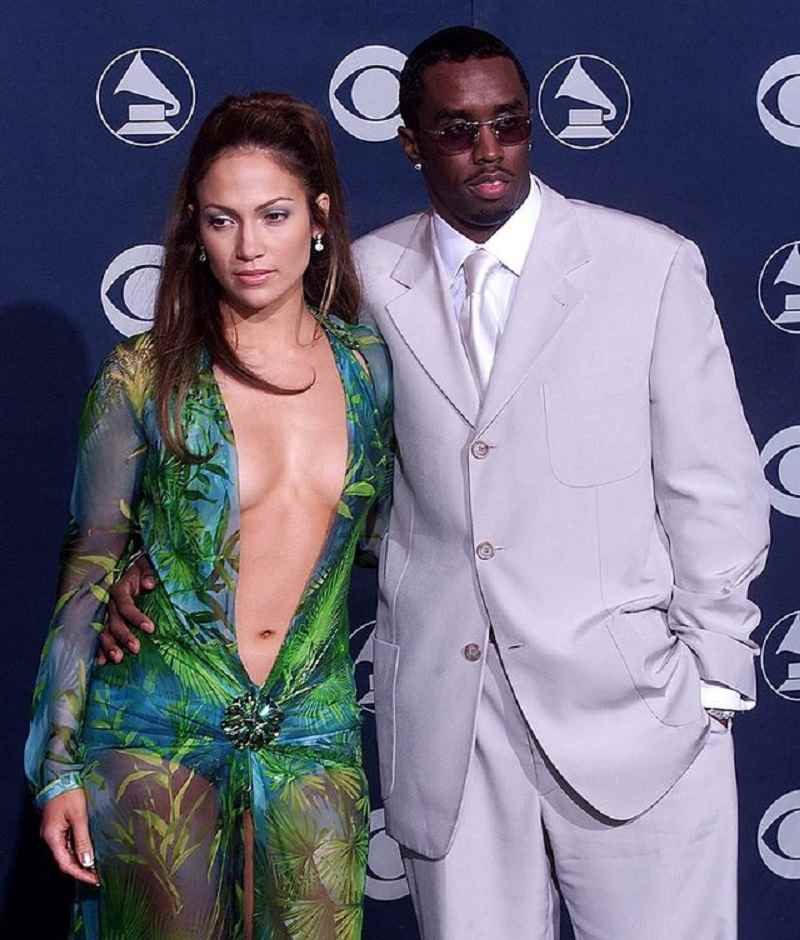 About P. Diddy's ex-girlfriend – Kim Porter
P. Diddy's ex-girlfriend Kim Porter (now late) was an American actress and model. Porter was born on December 15, 1970, in Georgia, United States. Kim Porter is more popular in the media as P. Diddy's ex-girlfriend even though she had a thriving career as an actress while she was alive. Their relationship started around 1994 and stretched through the 90s, leading to the birth of their first child, Christian Casey, in 1998. A year after Christian's birth, Kim and Diddy parted ways.
In 2003, the ex-lovers reconciled and started dating again. And in 2006, Kim Porter and Diddy welcomed twin girls, D'Lila Star and Jessie James. Meanwhile, Porter already had a son named Quincy from her past relationship with another lover. P. Diddy later adopted Quincy and raised him alongside their other children.
In 2007, P. Diddy and Kim Porter parted ways again. Moving forward, they maintained a cordial relationship as co-parents to their beautiful children. While they enjoyed their 8 years of romance, they never got married. Sadly, Kim Porter died in November 2018 after suffering from pneumonia complications.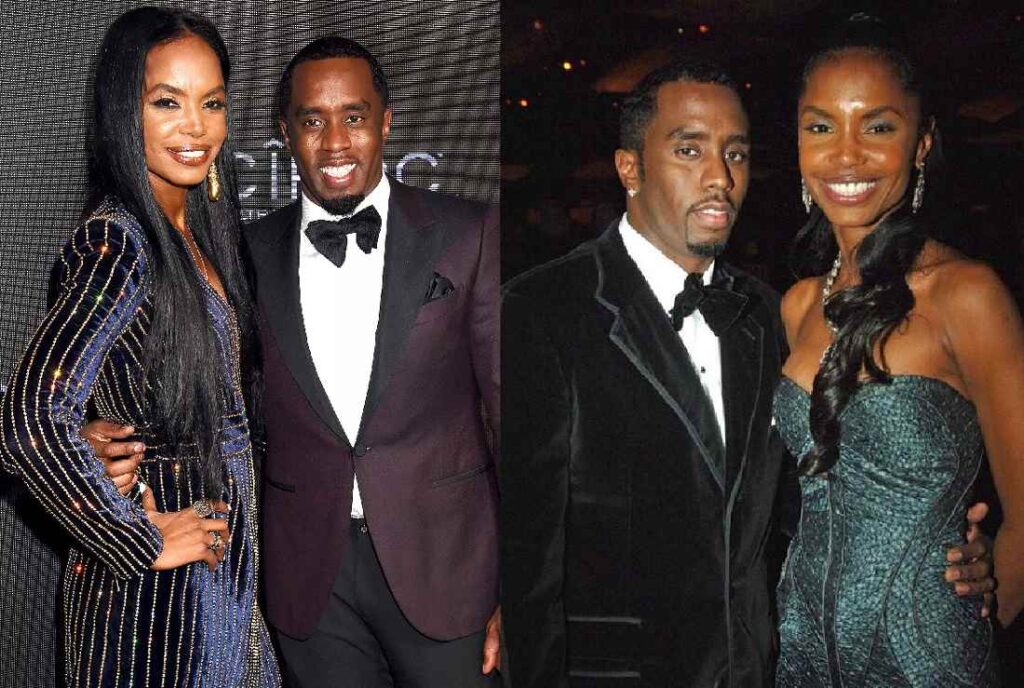 About P. Diddy and Cassie Ventura's relationship
P. Diddy's ex-girlfriend Cassie Ventura is an American musician, model, and actress. Her full name is Cassandra Elizabeth Ventura. Cassie Ventura was born on August 26, 1986. She is 35 years old as of July 2022. Cassie and Sean Combs (Diddy) met in 2006 when Cassie was an upcoming artist. She was later signed to Diddy's record label, "Bad Boy Records."
A year after they met, their dating rumours began to spread. But they never openly confirmed their romance until 2012. About two years later, Diddy posted a beautiful diamond ring he bought for Cassie, and most of their fans assumed the power couple was engaged. Sadly, three years later (in 2015), Cassie hinted through an Instagram post that they were no longer together. Shortly afterwards, the ex-lovers came back together, only to break up for the second time in 2016. According to reports, they broke up after an argument which led to Sean (Diddy) seizing Cassie's phone. However, he later returned it, according to reports.
As anticipated by their fans, Diddy and Cassie reunited again. Unfortunately, in 2018, they finally ended their relationship after dating on and off for roughly 10 years without getting married. Also, they don't have any children together. Cassie went on with her life, and luckily, she met her new beau, Alex Fine. Unlike Sean, Alex didn't hesitate to settle down with Ventura. In fact, their romance led to a beautiful wedding in 2019. And currently, the couple has two children. P. Diddy, on the other hand, didn't put his love life on hold either. Reports were linking him with model Lori Harvey following his split from Ventura.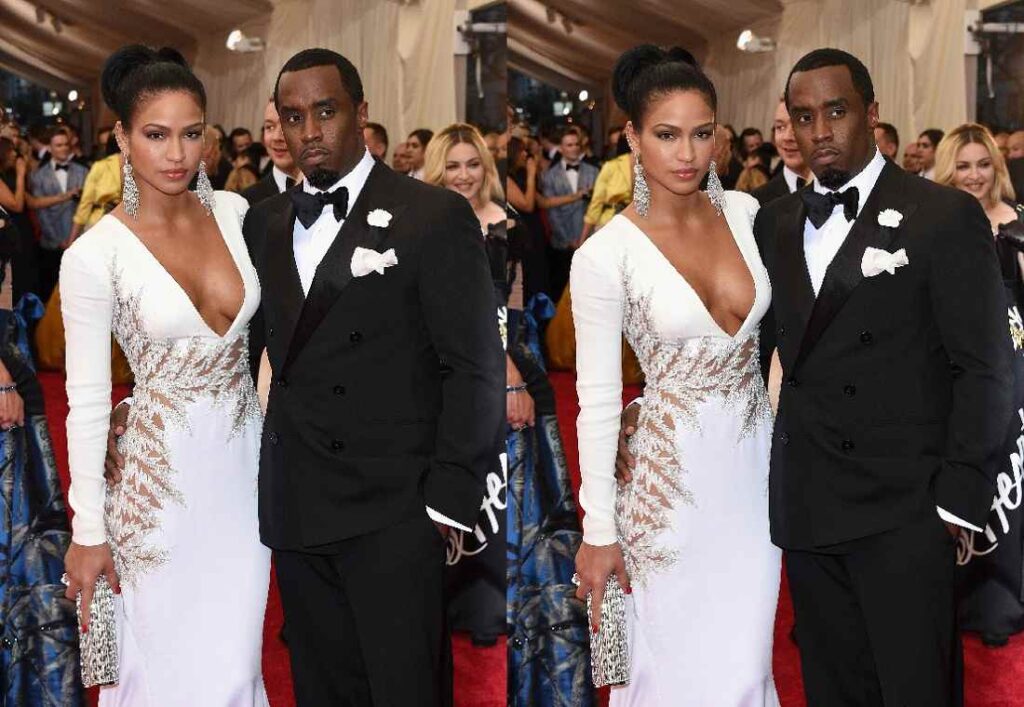 About P. Diddy's recent girlfriend – Yung Miami
P. Diddy is currently in a relationship with singer Yung Miami. According to reports, their romance has been going on since 2021. Diddy confirmed their relationship on Miami's show, "Caresha Please."
In what seems like a complicated relationship, Sean Combs explained:
"I am single, but I am dating. I am just taking my time with life."
Yung Miami is an American rapper and entrepreneur. Her real name is Caresha Romeka Brownlee. Born on February 11, 1994, Caresha is 28 years old as of July 2022. The beautiful rapper seems to be into Diddy very much. For instance, she displayed a picture saying "Go Papi" at the 2022 BET Awards to show her support for Diddy, who received a lifetime achievement award.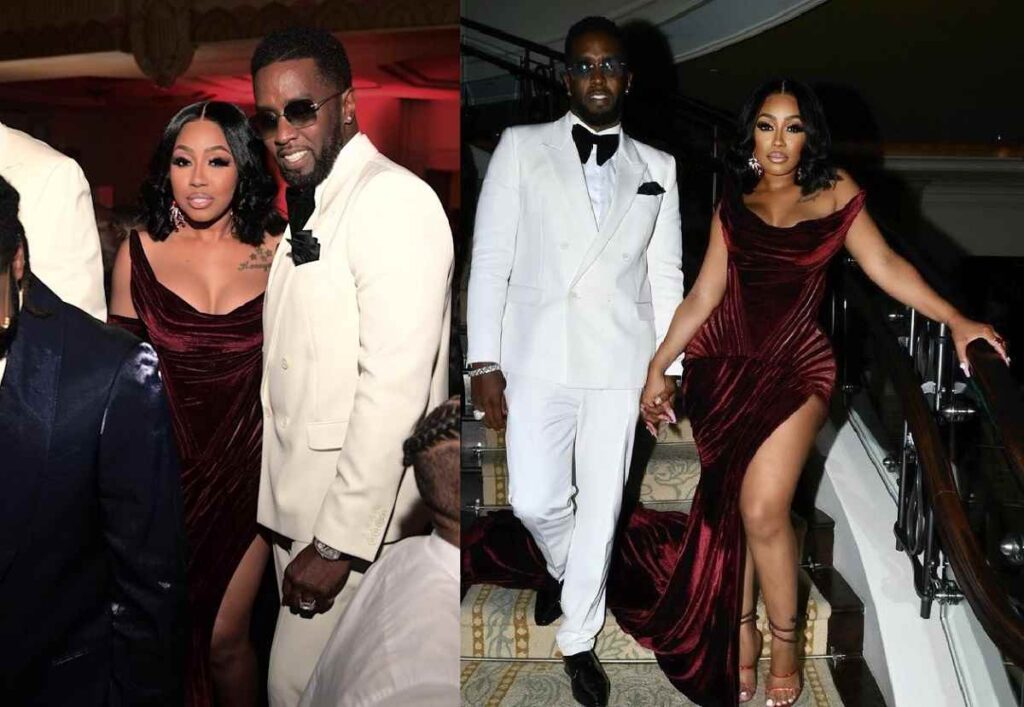 P. Diddy's children
As of July 2022, P. Diddy has a total of six children from three different women. Diddy's children include his five biological children and one adopted child, Quincy. The "Bad Boy For Life" singer had his first son Justin with his first baby mama Misa Hylton-Brim. His second son Christian was from his relationship with Kim Porter. He also has twin daughters, D'Lila and Jessie Combs, with the late actress. Lastly, he has a daughter named Chance from his romance with Sarah Chapman.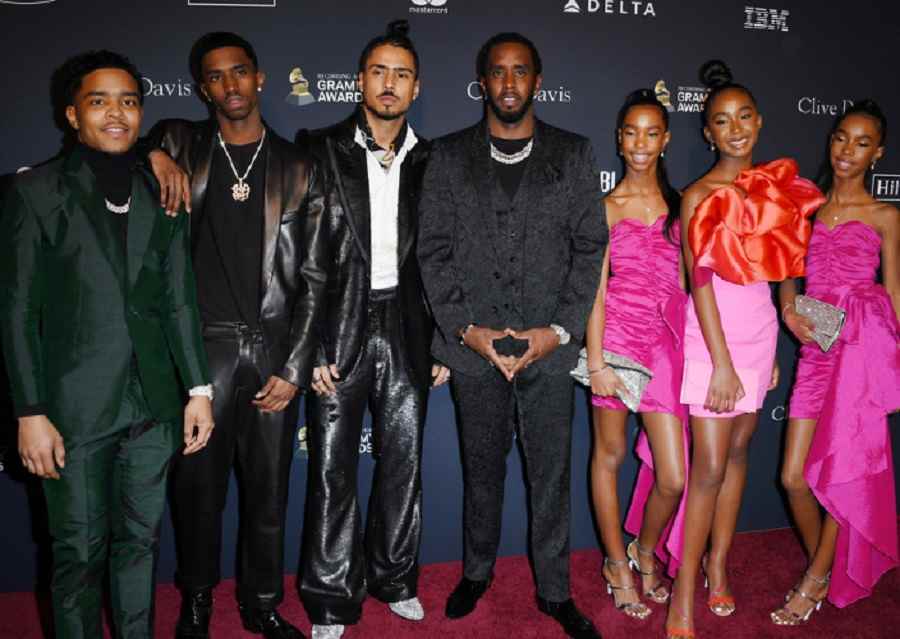 About P. Diddy's children
List of P. Diddy's children:
Quincy Taylor
Justin Dior Combs
Christian Combs
Chance Combs
D'Lila Combs
Jessie Combs
Here's everything to know about P. Diddy's children:
1. Quincy Taylor Brown
Quincy Taylor is P. Diddy's only adopted child. Taylor was born on June 4, 1991. Hence he is 31 years old as of July 2022. Quincy is the biological son of Diddy's ex-girlfriend, Kim Porter, and his other partner. Although Diddy has been taking care of Quincy since he was 3, his biological father is singer Al B. Sure!.
Quincy Taylor doesn't dwell on his superstar parents' glory. He has made a name for himself in the entertainment industry as an actor and a singer. He starred in Lee Daniel's musical drama series "Star." As a musician, Quincy released his single "Friends First" in 2015, featuring French Montana.
2. Justin Dior Combs
Justin Combs is P. Diddy's first biological child and son. His mother is Diddy's ex-girlfriend and stylist Misa Hylton-Brim. Dior was born on December 30, 1993. He is 28 years old as of July 2022. Diddy's oldest child attended the University of California, Los Angeles, on scholarship. There he played quarterback for the UCLA football team while studying Sociology. He is currently an actor and a model.
Justin Combs is known for his flamboyant lifestyle. He has dated some of the hottest ladies in the entertainment industry, such as Saweetie, Alexis Sky, Lori Harvey, among others.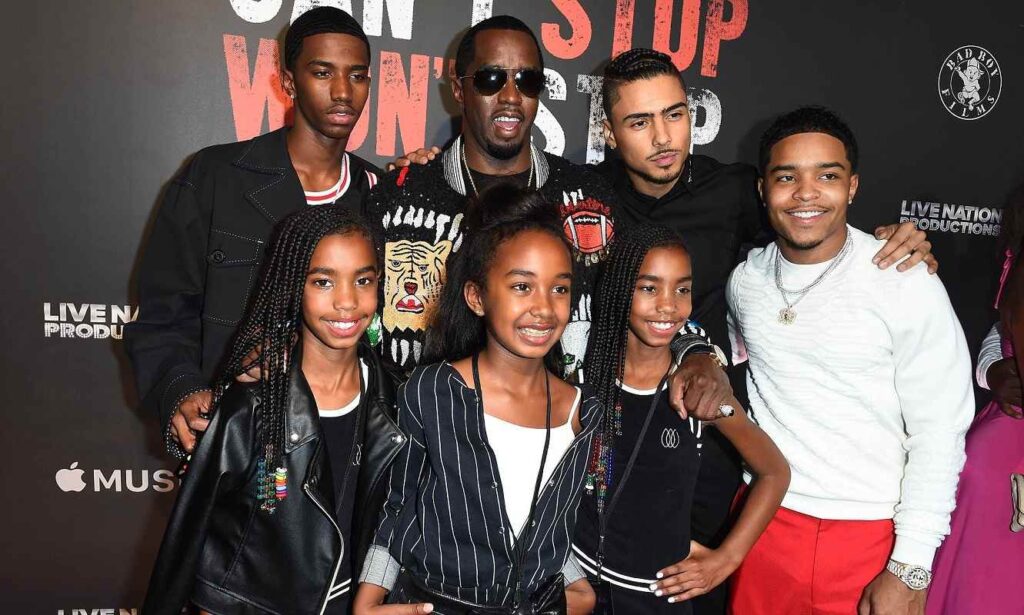 3. Christian Combs
Christian Combs is P. Diddy's second child but his first with the late Kim Porter. He was born on April 1, 1998. He is 24 years old as of July 2022. Just like his father, Diddy, Christian Combs is a rapper. Also, Diddy signed him under his record label in 2014. In 2018, the 24-year-old rapper released his hit song, "Love You Better," featuring Chris Brown. Christian Combs dated model Breah Hicks for 6 years before they called it quits in April 2021 amidst infidelity rumours.
4. Chance Combs
Chance Combs is P. Diddy's first daughter. She was born on July 20, 2006. She is 16 years old as of July 2022. Chance's mother is Puffy's long-time friend Sarah Chapman. Diddy and Sarah started as friends in the 90s but later had an affair. According to reports sighted by DNB Stories Africa, Diddy was still in a relationship with Kim Porter when he had a fling with Sarah Chapman. In fact, Kim Porter was pregnant with their twin girls when Chapman gave birth to Chance. Diddy's first daughter is a model. She featured in the 2021 Vanity Fair's September issue, alongside her dad and step-sisters.
5. D'Lila and Jessie Combs
D'Lila and Jessie Combs, also known as the Combs twins, are P. Diddy's twin daughters. Their mother is Diddy's ex-girlfriend Kim Porter. The Combs twins were born on December 21, 2006. They are 15 years old as of July 2022. Just like their sister Chance, D'Lila and Jessie Combs are models.