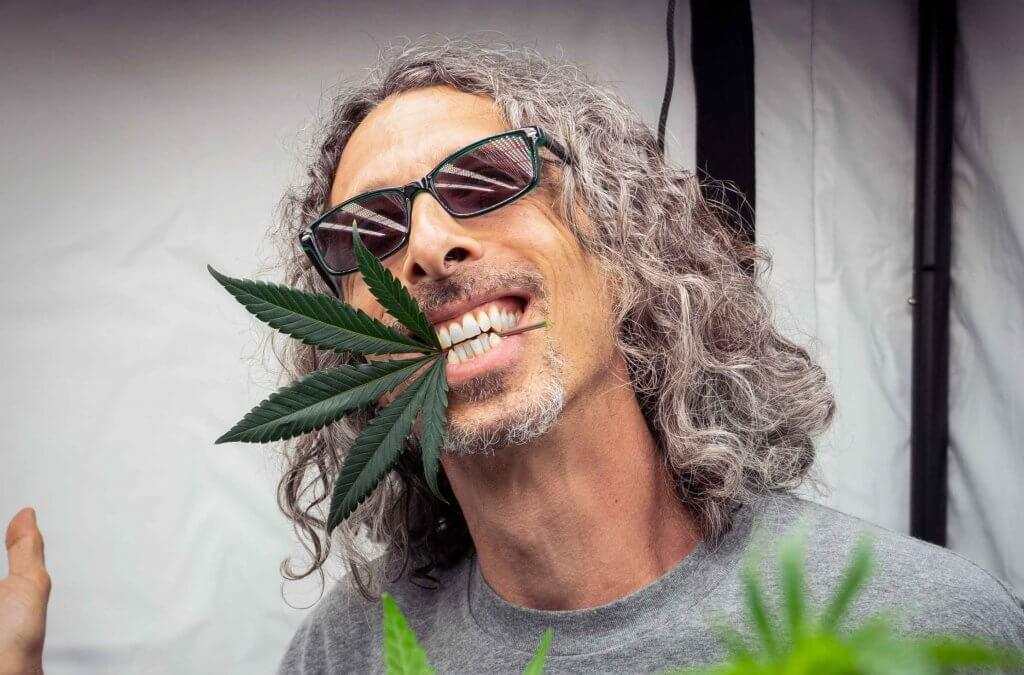 Adam Orenstein is an American writer, educator, and activist. Above all, he's famous for his award-winning cannabis cultivation, where he goes by the name Kyle Kushman. He's won 13 Medical Cannabis Cups Awards, three of which were for Best Flower.
Kushman started as a writer and cultivation expert for High Times magazine, where his articles were published for over 20 years. In 2014, he decided to return to experimenting with cannabis crops. Kushman has worked with several types of strains, including Blueberry feminized seeds.
In 2009, he began teaching advanced horticulture at Oaksterdam University. That same year, he started cultivating his own plants. He also created Vegamatrix, a line of original vegan and organic marijuana nutrients. Kushman blogs regularly on his website, where fans interact and ask questions about his work.
Keep reading to learn more about this well-known cannabis icon.
Origins
Kyle Kushman started as an everyday stoner trying to grow his own weed. His dealer at the time, back in the mid-80s, convinced him to use his closet as a growing space for marijuana. Kushman's dealer then showed him the ins and outs of how to cultivate your own cannabis.
Kushman's first plants were grown in his closet using basic equipment. Even with low-quality conditions, he managed to cultivate buds "the size of soda cans." His new discovery jump-started his talent for growing weed.
One day, Kushman began selling his stash to members and staff at High Times. He very quickly became their full-time dealer, kicking off his career as a journalist for the magazine. Since entering the cultivation scene, Kushman has bred a range of popular cannabis strains such as Cherry Lopez, Strawberry Cough, and Joey's Strain.
Besides writing, teaching, and winning awards, he's been a part of two documentaries. Let Timmy Smoke came out in 2014, and the Explained series started in 2018. Kushman plays himself in both documentaries, discussing his life as a cannabis cultivator.
High Times
Kushman worked in the Q&A section for Organic Cannabis Cultivation for several years, starting in 1999. After some time, he was hired as a staff journalist and cultivation expert for the magazine.
Since leaving the publication, he's had articles written about him several times.
He was mentioned in the 420th issue of High Times, which talked about Kushman Veganics. He also has articles about himself in magazines like the LA Times, Chicago Tribune, Rolling Stone, Forbes, and The New York Times.
Oaksterdam University
Kushman was a lecturer in Horticulture and Veganics at Oaksterdam University in Oakland, California.
He taught canna culture classes about earth-friendly and organic marijuana nutrients to over 300 students. People call him the master breeder and indoor growing expert in the weed-growing community.
Vegamatrix
Working at High Times inspired the writer within Kushman, but after moving to California, he truly came in touch with his green thumb.
He became a grower and a businessman, focusing on his horticulture skills. He began breeding cannabis plants, resulting in several medicinal strains of marijuana and demonstrated how to choose the best CBD products.
Kushman spent eight years developing the winning formula for a vegan, eco-friendly range of organic nutrients. He called this project Vegamatrix in 2014. These products use strictly GMO-free ingredients. His creation won 420 Icon at the Cannabis Business Awards in 2019.
Kushman's legacy has pinned him as a legend in the weed world.
Kyle Kushman's parents
Kushman's mother's name is Mary Martin, and his father's name is Charles Harrelson. They are undoubtedly proud of their son's feats in the cannabis industry.
Kyle Kushman's siblings
Kushman has three brothers. One is a lawyer, and the other is a psychoanalyst. Kushman jokes that he's the black sheep of the family.
Kyle Kushman's net worth
With current estimates, Kyle Kushman's net worth is around $1–$5 million. This hefty amount comes from his blogs, online classes, and of course, the development of numerous marijuana strains.