Shopping Girls!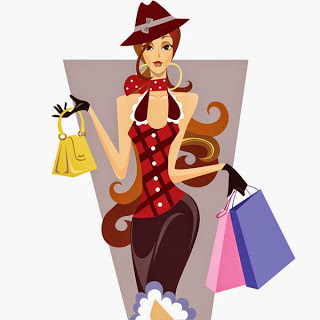 The next day was Friday. Georgina woke up early. By 8:30 she was already dressed for school.
'Ladies, I'm leaving,' she said, her handbag hanging from her shoulder. 'You guys not coming?'

'It's my lecture-free day today,' April said. She sat cross-legged on the bed, pressing at her phone.
Georgina turned to Loveth who was on the blue plastic chair. 'Big madam, you nko? Lecture-free day too?'
Loveth shook her head. 'Afternoon lectures.'
'Ok,' Georgina said and left.
From school she went to see her boyfriend, who owned a football viewing centre on the other side of town.
His name was Abuchi. Georgina asked him to give her money for shopping.
'How much do you need?' Abuchi asked her. He was tall and thin, and Georgina often teased him that all his flesh had gone to the organ between his legs.
'Is that not why you keep coming back?' Abuchi teased his girlfriend back.
'I need twenty thousand,' Georgina told him.
'Obara Jesus!' Abuchi screamed. 'Naira or Kobo?'
Georgina scowled at her boyfriend. 'Are you giving me the money or not?'
'Nne, if you lift me now and start shaking me, from now till tomorrow morning, if anything drop, know that it is my tooth.'
Georgina hissed and gave him a good dose of cursing. Then she lowered her voice. 'So, how much do you have?'
Abuchi's eyes went narrow. 'I can give you 2K,' he said. 'That's all I have now.'
Georgina showered him with another good deal of cursing. Then she brought down her voice again. 'Eh, can't you make it 5K, at least?'
'I will give you the 2K, then you can sell me and get the remaining 3K,' Abuchi told her.
Georgina gestured around his face. 'Look at you, who will accept you even for dash!'
***
She did not return home till 8 p.m in the night.
It's been hours since Loveth returned and had her bath, before Georgina finally knocked.
Loveth opened the door for her. She entered, kicked her shoes away and flopped down on the bed, legs wide apart.
'Madam, did your class stay for night lectures?' April asked.
Georgina scratched roughly at her hair. 'You two will not understand what your sister passed through today,' she said. She shook her head, clucking. 'You will never understand.'
'May be if you tell us, we can try to,' Loveth said.
Georgina shook her head. 'Nne, hapu okwu, inu. You will not understand this one.' She pulled back and rested on her arms. 'Is there anything to eat in this house?'
'Go to the kitchen and help yourself,' April said. 'I made soup.'
'Eeh! Pretty girl!' Georgina rubbed April's feet. 'Dalu so.'
'Next time, try to call,' April told her.
'Oh, I will.' Georgina stood and tottered to the kitchen.
***
The next morning, Georgina dressed up early again and carried her school bag.
'Are you going to school on Saturday too?' Loveth asked, yawning. Her hair was enclosed in a black net.
'My sister, don't mind that yeye lecturer of ours o. He insisted all of us must come to school today for quiz.'
'Quiz on a Saturday?' April said. 'Is he alright?
'My sisters, leave matter for Matthias abeg. If not that the course is 9 credit load, will I have bothered myself?'
'9 credit load for one course?' the girls chorused.
Georgina hummed, swaying her head. 'You don't know my department.'
Georgina has opened the door to leave when suddenly she turned back. 'Ehe, Lovi-Lovi, if you are washing today, please help me with that my purple shirt on top of my bag. It is neat, just needed to enter water.'
'Sorry, dear,' Loveth said. 'I won't be home. I am going to see my boyfriend this morning.'
Georgina's eyes came wide. 'You have a boyfriend?'
Loveth gave her a look. 'Yes. Why?'
Georgina flattened her cheeks. 'Nothing o. Just didn't know that there was a man in this country brave enough to carry that waist. Tell me, is he in the military?'
'You are a big fool, Georgina!'
'Aunty rest!' Georgina said. 'Your blood too dey hot. Ah-ah, they no dey follow you play again?'
'Mind your games next time!'
'Oh, I done hear. Sha greet the old man for me. Carry rice come o.'
'My boyfriend is not an old man, silly,' Loveth said.
'Any which one, sha greet him. I am leaving.'
'Be gone already, bitch!' Loveth said.
Georgina walked through the door and Loveth turned to April and murmured, 'I just hate that girl!'
April started to laugh. 'The next minute you are loving her like honey and the next you hate her, na una sabi!'
Loveth dropped her phone on the table and walked into the bathroom to have her bath.
Like Georgina, she went to see her boyfriend for some shopping cash too. But unlike Abuchi, Loveth's boyfriend, Jackson, worked with a bank. And there is nobody to tell better of how stingy people in that profession could be than Loveth herself.
Had she other options, she would have deserted the stingy orc a long time ago. But today she decided to play nice. A new approach she thought, as much as she hoped, that might just be the special key.
But after her strenuous kitchen work to create a new pot of soup and two generous rounds of bedroom activity, all our thick roommate managed to return home with was 10K, with hands bruised by the kitchen knife and the other thing bruised by the other thing.
***
They went to The Sassy's later that evening, after Georgina has returned from school, taken her bath and had a small nap.
The three roommates looked quite chic as they stepped out that early evening. April wore a wide crop top with a delicious pencil skirt, Loveth a short black gown that wedded with her figure and Georgina, a cream satin blouse with slim-fit jeans and sun shades that screamed one word—SWAG!
People turned to look as they sashayed past. They picked a taxi at the express.
The boutique was large and exquisite. The words – De Sassy's—printed in graceful silver italics hung at the top.
The mannequins outside were all life-size, each adorning beautiful designer dresses.
Loveth wanted to touch the one near the entrance, a lovely taupe gown.
'No, no,' Georgina said. 'Inside. Inside.'
Inside was spacious and with perfumed air. Everywhere was neat and sparkling. Clothes were arranged in rows: gowns, tops, skirt and pants.
Shoes of different sizes, height and color were arranged on the white shelves resting by the wall.
'Come on, ladies,' Georgina said, heading further down the space. She seemed to know her way around.
April picked a pink peplum blouse and walked into the fitting room. Loveth soon joined her with a sequined ruby gown. And then Georgina walked in holding about 6 gowns.
'Georgina!!!' The girls turned to her.
Georgina looked at them. 'Yes?'
'Do you intend to buy all those?' April asked.
'If I like them, why not?' Georgina said.
Her friends left her and turned to the dresses they've picked.
They weren't paying enough attention that neither of them realized that Georgina walked out of the room with only just four gowns.
Even the attendant waiting on them didn't notice Georgina now looked two gowns fatter than she was when they first entered the room.
She handed the gowns back to the female attendant. 'Hang them back. Take me to your exclusive room.'
'Exclusive what, ma?' the girl asked.
'Your exclusive room so that I can select some custom-made designs.'
'I'm sorry, we don't have that here, ma.'
April and Loveth were watching.
'What?' Georgina looked terribly disappointed. 'As big as you guys claim to be, you got no exclusive room?'
'I'm so sorry, ma,' the attendant said.
'Oh, whatever!' Georgina groaned. 'Ladies, if you like what you got, you can pay for them; as for me, I'm outta here!'
April and Loveth quietly walked to the cashier's desk.
They were still there when Georgina advised they check the jewellery section.
April and Loveth agreed.
But the male attendant in The Sassy's jewellery section was as vigilant as a hawk.
April and Loveth were looking at a gold necklace hanging on a bust while across from them, Georgina picked a ring from the central show glass and stared at it.
Then she looked round and slipped the gold piece into her pocket.
'Hey!' the attendant called, coming toward Georgina. 'What is that you just put in your pocket?'
Georgina pretended not to hear. She turned to her left, quickly removed the ring from her pocket and swallowed it.



Translation:
Obara Jesus = Blood of Jesus
Nne, hapu okwu = My dear, leave the matter
Dalu so = Thanks