Bishop Georgina!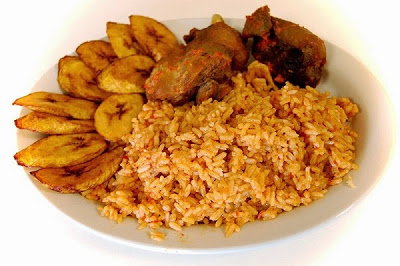 Georgina woke up first that morning. She reached into her bag and brought out a big bible. She opened it, read a passage and closed it back.
She tapped April first, and then Loveth.
The two twisted and grunted, deep in sleep.
Georgina tapped them again. 'Wake up, ladies. It's morning.'
Finally April wriggled up first, and then Loveth. Both looked like they'd just climbed out of a pit.
'Georgina, it's still quite early. What do you want?' April asked, a yawn widening her mouth almost at the same time.
'It's past six, come'on, don't tell me you girls don't pray in this house?'
'Pray?' April and Loveth chorused.
'Yes, pray!'
'Georgina, you can go on and pray,' April said. 'We pray but not this early.'
April was lying back to sleep when Georgina slapped her hard on the thigh.
'Ouch!' April groaned.
'Will you get up from there!' Georgina grabbed her hand. 'We must pray now; do you not know the earlier you pray the better? Do you not know that prayers are answered on a first-come-first-serve basis?'
April looked at Loveth; she appeared just as lost too.
Georgina took hold of Loveth's hand too. 'We must pray now. Eyes closed, quick!'
April and Loveth reluctantly shut their eyes.
'Father in heaven,' Georgina started, 'oh great Daddy, your girls appear before Thee this morning. We bless your name, Lord, and ask that you bless us in return. Give us the things other girls cannot afford. Give us hair no other girl can wear, shoes only our feet can enter and handbag every girl on campus will be talking about!'
April and Loveth exchanged side glances.
Georgina broke into a song and they quickly shut their eyes again.
'Father,' Georgina continued after the song, 'unto your divine attention we wish to bring this big show coming to our campus this weekend. You must make us stand out in that party. You must fortify us with your light so that no eye will escape our shine. Father, you must fulfill what you said in Jeremiah 17:7, that blessed are those that trust in You, whose confidence lie deep in You, for they will be like trees planted beside water that sends out roots into the stream. They will not fear when heat comes; oh, mighty Father, may our leaves ever remain green. May we never fail to bear fruit! For all these, Father, and other things we haven't remembered to add, we pray through the name of your handsome son, Jesus Christ!'
April and Loveth's Amen came late, after Georgina had had to voice a second louder Amen.
'You didn't ask for the forgiveness of sins?' Loveth asked.
'Are you a sinner?' Georgina came back with.
After the prayers, the three girls lay back down to sleep.
Georgina was still sprawled on the wide bed, deep asleep when Loveth and April were leaving for school. It was past nine.
April kicked at Georgina's leg.
Georgina gave an incoherent growl and turned to face the other way.
April kicked her again.
'Whaaaaaat?' Georgina slurred.
'It's almost ten, are you not going to school today?'
Georgina twisted to April and opened her eyes. 'My lecture is in the afternoon, you girls can go.'
'Ok,' April said.
'What department are you in sef?' Loveth asked. She held her pile of books close to her chest. She seemed to have all the recommended textbooks, yet reading them was war.
'I'm in management science,' Georgina said.
'That's a faculty, which department in management sciences?' Loveth asked.
'And there is no way you can be in management sciences because you had Physics with us yesterday,' April joined.
'Ladies, just go. I want to sleep please.'
Loveth has opened her mouth to say something else when April waved at her to stop. 'Leave her, let's go,' she said to Loveth. And to Georgina, 'Georgina, remember to lock the door when you are leaving.'
'I will remember! You girls have fun!'
They still met Georgina in the house when they came back at around 4.
She was sitting on the edge of the bed, painting her nails when April and Loveth knocked. She was still wearing the light blue shirt and flower shorts she had on in the morning.
Tiwa Savage and Don Jazzy were dancing Eminado on the TV screen.
'You didn't go to school again?' April asked.
'I went.'
'And you are back already?' Loveth joined.
'Told you I had only one lecture.'
'Ok.'
April dropped her bag and flopped down to the bed.
Loveth picked the TV remote and turned the volume low. 'Did you make anything?' she asked.
Georgina gave her a surprised look. 'Babes, do I look to you like someone that cooks?' She fluttered her blood-painted nails to Loveth's face. 'Does this fingers look to you like they are familiar with the kitchen?'
'Ok na.' Loveth dropped her books on the reading table. She turned to April. 'April, we need to go get gas first. Not in the mood to handle that stove smoke this afternoon.'
'Sto— gini?' Georgina exclaimed. 'Please, please, I won't eat anything cooked on stove o. O diro healthy at all!'
Loveth swayed her head.
April pulled her handbag close and brought out her purse. 'I just have 2K here,' she said holding up two neat notes.
From her own bag, Loveth brought a note and added to it.
'So who's going to go buy the gas?' April asked.
'Georgina, of course,' Loveth supplied quickly.
'Which Georgina?' Georgina asked.
'Madam, you!' Loveth said. 'You can't sweep, you can't cook and now you can't buy gas too?'
Georgina stood and collected the money from April. 'I don't blame you,' she said to Loveth. 'If not for this useless school rules that doesn't allow students to come to campus with their maids, you wouldn't be insulting me like this.'
'Try getting a house first!' Loveth said to her, walking into the kitchen.
Georgina hissed and walked to her bag to change.
Loveth carried out the empty gas cylinder for her and she left with it.
***
Loveth finished cooking at around 7. She was dishing the food when the bulbs went off.
Georgina screamed. 'Oh Christ, this Nepa people are mad! April, Loveth is in the kitchen, please go and turn on the gen.'
'Which gen?' April asked.
Georgina's mouth was wide open. 'You ladies don't have generator here? Ordinary I pass my neighbour?'
April turned on the plastic lantern and leaned back into the bed. 'The light situation here is good, so we really do not need a generator. But you can buy us one tomorrow.'
'Wish there is somewhere I can get one this night,' Georgina returned sharply. 'Look at me now. I don't sleep in heat o. My skin does not need stress at all.'
'Good for you,' April told her.
'How can you say there is no need for generator? Can't you hear other students turning their generators on now?'
Loveth walked out of the kitchen with a round tray containing three plates of rice. Her small Nokia phone was clasped between her lips with the light on.
'Nne, you are through?' Georgina said, shifting.
Loveth was dropping the tray on the carpet when the bulbs came on again.
'Up Nepa!' Georgina screamed.
April and Loveth looked at her with their cheeks pressed down.
Ten minutes later…
Georgina came out from the kitchen and dropped another plate of food on the carpet. 'Loveth, this your jollof rice nawao!'
'What's wrong with it?' Loveth asked.
'E too dry abeg. Never knew you can cook jollof rice with just sardine.'
'What do you cook your own jollof rice with, Georgina?' April asked. She chewed her rice slowly. She ate little, and slowly. One could say she is the more graceful of the roommates.
'My dear, in my house, no chicken no jollof rice o!' Georgina said. Her mouth was stuffed with the rice.
'So if you don't like it, why did you go to get more?' Loveth asked.
'Ha, have you seen the rice in that pot? We can't even finish it even in 10 days. Just doing charity work o.'
'I see you,' Loveth said. 'Madam Charity.'
'Yes o, you can call me that again.'
Loveth smiled, shaking her head.
'So when are we going shopping?' Georgina asked. Her speech was distorted by the rice she's stuffed her mouth with.
'Shopping? Why?' April drank some water.
'Ha, won't we go shopping before the show?'
'You don't have anything to wear? ' Loveth asked.
'I've worn all the clothes I have to an event before. I don't repeat clothes.'
Loveth laughed. 'Who are you? Dangote's daughter?'
'Na you sabi. All I know is that I must go shopping before Saturday. Ahn ahn! A whole Georgina wear old clothes to a celebrity event? Hia, mbanu! You girls should better go and ask o! There is a reason they call me Miss Glamour. I stand solidly for class and glamour. No shades at all!'
April laughed. 'Where do you shop, Georgina?'
'Do you dare to ask? Is there any other classy boutique around here except The Sassy's.'
Loveth laughed so hard she started to cough. 'How much do you have that you want to go The Sassy's?'
'Dey there na!'
'The last time I went there with my boyfriend, we ended paying 15K for a single gown,' April said. 'The funny thing is that I didn't wear that dress more than twice.'
'Of course, things are very expensive in classy boutiques. Wait, did you say your boyfriend took you there?'
'Yes.'
'Eh. What does the guy do?'
'He runs his father's company.'
'That means CEO na?'
'Well, something like that,' April agreed.
Loveth hummed. 'My dear, you need to see him,' she was telling Georgina. 'He is in money. Real money. Ask me the car he drives. Ask me.'
Georgina drew closer. 'Eeeh, tell me, nne.'
'Murano!'
Georgina's face suddenly dimmed in disappointment. 'Just that?'
'You call Nissan Murano just?' Loveth said. 'Which one does your boyfriend drive?'
'My former boyfriend drives Explorer,' Georgina said. 'I dumped him two months ago.'
'Ford Explorer?' April asked.
'Yes. Guess what my new catch drives.'
'Tell us,' Loveth said.
'You gurls should guess na.'
'A jet?' April suggested, sarcastic.
'Gbam! Nne ijie! A jet that runs on road!'
'Hmm,' Loveth hummed. 'When are we going to meet him?'
'He is in America now. Would have travelled with him if not for school.'
'Really?' Loveth looked every inch envious. 'He would have taken you to America?'
'Yes na. We have gone together before na.'
'So you've been to America before?' Loveth asked.
'Hia. Na heaven?'
'Wow! Babe you so dope!' Loveth said. She and Georgina slapped their palms together.
'Georgina happens, babes!' Georgina said. 'Don't worry, you girls have found luck. Georgina is going to show you what it means to be classy. I will arrange you girls, don't worry.'
'Where did you stay in America the time you were there?' April asked.
'Mm?' This question seemed to catch Georgina unawares.
'Yes.'
'We didn't stay anywhere in particular. We were just moving.'
'Mention some of the places you visited in America.'
'Ha. We went to New York, California, Montreal and Paris.'
'In America?!!!!'
Next on Roommates: Shopping Girls!