A Vigil for Georgina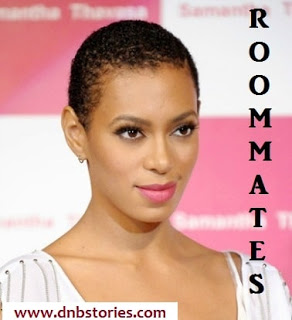 'Where is she?' Loveth asked, staring at Nwamgbeke.
'I know?' Nwamgbeke said. She gestured. 'No be here I keep am before I lock the door?'
'You better go and start looking for her o!' Loveth said.

'Ha. What if she go piss?'
'Without her sandals?'
April pointed to the floor. 'Look. These are her beads.'
'Oh my God!' Loveth screamed. 'Could it be—?'
'Shh,' April said. She bent and picked some of the beads. 'Let's go downstairs and search for her.'
Nwamgbeke started to scream. 'People o! People come out o! Come out o! Thief o! Arm Lobber! Kidnapper! They done cally person o!'
Doors started bursting open and heads poking out.
'What happened?' the people that came out asked.
Loveth pointed at Nwamgbeke. 'Ask her!'
The girl called Araba turned to Nwamgbeke. 'Where is the thief and what was stolen?'
'Thief o!' Nwamgbeke said. 'They come here and steal our fliend!'
All eyes turned confused.
***
That night the roommates accompanied by some other girls that cared, or pretended to, went round the entire rooms of the lodge, knocking and asking questions.
No one admitted to having seen Georgina, or anyone or anything suspicious.
Finally the girls were told to return to their rooms and wait till morning when everyone would gather and reflect on what next to do.
Inside the room, Loveth continued to pace about.
April kept trying Georgina's line and each time it returned with the same message—the number was switched off!
Finally April dropped the phone. 'Love, come and lie down,' she said to Loveth.
Loveth ignored her and continued to pace up and down.
'Loveth?' April called. 'Come and lie down, she will be found.'
Loveth turned to her. 'And what if she is not?'
April smiled, but not from amusement. 'She is Georgina, dear, she will be found.'
'I solly,' Nwamgbeke muttered, looking very remorseful in the face. 'I not know she will miss.'
April turned to her and nodded. 'It's okay, dear.' She exhaled and turned her face back to Loveth. 'Loveth, come and lie down.'
Finally Loveth obeyed and came to sit on the bed with them.
***
Early the next morning, everybody in the lodge gathered in the round space downstairs.
A tall boy who was the hostel captain addressed the crowd.
It was agreed that some people would be sent to go and report to the school authority.
The boy was picking those that would go when someone shouted in the crowd. 'Let her roommates bring her parents' phone number so that we call them o!'
The hostel captain turned to April and Loveth. 'Bring the number,' he said.
'We don't have it,' Loveth said.
'What?'
April took a step closer to him. 'Georgina only has a brother,' she said, 'and he is not in Nigeria.'
People started to talk and murmur again.
'That their room is strange,' someone said somewhere in the middle of the crowd— a short dark girl barely two arms' length tall.
'My dear, they are always feeling too big in that room,' the girl's gossip partner returned.
'You dey mind them?' another girl standing nearby joined. 'The only time I see them downstairs is when water stops to run and they come down to fetch from the tap. Even during general cleanup, they don't join. They'd rather pay the fine.' She pitched a long hiss.
Even the other two girls that started the gossip appeared surprised by the much show of annoyance.
People were still talking and murmuring when the gate of the lodge came open and Georgina walked in followed by Abuchi.
She was on bare foot and her hair was tousled. There was a patch of dust resting on the top of her arm and also on a side of her skirt.
She appeared surprised to see the much crowd staring back at her.
Nwamgbeke screamed and ran and hugged her. 'Hey, she is back! She is back o! They have leturn her.'
Georgina pushed her off and pierced through the crowd, head bowed.
The hostel captain had wanted to say something to her, but she didn't give him the chance.
April and Loveth followed her at once.
***
Upstairs, in their room, Abuchi greeted Georgina's roommates.
'Good morning, Abuchi,' April responded to him with a welcoming smile. 'How have you been?'
'I'm fine,' Abuchi said.
April's gaze lingered on him. 'You look different,' she said.
Abuchi raised his brows. 'Mm?'
April gestured. 'Your arms, they are bigger.'
Loveth nodded in agreement. 'Yes, and his chest too.'
'Oh.' Abuchi smiled.
'Have you been working out?' April asked.
Abuchi continued to smile. 'My dear, it's just some boys in my compound that set up a small iron weight at the back of the house. I join them sometimes.'
'Hmm,' April said. 'That's very nice.'
'Do you have packs?' Loveth asked.
Abuchi bent in laughter.
'Can we see?' Loveth said again.
Abuchi looked at Georgina, hesitant.
'Please show us,' Loveth again.
Abuchi held his shirt to pull it up.
Georgina slapped down his hand. 'Come on pull down your shirt!' she barked. 'Nicodemus, what do you want to show? If they ask you to show them your dick you will show them too naa!'
Abuchi stared at her with an apologetic frown. 'Sorry.'
'Oya, come and be going.'
Abuchi said bye to the girls and Georgina opened the door and let him out.
She bolted the door and turned; all their eyes were on her, eager for an explanation.
She stared back at them. 'What?'
On the bed, April put one leg over the other. 'We are waiting,' she said.
'Waiting for what?' Georgina said.
'Where did you sleep and where are you coming from?'
Georgina pursed her lips.
'Start talking!' April said.
Georgina started to smile instead.
April and Loveth exchanged surprised and confused glances.
Nwamgbeke stared at Georgina as though she is suspecting something has gone loose in her head.
'Georgina!' April called. 'Where did you sleep?'
'It was Abuchi,' Georgina finally said.
'Abuchi? How?' Loveth asked.
'We slept in a closed shop by the road.'
'What?'
Georgina frowned. She went and slapped Nwamgbeke hard on the head. 'Were you two not here when this bush girl locked me out?'
'Ayi!' Nwamgbeke winced, clutching the side of her head. She sent glaring eyes to Georgina.
'So if you left on your own, why then did you leave your sandals behind?' April asked.
'And your phone was switched off,' Loveth joined.
'My battery was dead since early evening, have you forgotten?'
'Who scattered your beads on the floor?' April again.
'Was it not that useless boy?' Georgina said.
'Who?'
'Abuchi na. He was being so aggressive with the whole thing.'
'I don't understand,' April said.
Georgina's lips curved in a small smile, her eyes narrowing in the suggestion of sin.
Loveth's mouth opened wide. 'Oh my God! Tell me you and Abuchi didn't—'
Georgina groaned. 'He was looking so hot, I couldn't resist!'
'When, how?' April screamed, smiling.
'He was coming to the lodge and saw me sitting outside the door. He sat down with me and he smelt really nice and had Butter Mint in his mouth.'
'Oh my God!' April screamed again. She picked the pillow and threw it at Georgina.
Georgina ducked, laughing. 'We started in front of the door and then he whispered we go downstairs. There is a locked shop by the corner of the road and it was very dark.'
Loveth placed her hand over her open mouth as if to hold in her scream.
Nwamgbeke hissed. She stood, murmured something and walked into the kitchen.
Georgina turned to April with a frown. 'April!' she called. 'April, take this thing back to wherever you picked her from o.'
April was smiling.
'Eh-eh!' Loveth said. 'Better don't insult our raw student o!'
April burst into laughter and nearly started to cough.
'I don't understand,' Georgina said.
'She said the course she filled in her details is R-A-W!' Loveth said in between fits of laughter.
Georgina shook her head, her cheeks depressed.
April signalled to Georgina to come close. 'Geo, please come and tell us about this roadside sex adventure!'
Loveth turned on her seat at once, very eager to hear.
Georgina waved. 'Ehe, see her! You no dey use ear hear sex.'
'Please I'm still a virgin,' Loveth said.
'Really?' Georgina said. 'Which class of virgin? Second class or third class?'
The girls burst into laughter again.
Georgina crossed her arms on her chest. 'Oh my God, there is nothing sweeter than when you are handled outdoors by a man with big arms. You feel safe, secure and all things in between.'
'Oohh!' April said. 'You are a bad bad girl, Georgina!'
'I'm telling you!' Loveth said.
Georgina threw out a laugh.
'Muscles or endowment, which comes first for you?' April asked.
'Girl, with my experience last night, I'm all for muscles now!' Georgina said.
April turned to Loveth. 'Loveth, what about you?'
'Hmmm,' Loveth said, her eyes rolled up in thought.
'Talk jor!' April said.
Nwamgbeke came out of the kitchen then. 'Which stupid muscle are you talking about?' she said. 'Na muscle he go use entering the warehouse?'
Their stunned eyes ran to her.
***
The next day was Friday.
At school, Loveth sashayed out of the school gate in her crimson pencil skirt and light-green top.
Her books were held up to her chest.
The sun was strong and students were milling about.
She walked down to a shop by the side of the road and entered. She sat down on one of their plastic chairs and demanded for a bottle of cold drink.
Across the road, a man in a car was watching her.
He remained there till she finished her drink and sausage and paid.
Then he started the car and drove away.
***
That same day, April returned from school looking dull and sad.
When Loveth asked her what the matter is, she only waved and dropped to the bed. 'Please give me water,' she said.
Loveth stood from the chair and walked to the short fridge to bring a sachet of cold water.
April was still drinking the water when the door of the room burst open and Georgina flew in, smiling and excited.
'Girls, guess what?' she told the roommates.
April stared at her. 'What?'
'Guess na!'
'Not good at guessing jor.'
Georgina turned to Loveth. 'You nko?'
Loveth closed the textbook she was reading and appeared thoughtful for a moment. 'You had sex in the school bus?'
Georgina picked a comb from the plastic rack and threw it at her.
Nwamgbeke opened the door and walked in then.
Seeing her, a sudden great frown descended on Georgina's face. 'How dare you wear my blouse?!!!!!!'