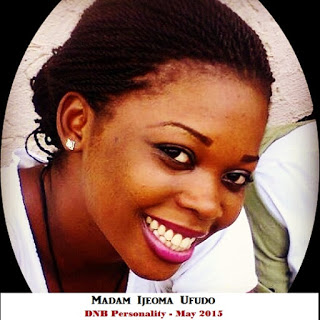 Opening the slot for the first official DNB personality ever is none other than our delectable, sassy, elegant, endowed, gracious and lovely Madam, Ijeoma Ufudo.
She is the envy of all men, yet the very soul of one!

Meet Madam Ijeoma, DNB Personality May 2015: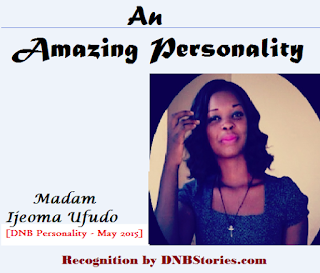 Date/Place of Birth:
Anambra State; December 20th.
Marital Status:
Married.
What do you cherish about your partner?
Everything. I married a man that makes me feel so good.
When did you start reading DNB Stories?
I have been here with you guys ever since!
What do you enjoy particularly about DNB Stories?
I love the detailed writing. While reading, I do feel as if I am watching a movie.
Do you read DNB Adult stories?
Before! [Yes.]

Which is your favorite DNB Story?
It should be My Smiling Baby Boy. That story made me cry.
Any shoutout?
Yes. I want to specially appreciate fellow DNB readers. What we are doing is awesome. Let us keep broadcasting the blog and growing in number. I told Dan that very soon we would be having a personality night every month.
Contact:
My contact email is ufudoijeoma@yahoo.com


Here are some of Madam Ijeoma's best comments on DNB Stories: