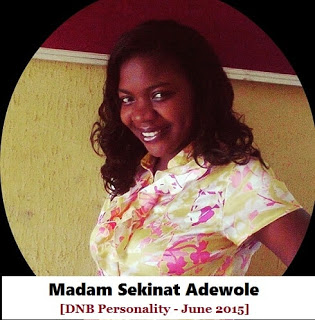 Let's face it, DNB Stories has the most adorable audience in the Blog World.
It is real honour to be a member of the DNB Community.
This month, as is our tradition, we have chosen to celebrate another bundle of elegance in our midst.
Another DNB Madam!!! [We do hope, though, that our next will be a Sir!]

Meet Madam Sekinat Adewole, DNB Personality June 2015:

A woman of extraordinary beauty and unparalleled grace!!!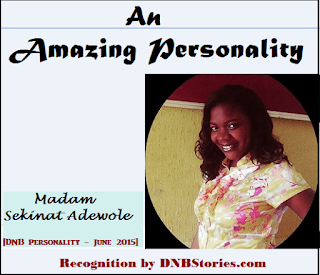 Date/Place of Birth:
August 1, 1988.
Marital Status:
Single.
Searching?
No.
When did you start reading DNB Stories?
Started reading about a month after the blog was started. Seriously cannot remember exactly when. To me, it's been like years!

What do you particularly enjoy about DNB Stories?
The stories all look so real. I can picture myself in every story. The stories are just the break I need. Perfect for relieving stress.
Do you read DNB Adult stories?
Yes!
Which is your favourite DNB Story till date?
Mma's story [The Village Girl] is my favorite. Besides the hilarity, I absolutely enjoyed the message. It teaches that no matter who and what you are, you can always make it in life.
Any shoutout?
My shoutout goes to other DNB readers, the outstanding DNB family. DNB is a unique blog, none like it before. Truly and proudly African. Undiluted stories that get to your soul!
Contact:
My contact email is adetitigold@gmail.com
Sekinat With Bestie.