SIXTEEN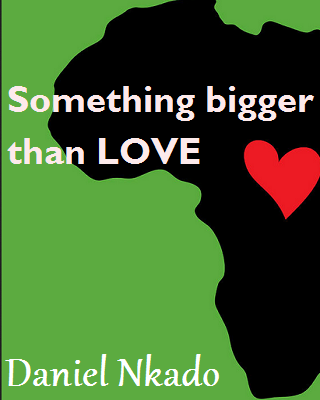 Ahanna counted the money again, wetting his fingers more often this time.
Finally he was done again. He turned to Obinna, eyes overwhelmed with joy. 'Nwanne, hundred and fifty thousand!'
Obinna nodded, smiling with his lower lip slipped into his mouth. He can't remember the last time he saw Ahanna that happy, and for that he felt greatly pleased himself.

Ahanna grabbed him suddenly in a forceful hug. 'Hundred and fifty thousand, Nwanne!'
Obinna hugged him back and at the same time praying Ahanna hadn't broken any of his bones.
***
The broker took them to the house the evening of the next day. They liked the room and the landlord and his young wife seemed a nice couple too.
They called them omo Igbo playfully and told them the person that had just moved out of the room they were seeking to occupy had been an Igbo too.
'A very quiet boy,' the landlord's young wife said. 'Oni wa tutu.'
The boys were excited.
The broker, Baba Duplex as he was fondly called, gave them the account number to pay the rent into.
That night Obinna could not sleep. Excitement wouldn't let him. He couldn't wait for them to move back to the enclosed shelter of a room. To own a stove and once again eat food he cooked himself.
To get away from the cold and the furious mosquitoes and the black spots they'd left all around his skin.
He longed to once again start writing to Ada. He would mention to her about their new success, but not the hard life that had come before it.
He prayed the mosquito spots disappeared before they saw each other again.
Finally it was 4 a.m. and the other flyover boys had started rising. Taking buckets to dark corners beside shops to have a bath.
After he's had his own bath, he walked to the spot where he'd buried the money.
Even as he dug, he noticed something seemed different with the soil, but in his excitement easily ignored it.
When he finally brought out the tin, it felt lighter.
He opened it.
It was empty.
For many seconds he thought it was a dream and waited to wake up.
The minutes dragged and he was still there, kneeling and holding an empty tin.
He ran his palm over his face.
It was real.
Their entire savings were gone.
For the first time ever, he lost control and lay flat on the soil and started to cry.
Ahanna and some other boys rushed to him, thinking a scorpion or some other insect might have stung him.
'Nwanne, what is it?' Ahanna kept asking.
'What is it na? Tell me!'
He kept on crying, rolling this way and that on the dirt.
Finally he pointed to the empty Milo tin beside him and Ahanna froze.
He turned away quietly and walked to the edge of road and sat.
That evening, he dressed up in his new clothes, the one he'd worn to church only three days ago, first time he went to church since their mishap at Oshodi.
Obinna asked him where he was headed, if he should dress up and follow him too, but he said no, that he was only going to meet a mighty man.
'Which man?' Obinna asked him.
'The man who had been so partial to me,' Ahanna replied. 'Had it not been him, we wouldn't have suffered this much at all, Nwanne.'
Obinna did not understand. 'If you are talking about Chief, forget it,' he told him. 'He is a scam.'
'I'm not talking about Chief.'
He watched Ahanna walk away, both hands in his pockets, his steps relaxed, like one on a visit to see his girlfriend.
He didn't return that evening and Obinna went to bed hungry, sad and worried.
That night, he didn't fight the mosquitoes. He left himself for them to feed. It appeared he was completely oblivious of their presence even. Not even the tiny, nerve-twitching sounds they were making got him to move.
It was only in the morning that he saw the headline on The Punch front page – 'Youth Jumps in Train Track at Oshodi'
He'd shaken his head and turned away, consoling himself with the thought that there was someone out there they were better than.
But then the image—the crumpled figure of what had been a young man—flashed through his senses again, the patches of white from what must have been a white shirt the victim wore.
He turned quickly to the vendor and jerked the paper out of his hand.
He straightened it out and peered at the picture. He managed to make out the red dragon drawn on the white shirt.
Ahanna!
A great pound hit his chest. Sudden warmth spread round his brain and everywhere grew misty.
The vendor jerked back his paper from him, murmured something and went his way.
Obinna stood there, motionless, just staring into the air.
For many minutes his head remained blank.
A yellow bus passed him; the conductor was screaming 'O-sh-oo-di!'
He turned.
The bus stopped for a passenger to come down. He pressed his eyelids tight to let out tears he didn't know had formed.
He wiped at his face quickly and ran towards the bus. The bus was already moving when he flew into it.
The conductor screamed at him to be sure he had change. 'Hold your change o! 500 – 1000, no change o!'
Inside the bus, the conductor held out his hand to him. 'Owo da nbe!'
Obinna didn't turn to him. His blank eyes were positioned stiffly ahead.
The conductor tapped him. 'Owo e da!'
He turned to the dark-skinned man and a great stream of tears flowed down his cheeks instead.
The conductor drew back. 'Ah, kilo fa ekun? I said give me your money and you are crying for me? Na your tears I wan chop ni? Pay me jor!'
That was when the fat woman sitting beside him turned to look at him. She quickly opened her purse and gave the conductor N50.
But she didn't ask Obinna why he was crying.
The bus stopped at Oshodi and he came down.
He walked to the train track, scanned round but saw no body.
Officials have come to dispose Ahanna's body.
He kept on looking, checking, and then suddenly it hit him again whose body he was looking to find.
It was Nwanne's body.
His eyes filled up again and he went and sat on the train rails. People stared at him. But he didn't mind.
He waited and waited, the sun biting away at his skin, tears and sweat warring on his face, but no train came for him.
A man passing yelled at him in Yoruba. He heard 'were ni' and he knew what it was.
Mad man.
He wished now he was.
The tale continues…


Get Something Bigger Than Love (The Complete Book 2) on DNB Store, OkadaBooks or Flip Library!