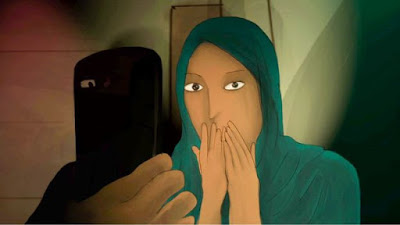 Revenge porn (sometimes lengthened to revenge pornography) is the portrayal of one or more persons in a sexual explicit situation, distributed without their consent via any medium.

The sexually explicit images or video may be made by a partner of an intimate relationship with the knowledge and consent of the subject, or it may be made without his or her knowledge. The possession of the material may be used by the partner to blackmail the subject into performing other sex acts, or to coerce him or her into continuing the relationship.
In the wake of civil lawsuits and the increasing numbers of reported incidents, legislation has been passed in a number of countries and jurisdictions to outlaw the practice, though approaches have varied.
The practice has also been described as a form of psychological abuse and domestic violence, as well as a form of sexual abuse.
The term "revenge porn" generally refers to the uploading of this sexually explicit material to humiliate and intimidate the subject, who has broken off the relationship.
The term is also often misused to describe non 'revenge' scenarios, including nonconsensual pornography distributed by hackers or by individuals seeking profit or notoriety.
The images are usually accompanied by sufficient information to identify the pictured individual, typically names and locations, and can include links to social media profiles, home addresses and workplaces.
Victims, whose images expose them to workplace discrimination, cyber-stalking or physical attack, can have their lives ruined as a result.
Given the practice by some companies of searching for potential sources of bad publicity, many victims of revenge porn have lost their jobs and found themselves effectively unhirable.
Jurisdictions which have passed laws against revenge porn include Israel, Germany, the United Kingdom, thirty-four states of the United States, and the Australian states of Victoria and South Australia.
In February 2015, the social media site and internet forum Reddit announced a change to its privacy policy to ban the posting of sexually explicit content without the consent of those depicted.
The announcement was made after a company meeting at which the issue of "illicit pornography—pictures and video—was a burning one".
In March 2015, Twitter followed suit with new rules to address the posting of unauthorized content and specifically revenge porn. Starting March 11, Twitter stated it would immediately remove "any 'link to a photograph, video, or digital image of you in a state of nudity or engaged in any act of sexual conduct' that has been posted without consent.
In June 2015, Google announced it would remove links to any revenge porn on request.
Microsoft followed suit in July.
Both firms have placed forms on-line for victims to complete. Together the two organizations account for nearly 90% of the internet search market in the US.
The website endrevengeporn.org, founded by Holly Jacobs, a revenge porn victim, campaigns for the criminalization of revenge porn and considers it to be a form of sexual abuse.
Jacobs is also the founder of the Cyber Civil Rights Initiative (CCRI), a nonprofit organization that seeks to challenge cyber harassment.
Danielle Citron, known for her discourse on cyber harassment as a civil rights issue, is an advisor for the CCRI.
***