by Daniel Nkado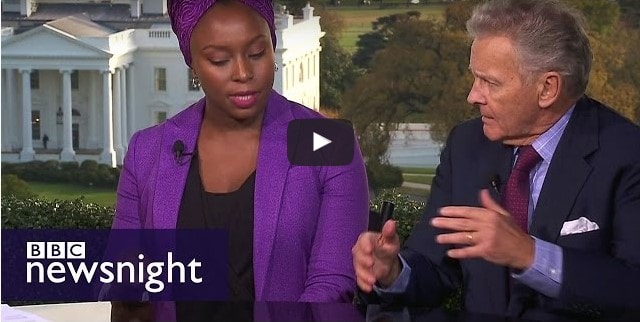 Both guests on BBC Newsnight, Nigerian novelist, Chimamanda Adichie, went head to head with the editor-in-chief of the American Spectator, Emmett Tyrrell on the issue of whether U.S President-elect, Donald Trump, is a racist or not.

Things started to get hairy when journalist Emily Maitlis brought up the Ku Klux Klan's support of Donald Trump and Tyrrell attempted to downplay the organization's role in Trump's election and go on to defend accusations of racism against Trump.
Later in the discussion, as Tyrrell continued to insist Trump hasn't been racist, Chimamanda said,
"I am sorry, but if you are a white man you don't get to define what racism is… No, you don't get to sit there and say that he hasn't been racist when objectively, he has."



The thing is, in as much as I felt Tyrrell needed to stop defending Trump because a man:
1. who thinks the statement — "Laziness is a trait in blacks" is probably true;
2. who once said at a rally — "Look, it is a disaster the way African-Americans are living… We'll get rid of the crime. You'll be able to walk down the street without getting shot. Right now, you walk down the street, you get shot" and
3. has made tweets such as this one —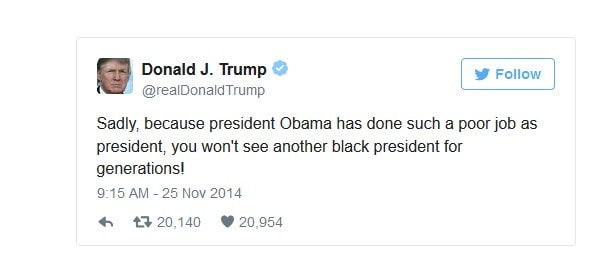 — needed not to be defended for being racist, Adichie's comment is not something I entirely agree with.
Any living person who is biologically human can and is free to define racism.


Dismissing someone's opinion by simply calling them a "white male" is nearly a racist thing to do on its own.

***
Racism is ugly. It divides people into "us" and "them", based on where we come from or the colour of our skin.


It happens every day, when people feel that it is okay to treat others badly based on differences in race.
You see it when people:
make jokes or negative comments about a particular ethnic group

call others racist names or verbally abuse them

bully, hassle or intimidate others because of their race.

make offensive comments online

are excluded from groups because they're "different" or "don't belong"…etc.
Because nobody is really exempt from experiences such as these, any race-bound individual can rightly talk about racism.
***
The views expressed in this article are solely the writer's own.