by Staff writer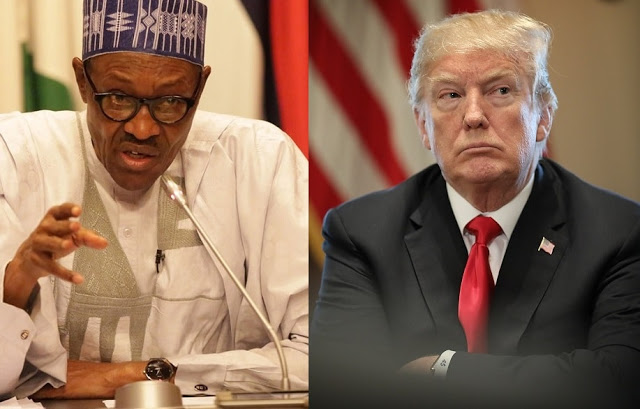 The New York Times yesterday posted a frank headline about President Buhari's announcement of his re-election bid.
Reacting to the headline, son of Kaduna State Governor, Bashir El-rufai, who is not new at taking shots at anyone critical of the Buhari's government (be it Obasanjo or Reno Omokri) felt it wise to remind paper that America is far from being perfect.

"The President in your country, was on tape bragging about grabbing women by the P**** and eats Big Macs all day, and is a fully open racist and misogynist will run again in 2020 and win too, but hey, it's the New York Times," Bashir wrote.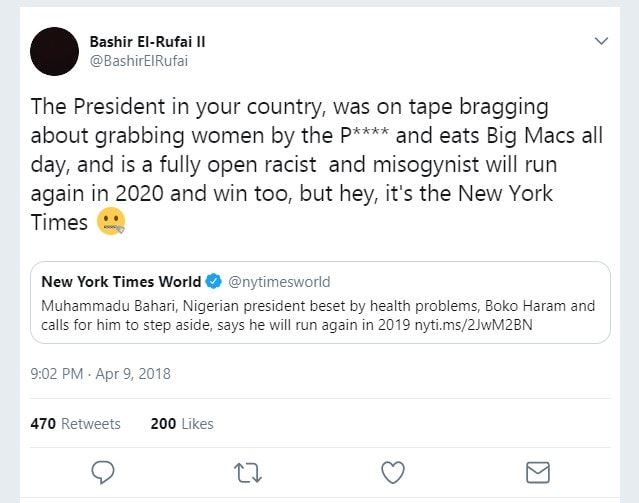 Because The New York Times is obviously too busy with more pressing issues to respond to Mr Bashir, a goodhearted Nigerian did on their behalf.
The Nigerian citizen who goes by the username 9jaMann on Twitter started by listing some of the ways Donald Trump, the current President of America, has done better than President Buhari.
9jaMann wrote:
"1. Donald Trump's Birth Certificate is real and not fake; he was born on June 1946. How old is PMB?
2. Donald Trump since he became president has never traveled outside the USA and spent months for medical treatment; PMB did for over 4 months.
3. Donald Trump trusts American doctors and hospitals to take care of him; PMB doesn't.
4. Donald Trump is a billionaire before running for presidency and didn't mislead Americans with claims that he had only 150 cows and no money.
5. Donald Trump acknowledges he is not perfect but Buhari believes he is the smartest Nigerian leader to have ever lived.
6. Under Donald Trump, job opportunities in America surged; PMB caused the exact opposite.
7. Donald Trump's election into office has not caused a spike in America's suicide rates, just like Buhari's did."

9JaMann said he'd have mentioned more but he needed to attend to something.

"I'll be back for more," he promised, adding that "anyone is free to contribute theirs."