by Staff writer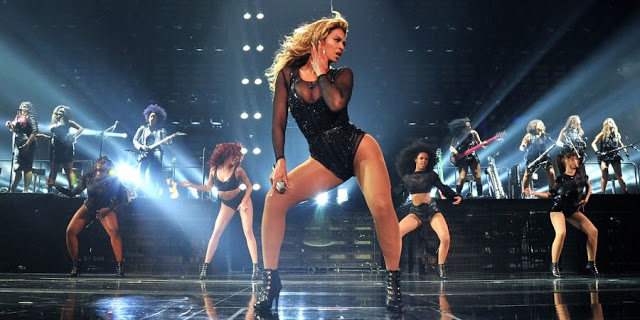 The first thing you need to know when learning how to dance like Beyoncé is this: you can't.
Not really.

Well you're in luck today because Seen On Screen, the masters of showing us how to dance like our favourite popstars, have given out a step-by-step guide on how to nail some of Bey's key moves.
So whether you're planning to watch her in concert this summer, or you plan to buy one of her new Topshop pieces, these dance moves might come in handy.
Let's start off slow…

The Bey Strut

Practice to: any up tempo Beyoncé song!


The most important thing to mastering a Beyonce strut is to strut with confidence (even if you don't feel it at first!).
Firstly, change your body language so you look confident! Lift your shoulders up towards your ears and roll them back down so your posture is nice and up right, holding your tummy in.

When you strut, you take larger steps than you usually would, crossing your feet, one in front of the other as you step forward. Relax your hips as you step, they'll naturally move side to side as you walk.

Now accessorise your strut with your arms. You can put your hands through your hair, lift your arms above your head… Anything you'd like!
TIP: Remember, THE most important thing for a strut is that you feel fabulous so turn Beyonce music up loud and have fun!

The Bey Booty Shake
Practice to: Crazy In Love


This is arguably Beyoncé's most famous dance move so of course, you need to get this one on lock down!
Bend your knees and bend your elbows so your wrists are facing the ceiling

Look over your shoulder and smoulder

Flick your booty up

Drop your booty down

Repeat

Speed this motion up and practice doing this in time with the music

TIP: Now you've got the basic move, you can switch it up. For example, after 4 booty shakes, you can jump and change direction, or play with your arms. Or you can relax them by your sides, put your hands through your hair… anything you'd like.

The Bey Hair Whip

Practice to: Run The World (Girls)


Beyoncé dances with her hair so lets perfect your hair whip!
Firstly, think right ear to right shoulder. So, tilt your head to the side towards your shoulder.

Now lift your head up, and bring it back down to the left side (think Stevie Wonder)

As you whip your hair to the right and to the left, step right and step left at the same time you flick your hair.

For the first two whips, slightly lean forward. For the second two whips, lean slightly back (only slightly!).
TIP: Fierce hair whips come from the crown of your head so practice by putting your hair in a high pony tail, and whipping your pony tail to get your hair (not your neck) doing the work.


This move can make you a little dizzy so take breaks in between practices!
***
Credit:
Leanne Bayley for Glamour Magazine