by Miz Tee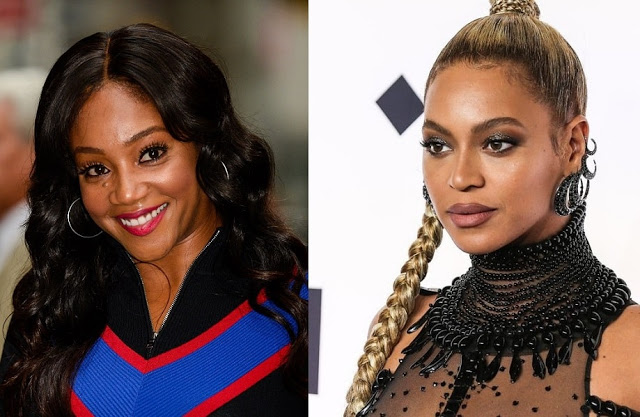 We all remember that time comedian and Girls Trip star Tiffany Haddish met Beyoncé for the first (and probably last) time, right?
The two shared a selfie, and Haddish would go on to spill some tea about how she saw an actress flirt with Jay-Z in front of Beyoncé.

Haddish retold the entire story about how Beyoncé got jealous after an unnamed actress tried to get all up on Jay-Z, and it made Beyoncé look bad.
Now Haddish is retelling another story from that night, saying Beyoncé was bitten on the face too!
Apparently, according to Haddish, an "unnamed actress" bit Beyoncé full on the face in front of the comedian.
"There was this actress there that's just, like, doing the mostest," Haddish told GQ magazine.
"She bit Beyoncé in the face! So Beyoncé stormed away, went up to Jay-Z, and was like, 'Jay! Come here! This bitch…' and snatched him."
Haddish then says she was stunned, and didn't know what to do until she bumped into Beyoncé later in the evening.
"And then Beyoncé and Jay-Z walked by me," Haddish continued, "and I tapped Beyoncé."
Haddish says she told Beyoncé, "I'm going to beat somebody ass at your party. I just want to let you know that."
Beyoncé told her not to and told her to "have fun" instead. It was at this moment that Haddish took her famed selfie with Bey.
Beyoncé went on to explain to Haddish that the unnamed actress was on drugs and that she normally doesn't act like that.
"[Beyoncé] was like, 'Tiffany, no. Don't do that. That bitch is on drugs. She not even drunk. The bitch is on drugs. She not like that all the time. Just chill.'"
People are still wondering who the "unnamed actress" is. Some people are saying it's either Sara Foster or Sanaa Lathan — both D-listers, at best.
But it seems Haddish's story didn't fly with Beyoncé, who, in the lyrics of the new song Top Off with Jay Z and Future, seemingly issued a warning to the comedian in one lyric: "If they're tryna party with the queen, they gon' have to sign a non-disclosure."
Basically, it sounds like Haddish won't be part of Beyoncé's inner circle anytime soon. Loose lips sink famous (friend)ships!
Haddish took the memo in stride, immediately tweeting: "Just know I will sign a N.D.A. any day for Beyoncé."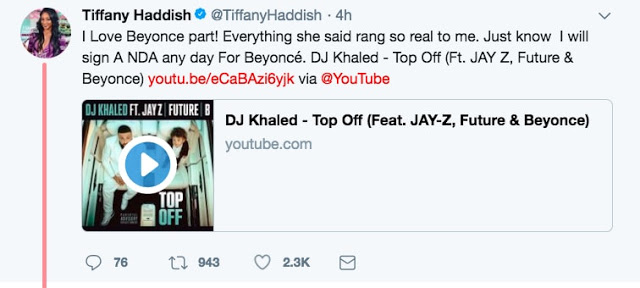 So Haddish backed down and kissed Beyoncé's ass, just like everyone else does, probably for fear of losing career opportunities.
Perhaps Tiffany Haddish has learnt her lesson: real life is not a movie!