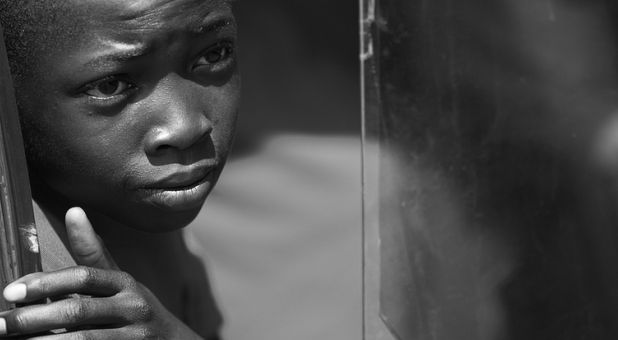 On steep green hillside north of the windswept city of Port Elizabeth, hundreds of tiny brick cabins – each not much larger than a telephone booth – stretch out into the distance in neat rows.

"We call this place Toilet Valley," said 36-year-old Suzanne Stoltz, opening her cabin door to reveal a solitary plastic toilet and a few bags of clothes that she's stacked beside it to keep out of the rain.
The toilets – well over 1,000 in all – each sit on a larger slab of concrete, as if builders had started to erect proper homes, but lost interest early on.
They are a vivid symbol of the failures of the local authorities here in Nelson Mandela Bay."It's crazy. They tell us we're going to get houses in three months' time. But we've been waiting for three years," said Ms Stoltz, a mother of three, who like her neighbours has built herself a small shack out of corrugated iron beside her toilet.

Like many here, she has no job.
The same complaints – in varying permutations – echo across the surrounding townships.
Toilets without houses.
Houses without water.
Whole neighbourhoods without sewage pipes.
Schools so overcrowded they've been closed down.
Thousands of people dependent on a single tap in a muddy field.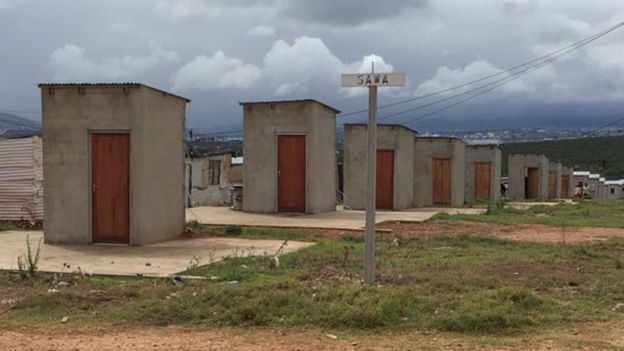 Stand-alone toilet cabins without the rest of the home – BBC

Critical voices within South Africa's governing ANC are warning that the party is in a state of crisis, and may even lose power in 2019 due to growing public frustration with corruption and poor governance.
BBC's Andrew Harding assessed the ANC's troubles in Port Elizabeth, where the party lost control in last year's municipal elections.
In Port Elizabeth, whistleblowers have uncovered billions of rand that have either been misspent, stolen, or are simply lost.
We saw a depot holding two dozen expensive – and now rusting – Volvo buses, bought for the 2010 World Cup, which have been sitting idle ever since.
***
"It boils down to corruption," said Maria Hermans who was, until recently, the ANC's speaker on the municipal council. "It is maladministration in the worst form. Negligence."
She says the situation got so bad in local government that there were murders.
"It's a dangerous business. Every one of us is afraid because we don't know who is going to be next. We can't run away from the fact that corruption happened when we were [in power]."
***
But the ANC is no longer in power here in Nelson Mandela Bay.
Last August voters installed a coalition of opposition parties, led by the Democratic Alliance.
The defeat was a shock to the ANC, and seemed, to many, to indicate a broader shift away from the party that has governed South Africa since the advent of democracy in 1994.
"There's been a dramatic shift," said the city's new Mayor Athol Trollip – a tall, quick-spoken son of white farmers, and a prominent figure in the DA.
He accused the ANC of seeking to create a racial divide in the country to divert attention from its own failings.
"This is the only way out of trouble for South Africa," he said, inspecting workers as they cleaned debris from a stream running through the centre of the city.
"That's why it is so critical that we achieved what we did in the last elections. We are steadfast that by 2019 we will put a coalition government together that will govern South Africa."
One of the workers, a new graduate named Ntombi Baleni who was managing the clean-up project, echoed that optimism.
"If the [DA] keep on being competent and don't lose focus, then South Africa is set to boom. Boom!" she said with a grin.
***
Credit: BBC Africa