by Staff writer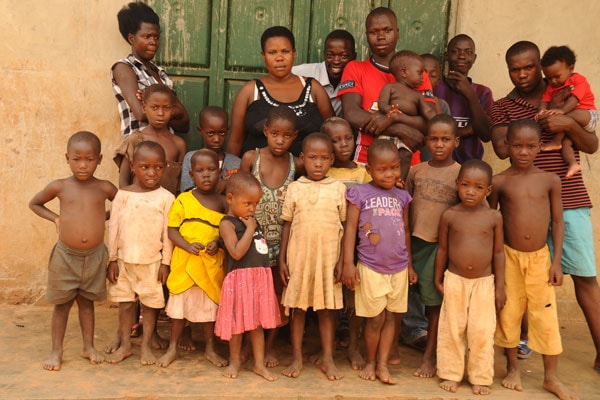 At 37, Mariam Nabatanzi has had 38 children whom she has delivered from home except the last born who is just four months old.

She was delivered by caesarean section.
Among her children are six sets of twins, four sets of triplets, three sets of quadruples and single births.
Ten of these are girls and the rest are boys.
The oldest is 23 years old while the youngest four months.
According to Nabatanzi's story, she was married off at 12 years of age after surviving death, allegedly at her stepmother's hands who apparently pounded glass and mixed it in the food she gave Nabatanzi and her four siblings.
Fortunately, she was away unlike her siblings who ate the food and died on the spot.
Although Mariam Nabatanzi planned to have only six children, by the time she had delivered thrice, she had accumulated 18 children and found out it wasn't even up to her to stop when she wanted to stop.
Gynaecologist Dr Charles Kiggundu, refers to Nabantanzi's ability to conceive so many multiples as a "genetic predisposition to hyper ovulate".
He explains: "It is an increased likelihood of having children in multiples (twins, triplets, quadruplets…) based on a person's genetic makeup. It results from specific genetic variations that are often inherited from a parent.
"In some cases, women ovulate more than one time consecutively, but in other cases they release more than one egg at the same time, leaving room for the fertilisation of released eggs.
When that happens, each one develops within its own sac in the womb; hyper-ovulation naturally is hereditary."
Mariam Nabatanzi's condition is not common in Uganda, or any where else in Africa, but scientifically the condition is real.