by Staff writer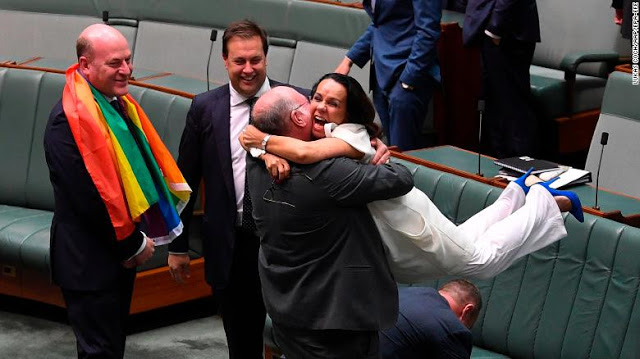 Australia's Parliament has voted to legalize same-sex marriage on Thursday after many years of fierce public debate.

Cheers and applause broke out as lawmakers voted in favor of the bill following hours of debate and emotional speeches at Parliament House in Canberra.

"This is Australia: fair, diverse, loving and filled with respect for everyone," said an effusive Prime Minister Malcolm Turnbull, as he introduced the bill for a final vote.

"This is a great day, it belongs to every Australian."

The bill passed its third reading with only four members of Parliament in opposition.

The parliamentarians who voted in favor of same-sex marriage took time to let the jubilant moment sink in, celebrating with hugs and handshakes and proudly sporting rainbow-colored clothing.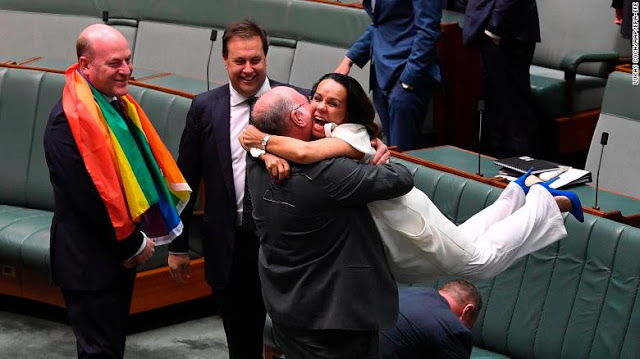 Liberal Member of Parliament Warren Entsch lifts Labor MP Linda Burney as they celebrate the passing of the marriage equality bill at Parliament House in Canberra, Australia, on Thursday.
Liberal MP Andrew Wallace, who is a devout Catholic, shared with his colleagues how his gay daughter helped change his position on same-sex marriage.

"She said: Dad, in the years to come, my generation will look back and judge your generation about how you deal with the issue of homosexuality in the same way that your generation considered your parents' generation in the way that they dealt with our indigenous people," Wallace said.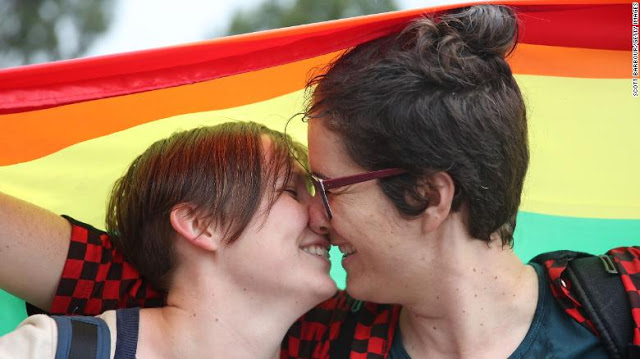 Alice Bennett and her partner Miranda Hill nuzzle each other among a crowd who gathered to watch the announcement on a large television screen at Federation Square in Melbourne, Australia on December 7.

Fighting back tears, Liberal MP Sarah Henderson told the story Wednesday night of a close gay friend of hers who died months ago and who, in one of their last conversations, asked her to continue to push for same-sex marriage.
Earlier on Monday, Tim Wilson, a 37-year-old Australian lawmaker gave a speech on same-sex marriage after which he proposed to his gay partner right there in the Parliament's meeting.