by Staff writer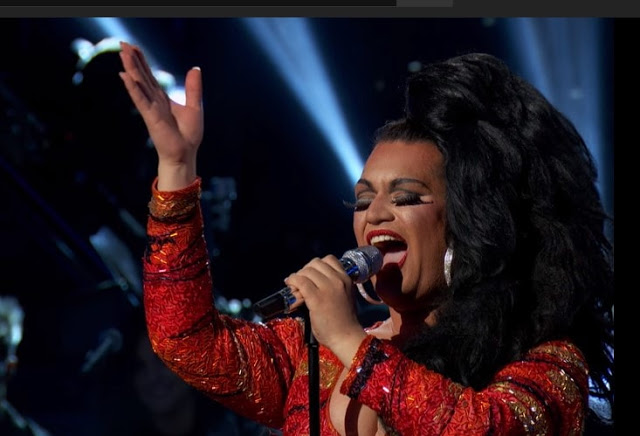 Ada Vox is a 24-year-old drag queen competing in the sixteenth run of 'American Idol'.

Fierce and incredibly talented, Ada in her sexy gold dress and voluminous wig, stood before the judges during her audition and wowed them to bits.

Her singing talent even got one of the show's judges Katy Perry standing up and twerking.

After her performance, the judges didn't waste any time saying yes and giving Ada a golden ticket to Hollywood.
Here are 4 things about the gifted drag queen that might interest you:
1. Ada has auditioned for American Idol before as a boy:
Ada auditioned for American Idol in season 12 as Adam Sanders. Adam was eliminated during Hollywood Week, but he didn't give up.
When American Idol was revived by ABC, it meant a second chance for Adam.
And this time he auditioned as his drag queen alter-ego Ada Vox.
2. Ada says she's ready:
Ada told the judges during her second audition she isn't going to let anyone or anything hold her back from her dream.
"I'm not here to play with anybody — I'm here to chase my dreams and make them come true," she said after her performance.
3. Before American Idol, Ada worked two jobs:
Ada, who is from San Antonio, south-central Texas, told judges he works at a seafood restaurant by day and as a drag queen by night.
4. After season 12, Adam received death threats:
Speaking about her former Idol experience, Ada revealed death threats after her elimination.
"After American Idol, I started getting messages on social media every day," Adam told judges.
"People attacked my weight, my sexuality, telling me that I was horrible, that I sucked, that I don't deserve to be here, that I shouldn't be who I am. And I let it get to me in a wrong way.
"It killed me inside. It killed me inside almost as much as people were telling me that I should kill myself… I was contemplating lots of things that I shouldn't have."
But Adam says she has put the hate behind him and is ready to take on Idol as Ada.
And by every chance she is already doing that!
Watch Ada sing "Creep" Radiohead for her American Idol 2018 Showcase performance: