by Staff writer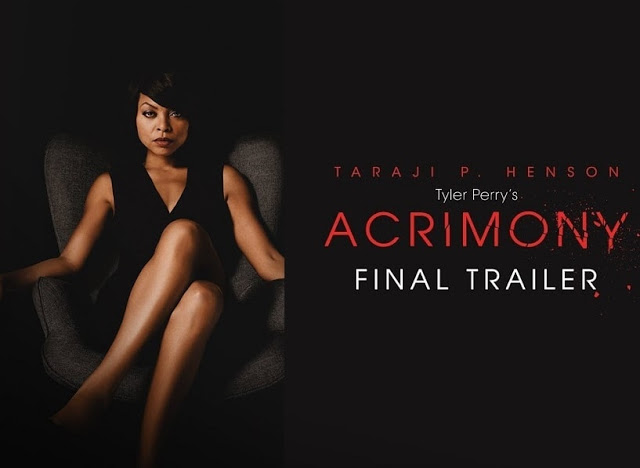 Since its premiere on March 30, Tyler Perry's psychological thriller, Acrimony, has been trending on social media as fans continue to debate over who is to blame for the movie's outcome.
Despite being one of the most negatively critiqued movie of 2018, with one critic even calling it a "shitstorm", and scoring a meager 21% on Rotten Tomatoes, it is no doubt Acrimony has created a buzz strong enough to ensure it continues selling.

Starring Taraji P. Henson and Lyriq Bent, Acrimony tells an intriguing story of a faithful black woman who feels enraged after being "betrayed" by her husband.
The story starts when she meets Robert in college. He seems to be the perfect handsome selfless dude until her mother's funeral, when he exploits her grief to seduce her and then gets her to take $25,000 out of her inheritance to buy him a vintage car.
Shortly after, she finds out that he'd been sleeping with someone else.
However, she forgives him, and they get married eventually.
But things start to turn sour as they go broke and Robert continues to work on an invention which he believes will make them rich.
He spends years working on the invention and eventually trying to secure an appointment with Prescott – a company that has a lottery system for sourcing potential clients.
However, he comes off as lazy and in fact crazy – especially to Melinda's sisters who in the first instance never really trusted his intentions.
In a sad turn of events, they get divorced but Robert's invention finally succeeds.
He's finally rich after striking a million dollar-deal and will be getting married to another woman, Diana, who will now reap the benefits (yacht, diamond ring, sky-view penthouse).
Melinda finds out and goes crazy. She's hell-bent on taking revenge.
On their (Robert and his new wife Diana's) honeymoon cruise, she appears and shoots Robert, makes the crew of the boat jump overboard and is about to shoot Diana, but Robert knocks her overboard.
As Diana goes for help, Melinda climbs back onto the boat, and attempts to hit Robert with an axe, but her leg gets caught in the anchor chain, pulling her off the boat, where she drowns.
Now getting back to the question of who we should blame or not blame, the simple answer is this:
The film is a psychological thriller and just like most works in this genre, the story is bound to play a little with your mind and leave audiences guessing, debating, fighting hard to determine what should or shouldn't be, in the end allowing them to ignore any unreality behind the story's many twists and turns.


***


Here is one of the best answers about who to blame in Acrimony I've seen:


"Blaming the man totally without blaming the woman is funny. They both have their fair share of the blame.


The man was at first rather selfish, especially his refusal to get a job while still working on his invention.


But I blame the woman more. She forced the divorce and instantly started banging her ex. The man pleaded and pleaded but she refused. Even the day the man came to the office on suit to see her, she emphasized on the fact that they can never be together ever again.


But the moment she saw the cheque, she started acting like a gold-digging b**ch all of a sudden to the extent that she even went to seduce him.


The moment the seduction didn't work, she sued his ass. And she even lied that the dude made his money when they were still together. Her actions didn't even give the man a chance to reconsider his decisions.


And for you to say the new girl didn't work enough to enjoy all that she is enjoying now is very wrong. She brought in a homeless man, fed him and clothed him when he was at the lowest moment of his life. Both women did the same thing for him but the difference is that the new girl did it for him when he was at the lowest moment of his life.


Two lessons we should take from this film is that "not all advice is good for us. And never make decisions when you are angry!"