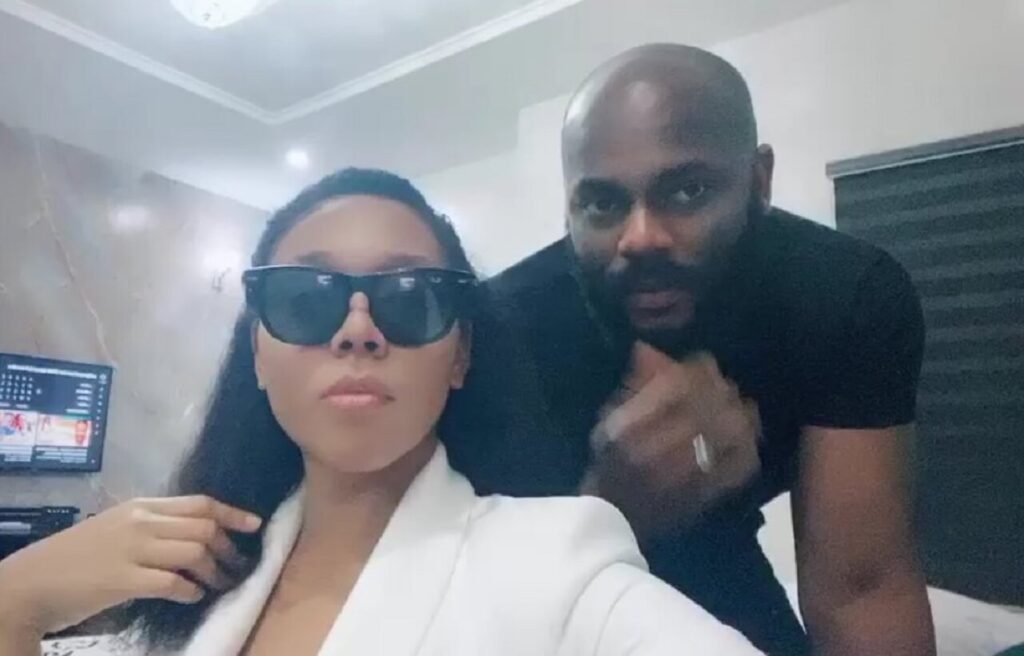 The controversy between Nigerian presenter and socialite Temidayo Lucky Kafaru aka Lascatter and his estranged wife Diana Faith Logico has taken a different turn after a Twitter user alleged that the allegations of sexual molestation levelled against Temidayo by his wife are all lies.
Recall Lascatter's wife, Diana Faith, had earlier accused the socialite of sexually abusing their maid and 6-months-old baby.
According to Twitter user, Frontline Keel Minds (@FkmNigeria), Diana Faith and her family are in the business of trapping unsuspecting rich men with marriage and pregnancy in order to dupe them.
In a series of tweets made under the hashtag #JusticeForTemidayo, the Twitter user explained what she called "the true-life pathetic story of one Diana Faith Logico".
Read the tweets below:
Tweet 1:
EXPOSED: True life pathetic story of one Diana Faith Logico whose family is notorious for duping and victimizing innocent men which has now evolved into a big family marriage racketeering targeting successful men. Read How their last attempt backfired #JusticeForTemidayo
Tweet 2:
According to reliable sources, Diana Faith Logico popularly known as 'Ododo Yankee Dudu and Temidayo Lucky Kafaru, met sometime in March 2019 and got married in a multi-million naira lavish wedding to Diana in 2019. Too early right? Yes! he was trapped into with pregnancy.
Tweet 3:
Just about four weeks after they met, Diana's mother, Mrs. Edwina Logico called Temidayo to informed him that her daughter was pregnant. In what was clearly a well-planned scheme to trap him into a forced marriage. Because they wrongly assumed Temidayo was extremely wealthy.
Tweet 4:
This self-acclaimed Edo royal of the Logicos are well-known for two things – blackmailing & marriage controversies. It's their calling & they are good at it. According to close sources, the notorious family's stock-in-trade is to lure unsuspecting rich men into forced marriages.
Tweet 5:
TEMIDAYO didn't even know what he was getting into until when the wife's mother through a devilish and manipulative means coerced Temidayo into signing an agreement solely on his financial responsibility to the Logico family. Top on the list of the ridiculous agreement includes –
Tweet 6:
monthly payment of 450k which Temidayo's best man negotiated to 200k, Allowances to be paid to Diana whenever he embarks on trips, Setting up Diana in a business of her choice, buy her a car and other financial obligations. Diana was playing her own part of the script. WICKEDNESS.
Tweet 7:
Did I mentioned to you that TEMIDAYO is one of Nigeria's famous presenter, of Naija Top 10 music countdown fame. Yes he is and this was how his blossoming career in entertainment successfully ended, he was lucky to leave with his senses and reputation intact. The story continues.
Tweet 8:
Recently, things got out of hands completely when Diane nearly broke the head of her husband in a moment of madness and going public trying to play smart by playing the victim alleging domestic violence when in actual fact she was the one abusing her husband physically. WAHALA DEY.
Tweet 9:
According to sources Diana who has no verifiable means of livehood is said to have incurred debts running into millions of naira just to maintain her family's shameless lifestyle & pressurizing TEMIDAYO into securing a substantial loan for the family which he smartly declined.
Tweet 10:
Having failed in their evil plans they have resorted to peddling all unfounded stories just to discredit him in the public domain. As you read, there is a big controversy over the baby which they have used successfully to hoodwinked him into the marriage in the first place. Hmm.
Tweet 11:
Temidayo is now asking for a DNA test to confirm the paternity of the child.Also a letter has been sent to the palace of revered Oba of Benin to caution the family against dragging through the mud the image of the ancient Benin kingdom & Edo state in general. #JusticeForTemidayo.
Tweet 12:
Nigerians please let's speak for this young man Cos I can see his life, personality and Career is about to be ended by this wicked self-acclaimed royal family all because he had a one night stand with their daughter #JusticeForTemidayo This is pure wickedness in human.
Tweet 13:
Their evil plans to cripple Temidayo financially, they are fighting tooth and nail, trying to be smarter than their greed and playing the victim's card to sway public sympathy. & ultimately to discredit their latest victim in the media with their falsehood. #JusticeForTemidayo.
Tweet 14:
It's clear that this family sure bet for a fast track to fortune is through gold digging smartly wrapped under the institution called marriage, let's save Temidayo from the hands of this hyenas #JusticeForTemidayo #JusticeForTemidayo.
Tweet 15:
Diana accuses TemiDayo of raping their maid. Who no longer lived with them. She even moved away from the house so how and when did it happen ? She is so bitter and hell bent on destroying the guy and sources said the family did this same thing to deji falope #JusticeForTemidayo.
Shared screenshots of Whatsapp messages between Temidayo and Diana Faith: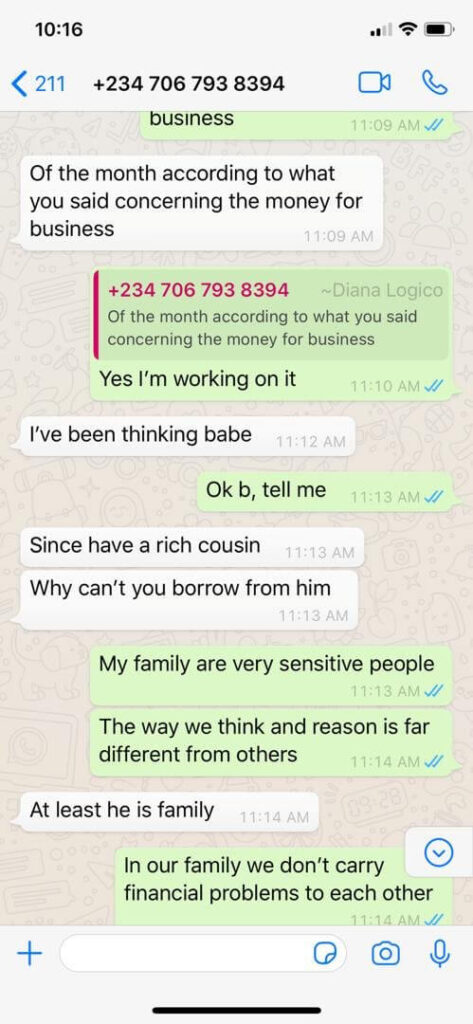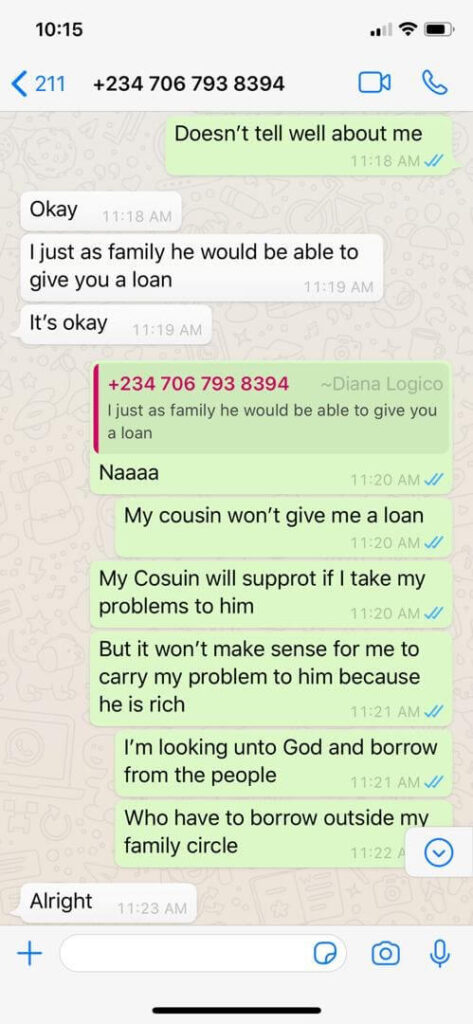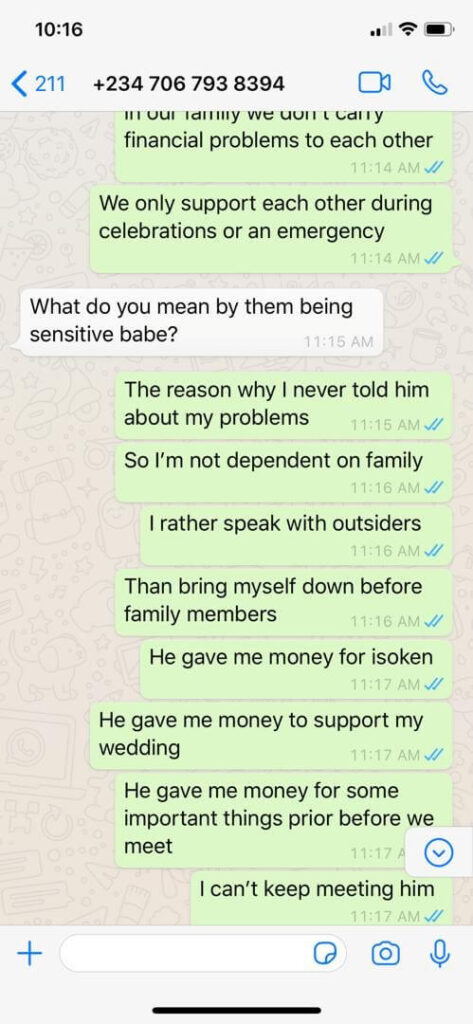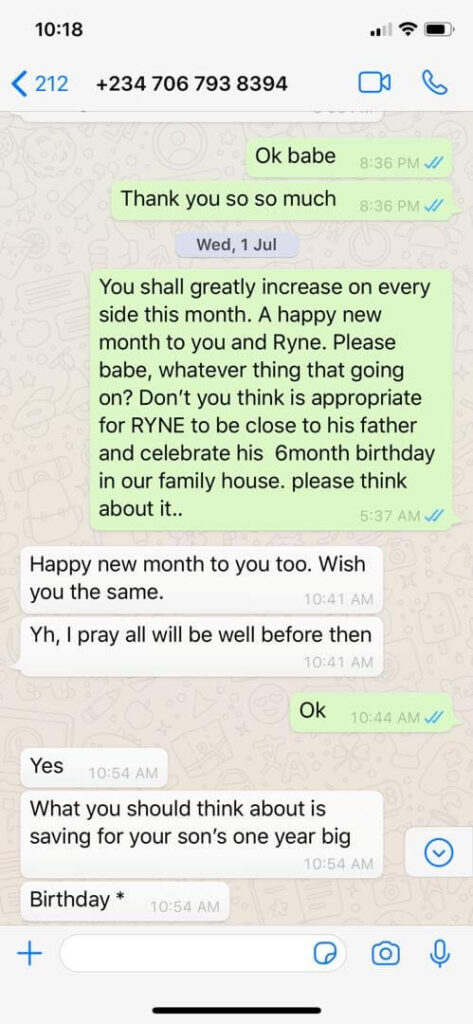 It was also alleged that Diana Faith was violent on Temidayo and had on one occasion gotten his head broken.