by Staff writer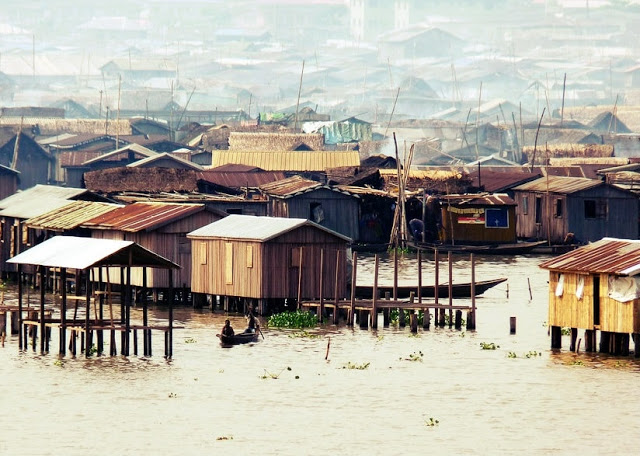 Victoria Island, with its high-rise apartments, gleaming streets, and exclusive boutiques, is easily one of the plushest areas of Lagos State.
But only a few miles away from the lavish Victoria, calamity resides.

Lagos State is the city with Africa's fastest-growing population, but according to a 2016 Oxford University study, one-fifth of the city's 21 million residents are either living in or at risk of poverty.
More than 300,000 residents of Lagos live in slums. Makoko, easily the most popular slum settlement in Lagos, is already overcrowded with hardly enough space for the thousands living there.
The Otodo Gbame slum is another popular waterfront settlement in Lagos. There, you will find people living and sleeping in floating wooden canoes.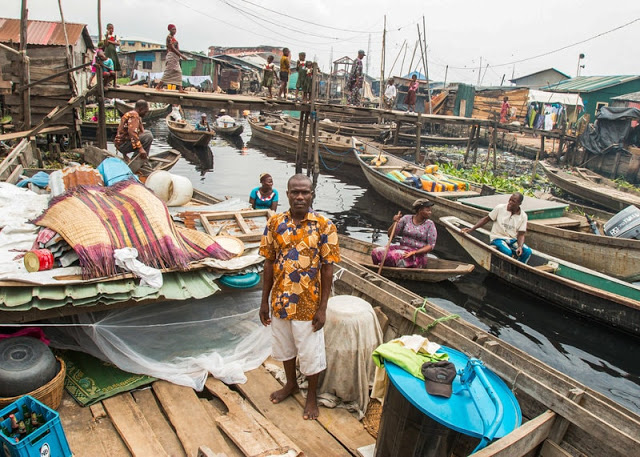 Most slum residents get by on fishing from hand-built canoes. They live in makeshift homes made of wood and scraps and elevated on stilts as a precaution against flooding. For slum residents, life necessities like access to clean water, electricity, and education are a luxury most cannot afford.
So why so much poverty in the same state housing some of Africa's wealthiest individuals?

Residents of the waterfront slums represent Lagos State's lowest socioeconomic tier.
While the oil and finance industries have buoyed a few thousand Lagosians into stratospheric wealth, not everybody benefits from this situation.
Nigeria has one of the most severe cases of economic inequality on the continent. While some wealthy families throw away food, many Nigerians cannot afford a decent meal a day.
Government corruption has plagued Nigeria since its beginning. This is one of the major causes of poverty in Nigeria.
Government officials often take payments from oil companies that are supposed to go into public trusts—payments which can often total more than $1 billion USD—and instead siphon that money into their own personal bank accounts.
When government officials engage in this kind of corruption, the poor and underserved populations within Nigeria are inevitably hurt. If these large sums of money stopped going into government officials' pockets, the Nigerian government could use that money to build up the country's infrastructure—electricity, roads, running water and more.
According to a new report by The World Poverty Clock, Nigeria has overtaken India as the country with the most extreme poor people in the world.
Some 86.9 million Nigerians now live in extreme poverty, representing nearly 50% of the country's entire population.
The real ugly about slum life in Lagos

Life in a slum is anything but stable.

Living in a slum may sometimes translate to sleeping with one eye open every night.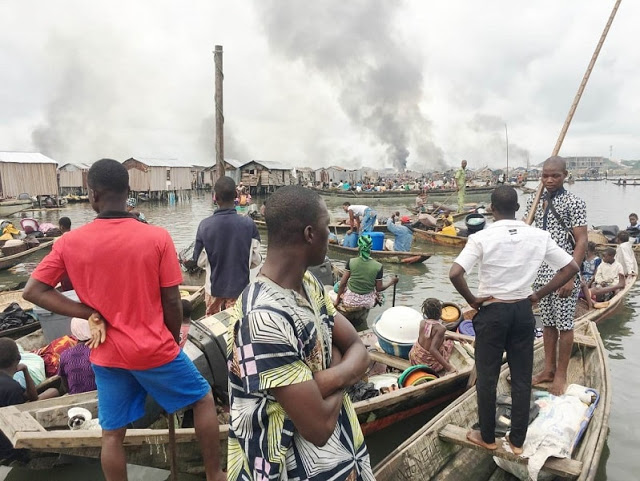 You might just wake up to noise from a crew of demolition workers and bulldozers on a government mission to "clear" structures "to ensure that the waterfront area is free from environmentally injurious and unsanitary habitation."

The rate of forced evictions has increased over the years as the government continues to discover new ways to clean and convert former slums into something profitable to the state.

Each slum raid by the government leaves thousands homeless and many properties destroyed. For a slum resident after such an attack, it may mean moving to another slum and starting afresh.

Considering most of them have started a family (slum inhabitants are known to keep large families, sometimes having up to 8 kids) the situation becomes even more worrisome.

Two years ago, a large fire ripped through the Otodo Gbame slum settlement, leaving some 30,000 people homeless.

The cause of the fire is disputed, but some believed that the police prevented the residents from having access to firefighting efforts and actually helped spread the fire.

The government denied any responsibility for the blaze but didn't seem to mind its outcome.

In a statement on the fire, it said that Otodo Gbame "clearly fell within the prime waterfront areas where Lagos State Government would prefer to have better development, befitting of a prime area in a megacity."

The statement added that the government "was mindful of the fundamental rights of the various residents living in the area."