by Staff writer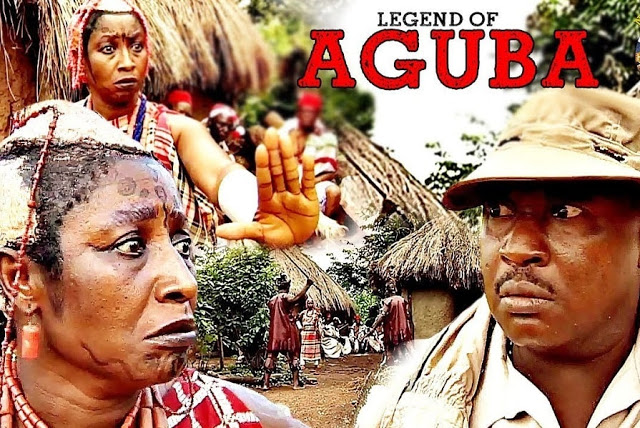 The Nigerian film industry (aka Nollywood) may have become notorious for churning out less-than-impressive movies at an alarming rate, but that doesn't mean there aren't Nollywood projects that really wowed us bone-deep.


These 10 movies listed below have all the features of a great African movie: great story, great acting and a fantastic premise.


These are the top 10 best Nollywood movies of all time:

10. Last Burial (2000)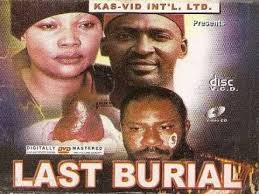 Last Burial was a cult film like no other. The film tells the story of Ogbuefi Nnamani, a wealthy Knight in the Catholic Church, who was also a member of the Shankiki cult group.
When Ogbuefi passed away, the church and the cult group battled for who would bury his corpse. This resulted in Ogbuefi's corpse remaining upright in his casket for days. Aside from the entertaining story, Last Burial also has great sound and special effects.
9. Diamond Ring (1998)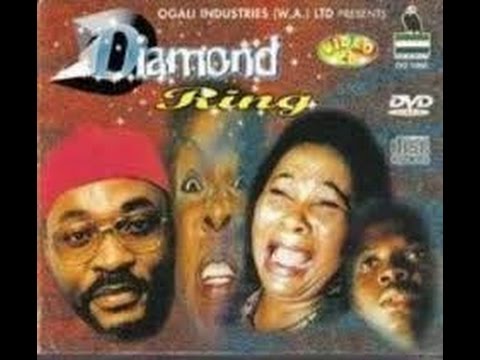 It is no surprise why this movie made this list. I was about 10 when I first saw Diamond Ring, and even from the eyes of a young child, I knew this was a great film. Diamond Ring tells the story of a young boy who was influenced by his friends to join a cult group. To prove his worthiness, he was instructed to rob from a corpse. Veteran actress Liz Benson played Gladys, the furious dead woman whose diamond ring was stolen.
8. My Love (1998)
Seems 1998 was the year of great Nollywood movies. Actors Ramsey Nouah and Chiege Alisigwe were our own African Romeo and Juliet in My Love. The love story was so intriguing that the movie was dubbed Nollywood's best love film ever. The success of My Love led to the making of several other sad love films of that era. My Love was the first film that made me shed real tears. Like I literally cried for over an hour straight. After seeing this film, you'd probably wake up the next day still feeling sad.
7. Oganigwe (1999)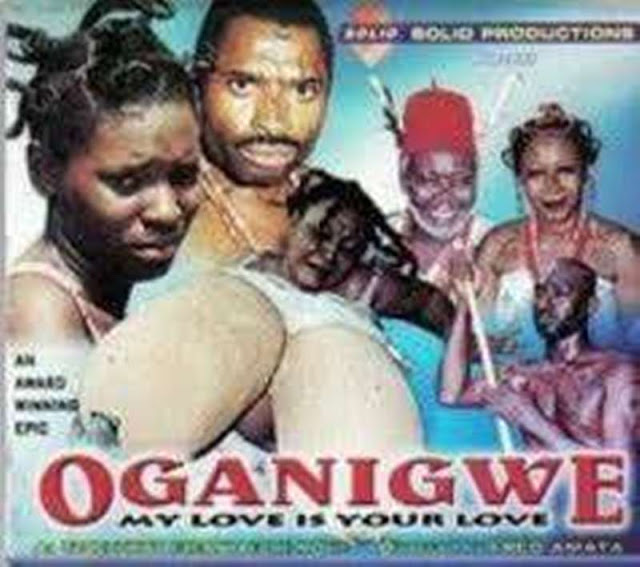 Chiege Alisigwe was the star of the 90s, featuring in some of the greatest blockbusters of that period. Oganigwe was such a beautiful story that people couldn't stop watching. It is a traditional epic film that starred some of the best acts in Nollywood at that time. In fact, we could call it our very own Cinderella story.
Chiege Alisigwe is Olamma, the poor orphan being maltreated by her stepmother. Kenneth Okonkwo is the Prince who fell in love with Olamma. Camilla Mberekpe is the wicked stepmother who with the combined effort of her vile daughter (Steph Nora Okere) brought immense torture to Olamma.
6. Igodo (1999)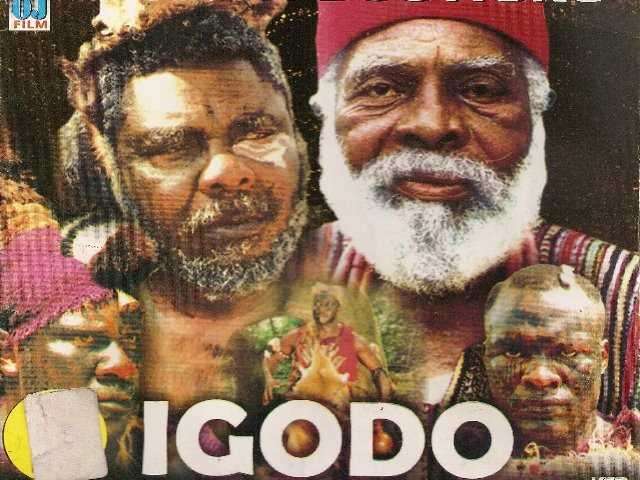 This is another epic film we won't forget in a hurry. Igodo is not for the faint-hearted. The movie is an epic adventure film that saw seven men travel far into the "land of the living dead" in search of a cure. A village is troubled by evil spirits and sorcery and the only way to stop this evil is for men to go into the evil forest to recover a sword that would put an end to a cursed tree. In my own opinion, Igodo is one of the most entertaining films ever made.
5. Suicide Mission (1998)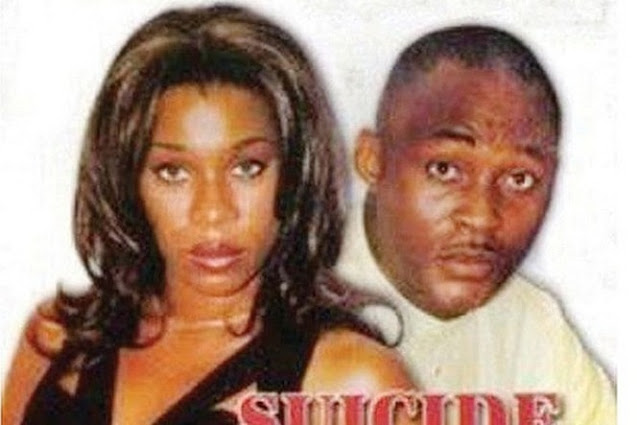 Who dares to forget this intense family drama? Suicide Mission is another movie that showed us the tremendous acting talent of veteran actress, Regina Askia. Suicide Mission tells the story of a happy family who had everything they wanted until an evil mistress decides to break the joy and take everything for herself.
4. Egg Of Life (2003)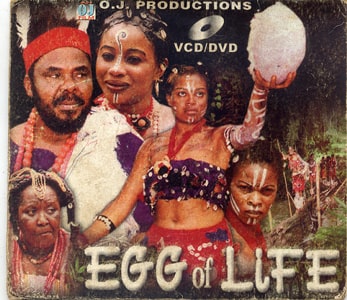 In Egg Of Life, a group of young women undertakes a dangerous journey to find a cure to a strange illness that has befallen the prince of the village. Egg Of Life is Igodo with female characters. Though released in a period most Nigerians were unfamiliar with the word "feminism", Egg Of Life's underlying feminist message could not be overlooked.
3. Stronger Than Pain (2007)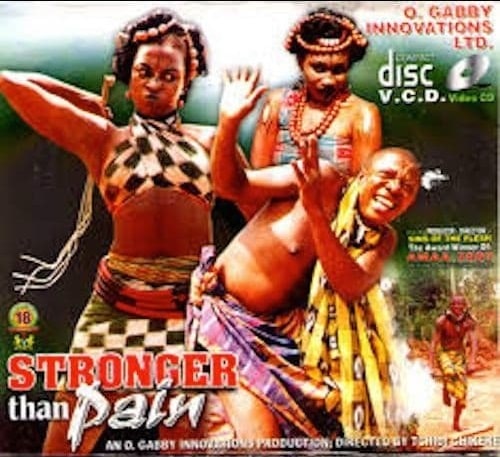 This comedic drama brought a fresh twist to a story of domestic violence. The most important feature of the film is the time it was set. In the period when men were supposedly in charge, this woman (Eringa), played by the talented Kate Henshaw, would not stop beating her husband (Ulanna), rightly played by Nkem Owoh.
2. Aguba Igogoro (2006)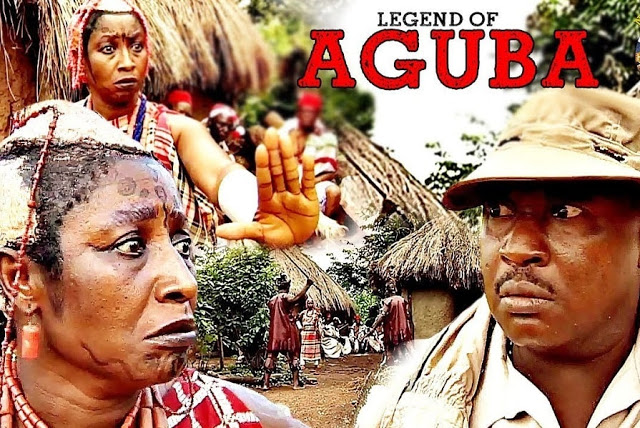 This movie was great for many things. Patience Ozokwor is the village tyrant, Aguba Eneke Agubu-Igogoro, whose reign brought horror to all in the village. She took any land she desired, any man she wanted and even took in wives in her name. Aguba is a movie that lets us understand that the corruption power brings does not spare any gender.
1. Arusi Iyi (1999)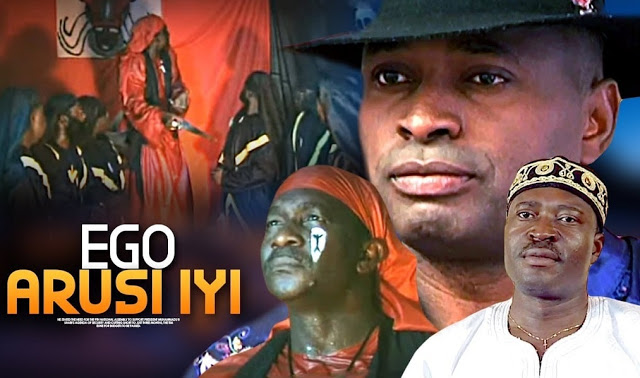 This movie is probably number one because of its complexity. A wealthy man (Chief Danco) who belongs to a dreaded cult group finds himself in a fix when an embittered gateman he maltreated reports him to a local deity (Arusi Iyi). Arusi is after vengeance for the poor, sad gateman. As the deity continues to torment Chief Danco, he continues to pray to his cult god, while his wife, a devoted Christian, continues to pray to Jesus.
***
Notable Mentions
5. Scores To Settle (1998)
4. Rattle Snake (1995)
3. Blood Money (1997)
2. Osuofia In London (2003)
1. World Apart (2004)