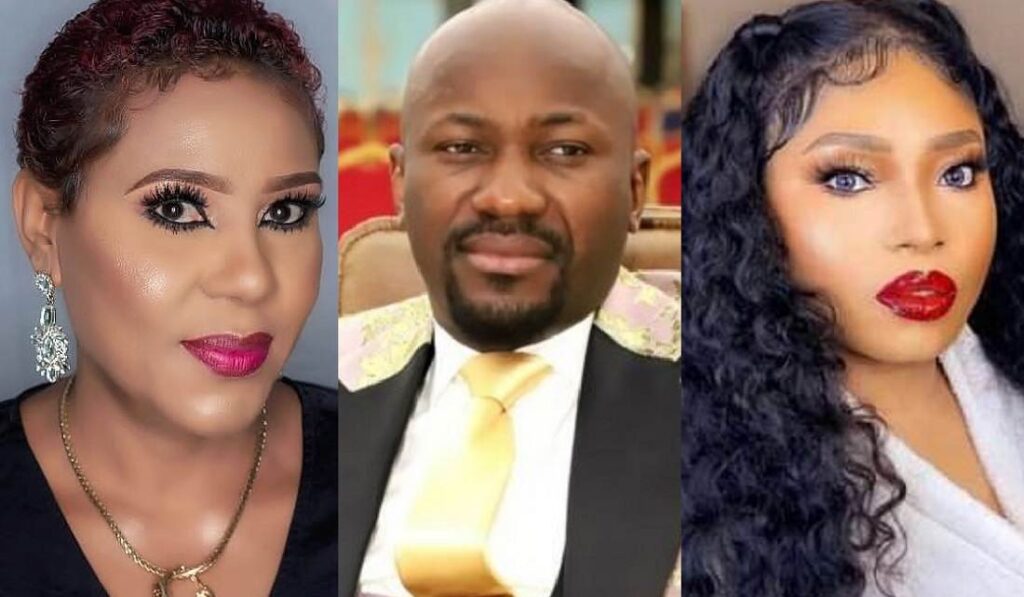 Since Instagram blogger Gistlover dropped names of Nigerian actresses who have allegedly slept with controversial preacher, Apostle Johnson Suleman, a lot of drama has been flying up and down.
The list of Nigerian actresses who have allegedly slept with Apostle Suleman for money as dropped by Gistlover included Shan George, Lilian Bach, Iyabo Ojo, Ruth Kadiri, Mercy Johnson, Chinyere Winifred, Larriet Omo Brish, Vivian Metchie, Georgina Onuoha, Ini Edo, Joy Ogbunu, Angel Okorie, Ngozi Ezeonu, Mary Uranta, Queen Nwokoye, and many others.
In the post, Gistlover also alleged that Halima Abubakar came down with a strange illness that caused her stomach to protrude following her encounter with Suleman. The actress later confirmed this.
Shortly after the Gistlover post, Shan George via her Instagram page denied the allegation, adding that she has never dated Apostle Johnson Suleman. Also in her post, she described Suleman who is probably Nigeria's most controversial preacher as one of the kindest and most straightforward persons she knows.
Her post reads:
One of the kindest and straightforward persons I know is Apostle Johnson Suleiman. Just like in his numerous sermons, he says it blunt as it is, and that's something I respect in people. Not everything is about intimacy. As for Gistlover, he's one person I've never met but have a lot of respect for as well. Because he speaks for d downtrodden and don't care if bullet hits him. Me I no fit deny my people wey I respect. But I never at anytime dated the Apostle. I be water, I no get enemy.
Reacting to Shan George's post, Halima Abubakar who is also one of the actresses accused of sleeping with Apostle Suleman, slammed Shan George, writing:
Lol Shan Shan, you forget Wetin you tell me right? Omg. No look for my trouble Shan George. I hail you. Bloody gossip. I drove with you for 12 hours. what was ur topic? A word I didn't utter. you fall my hand.
Shan George replied Halima Abubakar:
Sweetheart we've been colleagues and sisters in d industry for over 20yrs now, we all talk plenty of things when we are all girly girly, jolly, or at work. But how does that translate to me looking for ur trouble please? Did I by any chance mention ur name anywhere on my post? I sincerely don't understand. Please, what's going on? How did this become you and me matter?
Halima Abubakar who isn't still having it fired back at Shan George, calling her a "hypocrite". She also took to her personal Instagram story to further "drag" the actress, writing:
Shan George how dare you, Shan! You are an elder, respect yourself. Don't make me talk. You are a hypocrite. You told me shit about Sule. Are you okay? Both of you told me in fact, you dey craze. Don't try me o. I am ready for you all. My secret is out, I will bear the backlash but don't post lies. Call lawyers Oya. It's like you all are mad.
Weighing into the matter, controversial and busty actress Cossy Orjiakor slammed Halima Abubakar, wring that she (Halima) is only suffering from an infection. Orjiakor told Halima Abubakar to let things that happened in the past remain in the past.
She wrote:
Instead of treating infections wey dey make ur tummy swell u wan follow belong ….. things that happened in the past is just in the past. Mama snake move on. It be like snake girl no remember say we were friends like 2 years.
Steph Nayah v. Iyabo Ojo v. Apostle Suleman
On the same matter still, another actress known as Steph Nayah has also confirmed hooking up with Apostle Suleman. Nayah claimed she met Suleman at Mombasa in Kenya and they hooked up in Dubai afterwards.
According to her, the preacher later invited her to Nigeria. She stated that during her visit to Nigeria, she slept in Iyabo Ojo's house. She added that one of their intimate occasions was a threesome involving herself, Iyabo Ojo and Apostle Suleman.