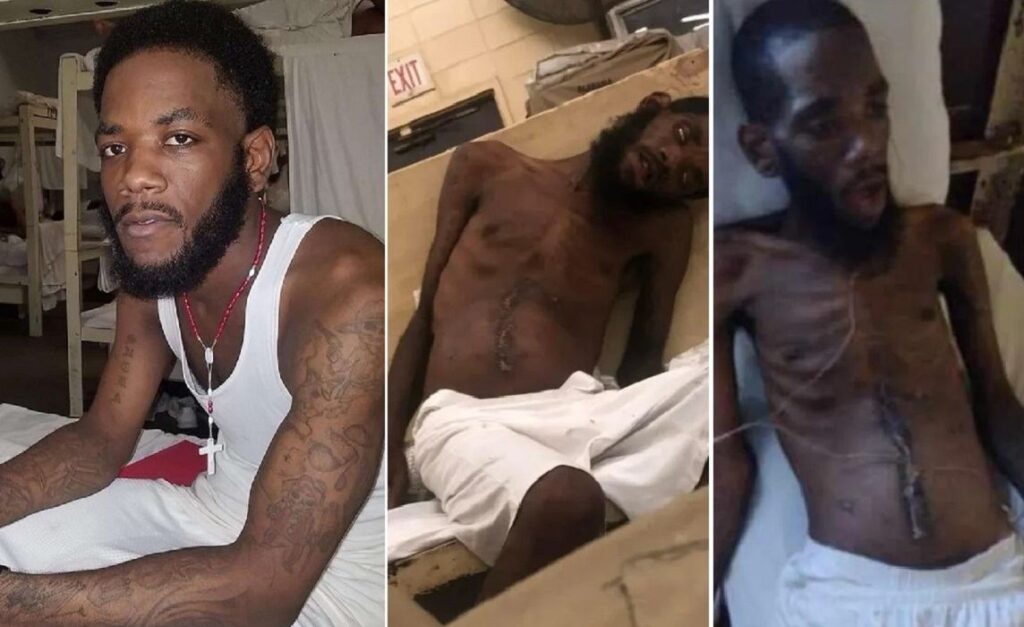 Pictures of a Black man named Kastellio Vaughan found in a deplorable condition at Alabama Prison have sparked angry reactions from internet and social media users.
Vaughan's case is coming amid allegations that the Alabama Prisons System is deliberately neglecting Black inmates and even leaving some of them to die.
According to reports, 32-year-old Kastellio Vaughan who is serving a 20-year sentence for multiple accounts of theft and a home invasion has lost over 70 pounds in weight as his health condition continues to deteriorate at the correctional facility.
It was reported that Kastellio Vaughan suffered an infection following a surgical procedure he had at the medical centre at Jackson Hospital in Montgomery.
According to information gathered by DNB Stories Africa, Kastellio Vaughan had the surgery in August 2022 to correct complaints of bowel obstruction. Vaughan's bowel condition was due to a complication from a previous gunshot wound. Kastellio Vaughan was involved in a July 2013 home invasion which led to his shooting.
While the Department of Corrections had in a statement claimed that Kastellio Vaughan's decline in health was caused by his refusal to accept medical care and take his drugs, the young man's family has accused the prison's management of neglect and abuse of Vaughan's constitutional rights.
Vaughan's family hired civil rights attorney Lee Merritt last month over the case. A GoFundMe account started for Kastellio Vaughan in September when the photos first went viral has raised over $50, 000.