SEVEN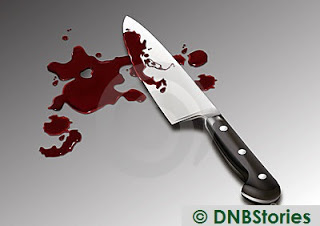 It was some minutes past 11 in the night.
Samson was already asleep on his bed when the knock came.
He tossed to the other side and in his mind converted reality to dream.
But the tiny knocking sounds persisted, until it now appeared to be hitting directly on his head.

He tossed and turned again, groaned and got up.
Outside, he put his ear to the gate and asked, 'Who is that?'
'It's Oga Chuka,' came the voice from outside. 'I need to speak with your master now.'
Hearing this, he said, 'Ah!' and quickly went ahead to unlock the gate.
As soon as the gate came open, Chuka flew in and sent his head crashing into the pillar.
Samson slumped to the ground.
Chuka wore his black mask over his face and made his way straight to the house.
In the sitting room, Ikechukwu had dozed off on Nwamgbeke's lap.
Nwamgbeke's eyes were rapt on the TV. On the screen, Patience Ozokwo and Mercy Johnson were planning on how to take over the prince from the humble girl he just married.
The door was pounded and Nwamgbeke's eyes turned to it.
She waited.
Soon the knock again.
She tapped Ikechukwu. Ikechukwu stretched drowsily on her and opened his eyes.
The door was pounded again.
Ikechukwu frowned and rose to a sitting posture on the couch.
He stood and started toward the door. Nwamgbeke followed him from behind.
At the door, he asked, 'Who is that?'
'Open the door.'
'Who?'
'Open the door!'
'Who are you?'
'You have till the count of three before your gate man's brain is splattered all over the floor!'
Nwamgbeke's mouth burst open. A shudder ran down Ikechukwu's spine.
'1,' the voice started to count.
'2.'
'Please, please, don't hurt anybody,' Ikechukwu said. 'I will open the door.'
He reached to the door with shivering hands. He pressed down the knob and opened it.
The masked invader burst in, stretching a shiny blade to his face. 'Move!' he ordered them.
Nwamgbeke and her husband raised their arms into the air, shivering.
Back in the sitting room, he asked them to kneel.
They quickly obeyed.
'Please, there is money in my room upstairs,' Ikechukwu said.
'Not yet,' the invader said. He turned to Nwamgbeke. 'Take off your clothes!'
Nwamgbeke's eyes flew wide.
The masked man sent his left palm crashing into her face. 'I said take off your clothes!'
Nwamgbeke was shaking.
Ikechukwu raised his arms higher up. 'Please, I'll give you whatever you want but please don't touch my wife,' he said.
'Lie down!'
Ikechukwu was slow.
'On the ground now!'
He lowered and straightened himself on the floor.
Chuka held Nwamgbeke and pushed her to the couch.
But before he could lay his hands on her, Ikechukwu rose and grabbed him from the back.
There was a brief struggle and in the process, the sharp blade of the knife pierced Ikechukwu's chest.
He fell, clutching his chest. Blood spurted all over the floor.
Nwamgbeke screamed and ran to her husband.
The invader didn't relent still. He grabbed Nwamgbeke, held her hands to her back and right there beside her lifeless husband forced his way with her.
***
He got home, sweating and panting, stained all over in blood.
'Oh my God!' Rose screamed as she opened the door. 'Chuka where have you been since morning and where are you coming from?'
He ignored her, walked to the couch, sat and hung his head.
'Chuka?' Rose stared at her boyfriend. 'Chuka, what happened to you?'
'I killed him,' he said.
'I don't understand, you killed who?'
'I killed the bastard that calls himself my friend.'
Rose's jaw dropped. 'Oh God, Chuka, why on earth will you do such a thing?'
'Is it not bad enough that he's got it all? Why couldn't he have left the only thing that was mine too, why?'
'Oh Christ!' Rose started to shake and breathe fast. 'Chuka, he is innocent,' she said. 'I lied.'
'What?'
'He never made passes at me, he didn't do all those things I said he did.'
'What are you saying?'
'It was me. It was all me…I…I… was the one that has been going after him. He never showed interest, so after our last discussion, I was afraid he was going to tell you, so I lied to cover my tracks.'
Chuka turned his bloodshot eyes to her, gasping for breath.
***
For over half an hour, he said nothing to Rose. Rose stood there beside him, shivering.
'You made me kill my friend,' Chuka finally said. His voice was low and his eyes on the floor.
'Chuka, I'm so sorry, I never knew it would get to this.'
'It is too late,' he said.
'What?'
'I've killed someone because of you.'
'Baby, don't panic,' Rose said. 'We will find a way to fix this.'
Chuka shook his head. 'There's no fixing anything,' he said. 'First thing tomorrow morning you are going with me to the police station.'
'What, why?'
'We are going to turn ourselves in.'
'Why? I didn't kill anybody.'
'Oh, no, babes, we both killed someone and that's exactly what we are going to tell the police.'
Rose shook her head. 'I can't do that.'
'You have no choice.'
Rose drew in a long stretch of air and swallowed. 'Listen, Chuka, I know how you are feeling, but…'
'Shut up!'
Rose shuddered to silence.
'Not a single word more from you.'
Rose turned and ran into the room. The next minute she was out again now carrying her bag.
Chuka stood and blocked her way. 'Go back,' he said.
'Chuka, what is done is done already. Believe me going to the police to confess anything is just plain madness.'
'Walk back to the couch and sit down.'
'Chuka.'
'Now!'
'I'm leaving.'
'You are not going anywhere.'
'Chuka listen, my sitting down would only be to discuss how to cover this up. Otherwise I'm leaving. I can't follow you to the police, I can't.'
'There is no other way,' Chuka said. 'You have to pay for the crime.'
Rose swallowed again. 'Stop acting as if you've been a saint yourself. You never liked him. Haven't you always been envious of his success?'
'Envious, yes, but I never would have killed him if not for you.'
Rose continued to breathe heavily. 'Baby, listen, this is not what we should be discussing. He is dead, he is dead. But we are still alive and breathing, so let's plan on how to remain alive.'
'There is no remaining alive after murder.'
'Oh there is, dear,' Rose said. 'There is. I have a plan.'
***
Six days later, at the village house, Nwamgbeke was no longer crying. Only Florence, Ikechukwu's only sister, was.
Nwamgbeke sat on one of the plastic chairs in front of the house, her blank eyes into the air.
When the siren of the hearse was heard outside the gate, she stood and crossed herself.
Florence started to roll on the floor.
None of the women that clustered around her could restrain her. It was her only brother that was gone.
As the coffin was being carried in, Nwamgbeke ran to it and placed her two hands on it.
That was when her tears started to flow again. The black wrapper of her funeral wear came undone and dropped to the ground.
She didn't mind. She didn't even turn to look.
One of the women ran to her, picked the wrapper and tied it back round her waist.