The Monster and the Queens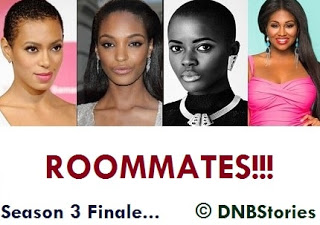 Friday Evening:
Chuka drove into the tiled compound and April and her long legs came down from the other side of the car.
The house was a modern style duplex with only the first floor fully completed.

April held her bag to her front while Chuka ran back to the gate to lock it.
'You don't have a gate man?' April asked as he returned.
'No,' Chuka said. 'I fired the last one and since then I've not had the time to actively look for another.'
'Why did you fire him?'
'He messed up big time. He was here and my wife got kidnapped and killed.'
'Oh my God.'
'Yes.'
'Oh, I'm so sorry about that.'
'No, it's okay. Life goes on.'
'Yes, of course,' April said. 'I'm happy you are holding up just fine.'
'I don't have a choice.' He turned. 'Let's go in.'
April stood aside while he opened the door.
Inside the house, she kept looking round the place. 'Nice apartment.'
Chuka looked at her. 'Thank you. I'll move up as soon as the top floor gets fully furnished as well.' He dropped his keys on the glass table. 'Sit down and feel at home.'
'Thanks.' April sat down and crossed her legs. 'So did you just move here?'
'Yes. Only a few weeks ago.'
'I see, but your wife—'
Chuka's eyes ran to her.
April waved. 'Never mind.'
He gave her a look before taking the other seat across from her.
'So you live here all by yourself now?' April asked.
'Yes.'
'Aw, must get very lonely at times, I'm sure.'
'Sometimes, yes. So what can I offer you?'
'Anything soft.'
'Come on, I'm sure a little red wine won't be so harmful.'
April kept her eyes on him for a brief while. 'Well, if you insist,' she said.
'I do,' Chuka said, getting up. 'One minute please.' He walked away, disappearing through an adjacent door.
He returned shortly with a bottle and two glasses.
He poured the drink and extended a cup to April.
She faked a sip, spilling wine on her white blouse. 'Oh shit,' she cried.
Chuka looked. 'I'm so sorry.' He reached into one of his pockets and brought out a white hankie and gave to her.
April collected it from him. A few dabs on the stain and she returned it to him. 'Please, can you make it a little wet,' she said. 'I think it'd clean better that way.'
'Sure.'
As soon as he disappeared, the sharp roommate reached into her bag and took out the tablets.
She dropped them into his drink.
Chuka returned and gave her the damp hankie.
He sat back down and carried his glass.
'Thanks,' April said, returning his hankie after she was done.
'You can drop it on the table,' Chuka said.
April did.
She reached into her bag and took out some papers from it. 'This is a copy of the likely questions that I'm going to ask you,' she said, extending the papers. 'You are free to tell me if there is any you object to.'
Chuka waved. 'Don't worry, I will answer whatever question that comes out from those lips.' He was looking lustfully at her now.
April smiled. 'Thank you very much, sir,' she said, taking back the papers.
Chuka sipped from his glass again and stood.
He came to sit beside her. He dropped one hand on her thigh. 'If you give me what I want, you will get more than just an interview from me.'
April turned to him with a smile.
His eyes were starting to dim already.
'Are you feeling what I'm feeling?' Chuka asked.
'Exactly what are you feeling, sir?'
'The wine, I think the alcohol…the alco…' He blinked hard and shook his head. 'The alcohol is way…way…too…' He fell back to the chair.
A few moments and he'd started to snore.
April sighed and continued to smile.
From her bag, the graceful roommate took out a bar of soap.
She took his keys on the table and impressed each on the soft bar, engraving each of their shapes.
When she was done, she stood, adjusted her blouse and blew a kiss at the drugged man on the couch.
Sharp clacking sounds of heels were heard as she sashayed away.
***
Saturday Evening:
All four roommates went to the salon to get their hair braided.

Monday Afternoon:
All four roommates went to school, but only Loveth came back to the lodge.
The next day, she went to the police station with some other of their hostel mates to make a report.
Three of her roommates had gone missing, she claimed.
Meanwhile, that same afternoon, Georgina, April and Nwamgbeke were on the uncompleted topmost floor of Chuka's house, working on the other part of the plan.
'Your back,' Georgina said, raising the belt she was holding.
Nwamgbeke turned her back and Georgina struck her with the belt.
'Chinekeme!' Nwamgbeke screamed. 'Georgina, you want kill me?'
'What?'
'Na levenge I say I want to do o, I did not tell you that I want to join Ikechukwu in the glave yet o?'
'Georgina, I think you hit her a little too hard,' April said.
'Come on, girls,' Georgina said. 'If we ever hope to succeed with this plan, we must make ourselves look as convincing as possible.'
She struck Nwamgbeke's back again.
Nwamgbeke swung back to her and jerked the belt from her. 'Oya, your turn now.'
Georgina smiled and gave her her back.
Nwamgbeke struck her four times and on each occasion, she did not so much as blink.
Nwamgbeke's wide eyes met with April's.
Georgina turned back to them. 'Now that's how you set up a murderer, bitches!'
She collected the belt and asked April to turn.
She did and she gave her three strokes, April wincing hard on each occasion.
Thereafter, they rubbed dust on themselves, cut and rumpled their braids and tore part of their clothes.
They used menthol to make their eyes red and teary.
At the end, the former sassy roommates looked nothing short of three grievously molested girls abducted by a dreadful serial killer.
On the wall of the room they were in, they pasted pictures of themselves and different other girls.
The pictures of Chuka's wife and Ikechukwu's sister, Florence, were crossed with red—to mean those he'd already killed.
When they were done, they tied themselves up and Georgina typed the message and sent to Loveth who had been in the hostel room all the while waiting for their cue.
The time was now some minutes past 8 in the night.
Chuka was already on his way home.
As soon as her phone beeped, Loveth ran up from the bed and picked it.
She read the text message slowly:
We are at number 32 Thomas Ibe Street. Please call the police immediately, he is a very dangerous man. I'm scared.
Loveth smiled and picked the piece of paper where she had written down the numbers she was given at the police station to call in case she heard anything about her missing friends.
But as she was dialling the number, the door of the room burst open, startling her.
She looked and it was Anthony, a huge flaw to the plan.
His eyes were red and he appeared to be staggering, as if drunk, or stoned. Or both.
Loveth made to scream, but he grabbed her and quickly covered her nose with his handkerchief, chloroforming her.
The thick roommate fell limp and dropped into his arms.
He tied her up, gagged her and waited.
In the dead of the night, he lifted the struggling roommate and carried her to his car parked outside the gate.
Some minutes later, he pushed the gagged and trussed roommate into an empty room.
Loveth struggled, but the ropes binding her together were too tight on her skin.
Anthony stood there, watching her, great evil in his eyes.
Loveth kept on struggling.
'Why do you hate me so much?' Anthony asked him.
Loveth sent scowling eyes to his face.
'After all I've done for you. Saving you several times, even putting my life on the line for you, yet you despised me.'
Loveth only glared at him.
'You could have burned to ashes that day with that guy if not for me. I saved you.'
Now a new emotion crept into Loveth's eyes.
Anthony made the show of a smile—a deeply ominous expression.
He crossed his arms and leaned to the wall. 'You know, now that I remember it all I wish I hadn't done all those things. I wish I hadn't pretended to break the lighter that day and had lit you up in the car with that guy. It would have saved me from this stress.'
He nodded. 'Yes, really it would have.'
Loveth stared at him.
'But how could I when I've seen that it was you,' Anthony continued. 'I couldn't bear to see you that way.'
He gave a little shake of head. 'I couldn't. Wouldn't have even let CK carry on with the hit had I seen that you were in the car on time.'
'But what do I get for all these? Nothing.' He spat. 'Nothing but hate. Torture. Disregard. Mockery.'
He came close and jerked Loveth's face up. 'Loveth, that is what they call you, but you got no love in you, babe. Your heart is stone!'
He did that his evil smile again. 'But guess what, I got news for you. I'm no more going to give you that opportunity to make me feel worthless. As useless as filth, no! You've mocked me enough. You might as well be stone, but you've turned me just into something colder.'
He crashed his palm into Loveth's face and pushed her to the floor.
As Loveth writhed in pain on the dusty floor, Anthony started to unzip his trousers.
***
Meanwhile, the three girls trying to set up a murderer for the same crime he was an expert in waited for their friend to come with the police.
Hours passed and nothing happened.
Chuka had showered and since gone to bed, unaware that in one of the empty rooms in the uncompleted top floor of his house, an evidence worth sending him to the death row lurked.
In the middle of the night, he got up to ease himself.
After peeing and feeling slightly hungry, he opened the door to walk to the kitchen.
In the dark room they were in, April whispered, 'Let's go, we'll find another way.'
'Ssh,' Georgina said. 'He is home already, he might catch us.'
'So what do we do now?'
'He leaves for work early in the morning, if we still can't reach Loveth by that time, we will inform someone else to call the police.'
'That means they not catch him led-handed again,' Nwamgbeke said.
'Does it matter whichever way they catch him?' April whispered back.
'Let me try Loveth's number again,' Georgina said.
She took out her phone and as soon as she turned it on, a waiting Facebook notification came in and there was a loud beep.
Chuka who was just coming out from the kitchen turned immediately. 'Who is that?' he asked.
He headed up immediately, to the empty room they were in.
Georgina signalled to her friends not to move. She hid behind the door.
As soon as Chuka opened the door, she hit him hard on the head with a broken piece of cement block she found on the floor.
He fell, but didn't pass out.
The girls ran off immediately, but at the balcony, Chuka caught April.
Georgina and Nwamgbeke stopped and ran back to them.
Before Nwamgbeke could come close enough, Chuka shoved her, so hard she fell off the railing, plunging to her death.
***
End of Roommates Season 3!
Stay connected, the girls will be back!