by Kate Douglas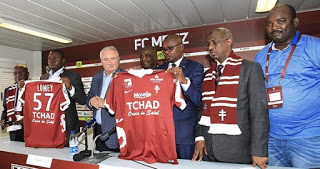 Almost two weeks ago, the management of France's FC Metz football team – part of Ligue 1, the country's top division – unveiled their new player kit. The FC Metz shirt now bears the slogan, 'Tchad: Oasis du Sahel' (Chad: Oasis of the Sahel).


The inscription, displayed prominently on both the front and back of the shirts, is a result of the team's new three-year sponsorship by the Chadian tourism office – a deal which has raised eyebrows.


Chad Republic, a landlocked Central African territory, is one of the poorest nations in the world. The heavily oil-dependent economy is struggling from the collapse in global oil prices and it ranks 183rd out of 189 countries in the World Bank's Ease of Doing Business index. It is also battling regional insecurity caused by Islamist terrorist group Boko Haram.


So why has this struggling African nation decided to sponsor a French football team? Chadian minister of sports, Betel Miarom, says he hopes the deal will help change the negative perception surrounding Chad.


"Our country needs to erase its negative image and become known in a positive manner," Miarom was quoted as saying by L'Equipe. "So we decided to go through the FC Metz. Hopefully it will go well beyond the football and intensify the economic ties between our two countries."


According to a press release by FC Metz, the Chad Tourist Office will also benefit from greater visibility from advertising inside the Saint-Symphorien stadium in Metz (France).


The deal was organised on behalf of the Chadian government by pan-African media group LC2, which has recently launched a television channel in Chad. There is uncertainty around who is footing the bill of the sponsorship. Miarom was quoted by CNN as saying that LC2 is covering all expenses.


No official statement has been released regarding the cost (FC Metz did not respond to How we made it in Africa's request for further details). However, Chadian journalist Ahmat Zeidane Bichara estimates that it would cost between €2-4m (around US$2.3-4.5m).


FC Metz's press release stated that it was "logical" for the French football team to be sponsored by Chad, due to the club's strong ties with the continent (it established a training academy in Senegal in 2000), and Chad's diplomatic link to France (Chad was a French colony until 1960).


Best use of funds?


Critics such as Bichara question whether the FC Metz deal isn't a waste of money. Chad's tourism industry has already been hard hit by the foreign offices of Western nations like the UK advising against travel to the entire country. Bichara asks whether it would not be more effective to take steps to have these travel warnings lifted, and to spend money on improving access to basic necessities like clean water.


"From the latest reports from the UN, it is indicated that 64% of Chad's population has no access to drinking water, 4/5 of the water of Lake Chad has evaporated and 15,900 children under five die each year from diarrhoea caused by water impurity in Chad. What is ultimately the true urgency of Chad and Chadians: tourism or hunger and the thirst for drinking water? That is for you to judge," he wrote on his blog (translated from French).


Africa and football sponsorship


According to CNN, France's Ligue 1 is broadcast to over 100 countries, a fact which means that the deal will ultimately increase the visibility of Chad as a brand.


And sponsorship of the well-watched sport (which is popular among Africans) is catching on as an effective way to increase brand visibility. SportPesa, the Kenya-based online sports betting company, signed a multi-million-pound, three-year agreement last month to sponsor Hull City AFC, the English Premier League team.


The company's CEO, Ronald Karauri, told How We Made It In Africa that, "The English Premier League has almost five billion viewers, so SportPesa will be visible in other countries, so it's the best marketing tool for us." It is estimated each English Premier League game is watched by over 10 million people globally.


Other sub-Saharan companies have also backed English Premier League clubs. This includes South Africa's Bidvest Group, which sponsored Sunderland from 2013 to 2015, and South African specialist bank Investec, which sponsored the Tottenham Hotspur shirts in all cup competition matches from 2010 to 2013.


***


Source – HERE


***


Meanwhile, stolen Nigerian money is being returned to clean up London's image and it's Africa Fashion Week in London.
Here's Ikenna Azuike's satirical take: