Donald Trump winning the US presidential elections devastated many who wanted America to elect her first female president.

However, some have already cast aside their previous female candidate, Hillary Clinton, and are now endorsing another potential first female president – Michelle Obama.
The First Lady to Barack Obama is very popular and many think she is the right, if not the only, choice for the Democrats in 2020.
The hashtag #Michelle2020 has been trending on Twitter as people voiced their hopes that she would save the US from President Trump.
While some are tweeting in mere jest, others seem actually very hopeful that Michelle Obama will become the next president of the United States after Donald Trump.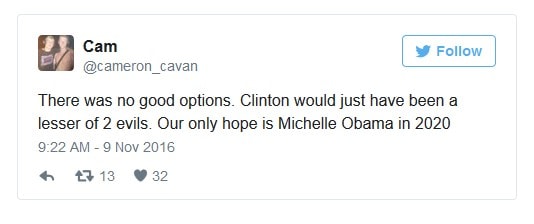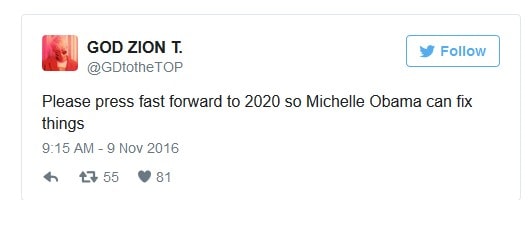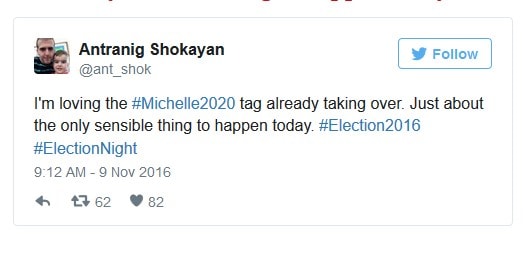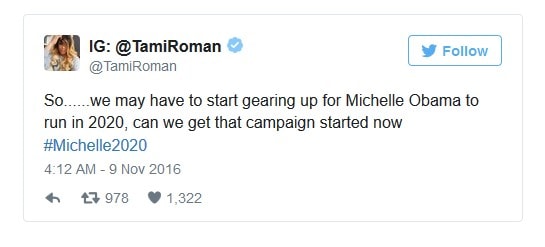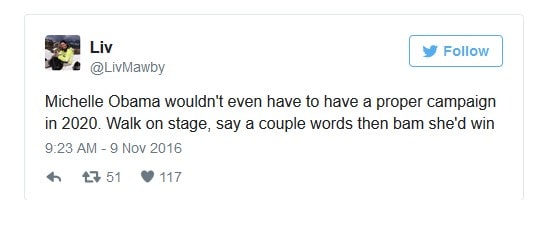 According to Radhika Sanghani of the Telegraph, the appeal is so easy to see!
"Michelle Obama is everything Donald Trump is not. She has huge influence across the US, she's a successful lawyer with degrees from Harvard and Princeton, she's poured her energy into advancing girls' rights, and most importantly, she comes across as down-to-earth, fair and kind.
"She won over the American public with her good-nature and ability to laugh at herself – doing push-ups on the Ellen show and appearing in James Corden's Carpool Karaoke. The 52-year-old is, arguably, the only figure to emerge from the divisive election campaign unscathed."
All we can say is, Go For It, Michelle!
Do you think Michelle is president material, tell us in your comments below…