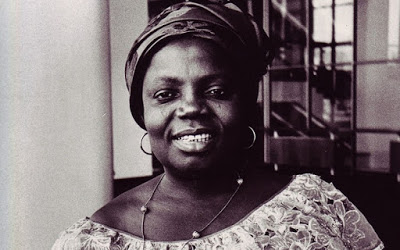 Florence Onyebuchi "Buchi" Emecheta was a Nigerian novelist who had written more than 20 books, including Second-Class Citizen (1974), The Bride Price (1976), The Slave Girl (1977) and The Joys of Motherhood (1979).

Her themes of child slavery, motherhood, female independence and freedom through education won her considerable critical acclaim and honours, including an Order of the British Empire in 2005.
She has been characterised as "the first successful black woman novelist living in Britain after 1948".
Following her success as an author, Emecheta travelled widely as a visiting professor and lecturer.
One of her popular quotes is:
"I work toward the liberation of women, but I'm not a feminist. I'm just a woman."
Emecheta's Joys of Motherhood was so widely read in Nigeria that every Nigerian student knew about the book, and could have read it.
Buchi Emecheta died in London on 25 January 2017, aged 72.