Tanzania, the largest country in East Africa, includes the spice islands of Zanzibar, Pemba, and Mafia and contains Africa's tallest mountain— the Kilimanjaro!
In a remote village in the northern parts of this amazing country, same sex marriages are on the rise, but not really among lesbians.

Within the Kurya tribe, a longstanding tradition of straight women and widows marrying each other in order to preserve their homes and lifestyles without husbands has seen a resurgence in popularity recently.
Tanzanian journalist Dinna Maningo explained that in the female marriages, the women are married and run their homes similarly to a mixed-gender married couple: living, cooking, working, raising children, and sleeping together.
But the women are straight, and do not have sex.
The tradition, Maningo says, also reduces the possibility for domestic abuse, child marriage, and female genital mutilation.
Women can take male lovers, but any children that result belong to the female marriage.
"They realize the arrangement gives them more power and freedom," Maningo said. "It combines all the benefits of a stable home with the ability to choose their own male sexual partners."
Mugosi and Anastasia Juma are one of such couples.
Mugosi's husband left her 10 years ago, while Juma had survived a forced marriage at the age of 13, was treated like a slave by her husband, and ran away after giving birth to his child.
The pair married in 2015.
"I certainly didn't want another husband. Marrying a woman seemed the best solution," Juma said. "The marriage is working out better than I could have imagined. I wasn't sure at first, because it was such a new experience—now, I wouldn't choose any other way."
"My wife and I do everything together," said Juma, 27, delicately built and wearing her hair in short braids.
According to reporter Dinna Maningo, this kind of family structure [called nyumba ntobhu in the local language] has existed for many years.
"Nobody knows when it started," Dinna says, "but its main purpose is to enable widows to keep their property."
By Kurya tribal law, only men can inherit property, but under nyumba ntobhu, if a woman without sons is widowed or her husband leaves her, she is allowed to marry a younger woman who can take a male lover and give birth to heirs on her behalf.
The custom is very different from same-sex marriages in the West, Dinna adds, because homosexuality is strictly forbidden.
"Most Kurya people don't even know gay sex exists in other parts of the world," she says. "Especially between women."
Another case of note is the story of Veronica Nyagochera and Mugosi Isombe.
Thirty years ago, 51-year-old widow Veronica Nyagochera married Mugosi Isombe, who was 20 at the time.
Nyagochera had five daughters of her own but no sons, so she hoped her union with Isombe would produce heirs.
But throughout the women's marriage in a hamlet near Tarime, Isombe, too, gave birth to only girls. "We had four daughters. They brought us great joy, but we still had a problem," said Isombe, who is now 50.
"If my wife died, we would lose everything—our houses, our land, our livestock would all be given away to a distant male relative."
So, Isombe decided to look for a younger wife of her own.
Some local men offered their teenage daughters, demanding cows as dowry, but Isombe refused. "Some people don't care who their daughters marry, as long as they get paid," Isombe said. "But I am strongly against forced or child marriage. I could only accept a wife who agreed to this kind of marriage freely."
Years later, Isombe met Paulina Mukosa, who had just turned 18.
Mukosa's father had tried "many times" to marry her off to various men, but she resisted, often putting up such a fight that male suitors bolted.
Her father beat her for her disobedience, but that only strengthened her resolve. "All my life, I watched my parents having violent arguments that ended up with my mother being injured," said Mukosa, a cropped-haired woman in a turquoise cotton wrapper flanked by fussing goats and small children outside her hut.
"I had seen other women and girls in my village being beaten by their husbands and fathers, even by their brothers. I didn't want to be trapped like that."
After meeting Isombe, Mukosa, now 21, readily agreed to the marriage. "I liked that marrying a woman would give me more control over my own body and affairs," Mukosa said.
By the time she was married, her father was so eager to see her go that he demanded "only seven cows" from Isombe.
In 2013, Mukosa moved in with Isombe and Nyagochera, who is now 81.
The two older women gave her a private hut in their hamlet of eight traditional huts. She quickly found a boyfriend, an unmarried local man in his 20s, and gave birth to a son just over a year later. She is currently eight months pregnant with her second child by the same boyfriend.
Her two wives were overjoyed that she'd produced a male heir so fast.
They slaughtered a goat to celebrate.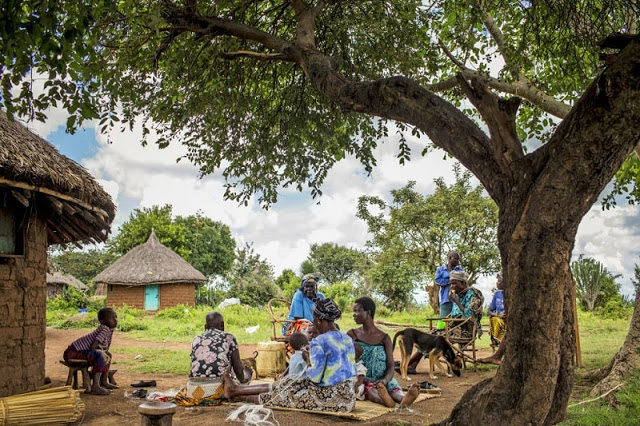 Mugosi Isombe (seated on mat, in blue) and Paulina Mukosa (seated
on mat, in teal) eat lunch with family and other friends
[
Photo by
Charlie Shoemaker
]

Still, the notion that Mukosa felt she'd have more control over her body by marrying a fellow woman seems kind of odd given that her primary purpose was to give the women a son.
Didn't she feel exploited?
"No, not at all," Mukosa insists. "I understood that I had to give birth, but I wanted children anyway, so it was my choice as well. There is no choice if you marry a man—as well as giving him children, you must also have sex with him whenever he wants, or he will beat you for being a bad wife."
Mukosa says she enjoys seeing her boyfriend two or three times a week, but she's glad that he takes a secondary role in her home life.
"So far he has treated me beautifully," she said. "But I can easily break up with him if that changes."
***
A similar tradition was once popular in some parts of Nigeria's East too; the report will be posted on DNB Stories as soon it is ready!
***
Abigail Haworth and Charlie Shoemaker of Marie Claire magazine contributed to this report.