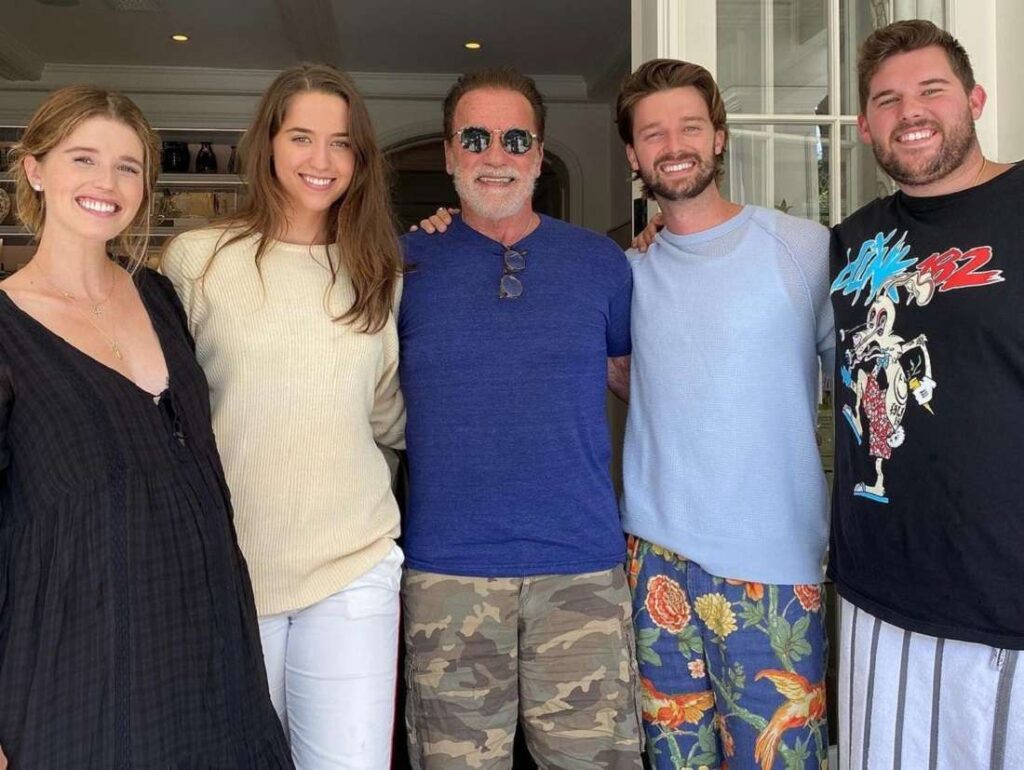 This article contains the full story of Arnold Schwarzenegger's marriage, his relationships, his wife and five children.
Who is Arnold Schwarzenegger?
Arnold Schwarzenegger is an Austrian-born American actor, retired bodybuilder, and movie producer. Schwarzenegger is also a politician, having served as a former governor of California. Arnold Schwarzenegger became famous in the 1970s as a bodybuilder and earned the nickname "Austrian Oak" for his outstanding physique.
Arnold Schwarzenegger's full name is Arnold Alois Schwarzenegger. He was born on July 30, 1947, to strict Catholic parents. Schwarzenegger is 75 years old as of 2022.
Schwarzenegger's interest in bodybuilding started at a young age. According to reports, he started lifting weights at the age of 15. And 5 years later, he won the Mr Universe title. Arnold, who is now a seven-time Mr Olympia winner is said to be the youngest to ever win the title, to date. Also, he is often dubbed the greatest bodybuilder of all time alongside Ronnie Coleman.
Before Schwarzenegger took bodybuilding seriously, he ran a successful bricklaying business. As far back as 1965, Arnold Schwarzenegger served in the Austrian Army for a year because it was compulsory at the time for all 18-year-old young men in Austria.
In the early 80s, after a successful bodybuilding career, Arnold Schwarzenegger quit bodybuilding to pursue an acting career. As an actor, he is famous for his lead role in the 1984 sci-fi movie "The Terminator." But the heavyweight champion's breakthrough role came two years earlier when he was cast in the 1982 action-fantasy movie – "Conan The Barbarian." Some of Schwarzenegger's other hit movies include Commando (1985), Predator (1987), The Last Stand (2013), and many others. In 2003, Schwarzenegger took a break from acting to run for the office of California governor. He won the election, serving as the Governor of California for 8 years (2003 – 2011), after which he returned to the big screen.
Arnold Schwarzenegger's parents
Arnold Schwarzenegger's father is Gustav Schwarzenegger. He was a former military policeman and postal inspector and a former member of the Nazi Party. According to the actor, his father was abusive toward him. In fact, Arnold was not on good terms with his father before his death in 1972. Arnold Schwarzenegger's father, Gustav Schwarzenegger died of a stroke on December 13, 1972, at the age of 65.
Arnold recounted how his late father always flogged him with a belt and accused him of being gay at some point. This, coupled with other sad childhood experiences made Arnold Schwarzenegger not to attend his father's funeral.
Arnold Schwarzenegger's mother is Aurelia "Reli" Schwarzenegger (née Jadrny). She was previously married to a man who reportedly died in World War II. After losing her first husband, Arnold's mother married the legendary actor's father in 1945. Unlike Arnold's father, Aurelia had a good relationship with her son, Arnold before her death. Schwarzenegger's mother died of cardiac arrest in 1998 at the age of 76. According to reports sighted by DNB Stories Africa, Aurelia died on her way to visit Gustav's grave in 1998.
Arnold Schwarzenegger siblings
Arnold Schwarzenegger's only sibling was his older brother – Meinhard Schwarzenegger. Arnold's father, Gustav showed more love and attention to Meinhard because he doubted that Arnold was his biological child. On May 20, 1971, Arnold's brother died in a car crash while driving drunk. According to reports, Meinhard Schwarzenegger was speeding through a mountain road and this resulted in a collision that claimed his life on the spot. It seems as though Arnold and his brother had no good relationship before he died because the actor was absent from his only sibling's funeral. Meanwhile, before Meinhard's death, he was engaged to his lover Erika Knapp and together they have a son named Patrick Knapp. Today, Meinhard's only child is a popular attorney based in Los Angeles, California.
Arnold Schwarzenegger's marriage and wedding
As of September 2022, Arnold Schwarzenegger is divorced and does not have a wife. Schwarzenegger was previously married to TV journalist Maria Owings Shriver. Arnold and Shriver had a beautiful wedding ceremony on April 26, 1986, at Hyannis, Massachusetts, in the presence of about 500 guests. But sadly, their 25-year-old marriage officially ended in 2021.
Meanwhile, before and during the former bodybuilder's marriage to Maria Shriver, he dated and hooked up with other women. Most notably, he dated Barbara Outland and Sue Moray for many years but he never married any of these women.
List of Arnold Schwarzenegger's girlfriends
Although Arnold Schwarzenegger only got married to Maria Shriver, he has an interesting dating history involving many other women. Here's the full list of all the women Schwarzenegger has allegedly dated or had a fling with. This list includes his ex-wife, Shriver.
Barbara Outland and Arnold Schwarzenegger dated and cohabited until 1974 after meeting first in the late 1960s.
Vanessa Williams allegedly had sex with Arnold Schwarzenegger to win a role in the action movie "Eraser."
Rachel Ticotin and Arnold Schwarzenegger allegedly had a fling.
Kellie Everts and Arnold Schwarzenegger allegedly hooked up in 1972.
Eleanor Jane Mondale (now late) dated Arnold Schwarzenegger in the late 1970s.
Sue Moray and Arnold Schwarzenegger were in an open relationship for about a year (1977 – 1978)
Brigitte Nielsen and Arnold Schwarzenegger hooked up around the 1980s. In his 2012 autobiography, Arnold confirmed he cheated on his then-wife Maria Shriver with Nielsen.
Maria Shriver and Arnold Schwarzenegger wedded in 1986.
Gigi Goyette and Arnold Schwarzenegger reportedly had an affair for over 7 years before splitting in 1996.
Mildred Patricia Baena and Arnold Schwarzenegger had an affair in 1996 leading to the birth of Arnold's youngest child, Joseph. Baena was the actor's housekeeper at the time. Surprisingly, Mildred and Arnold were both married to different people when they had an affair.
Heather Milligan and Arnold Schwarzenegger have been dating since 2013.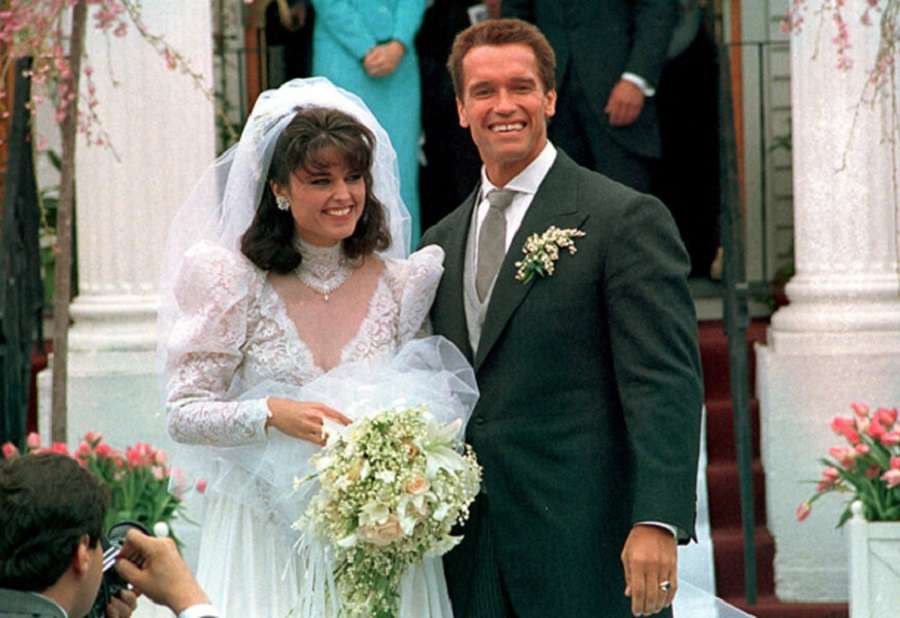 About Arnold Schwarzenegger's ex-wife – Maria Shriver
Arnold Schwarzenegger's ex-wife Maria Owings Shriver is an American author and TV journalist. The actor's ex-wife was born on November 6, 1955. She is 66 years old as of September 2022. Shriver comes from a very powerful political family – the Kennedy family. For instance, her maternal uncle is the late John F Kennedy, a former US president. However, Maria is popularly known in the media for being Arnold Schwarzenegger's ex-wife. Their relationship began in 1977 after they met at the Robert F Kennedy Tennis Tournament. Their romance spanned through the 80s, leading to a colourful wedding in 1986.
Unfortunately, Maria Shriver had to endure adultery from her husband in their 25 years of marriage. Arnold's ex-wife somehow tolerated his many cheating scandals until she discovered that the actor had fathered a son with their domestic staff. In fact, while Maria was pregnant with her last child, her maid Mildred Patricia Baena was also carrying Schwarzenegger's child. Both women gave birth the same year – just a few days apart. Meanwhile, Shriver didn't find out until after 14 years.
Patricia Baena worked for the now estranged couple for over 20 years and was also married at the time to a man named Rogelio de Jesus Baena. However, their marriage ended shortly after she gave birth to Schwarzenegger's son. The whole situation left Arnold Schwarzenegger's ex-wife traumatized. So she dumped the former bodybuilder and filed for a divorce in 2011. But the divorce was not concluded until 2021.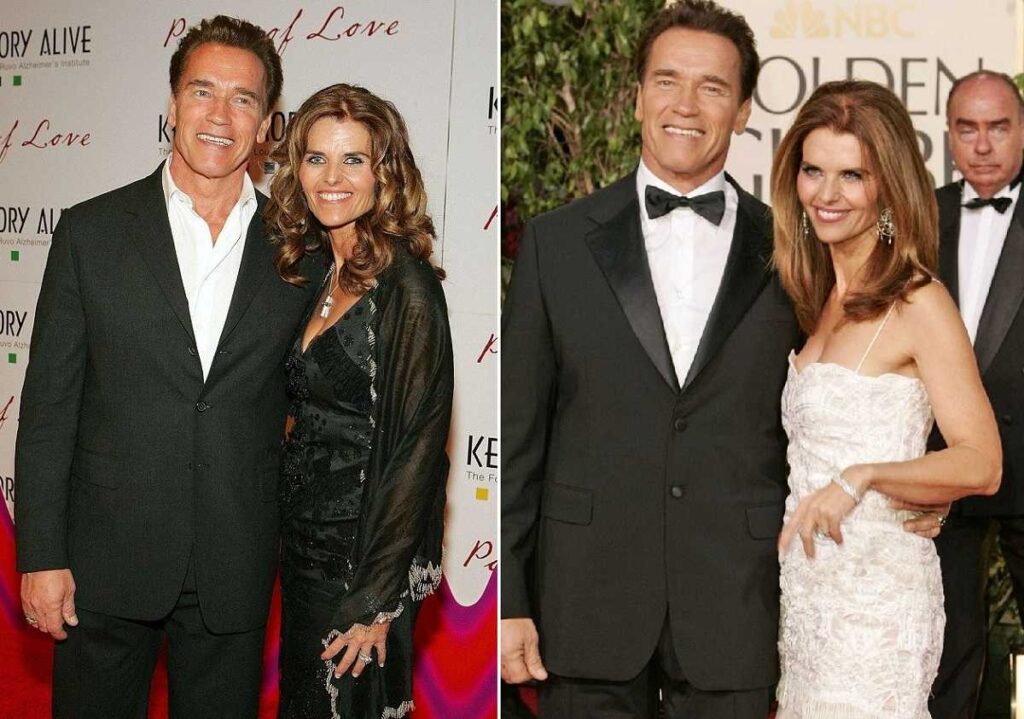 Arnold Schwarzenegger and Mildred Patricia Baena's relationship
Mildred Patricia Baena is a Guatemalan woman who worked as Arnold Schwarzenegger's housemaid before their relationship transitioned into a romantic one. Mildred Patricia Baena was born on March 1, 1961. She is 61 years old as of 2022.
Arnold Schwarzenegger impregnated Mildred Patricia Baena at the same time his then-wife, Maria Shriver was carrying their last child. In fact, Shriver and Mildred Patricia Baena gave birth the same year but Shriver did not find out about Patricia Baena's pregnancy until many years after. Both Arnold and Baena were married to their different spouses at the time they had the affair.
Mildred Patricia Baena was formerly married to a man named Rogelio de Jesus Baena. They have a daughter named Jackie Rozo together. The man left Patricia Baena on October 1997, the same month she gave birth to Arnold Schwarzenegger's child. Schwarzenegger's wife, Maria Shriver also filed for divorce when she found out about the affair in 2011.
As of 2022, Mildred Patricia Baena has not remarried. However, reports claim she is currently having an affair with another man named Alex Aguiar.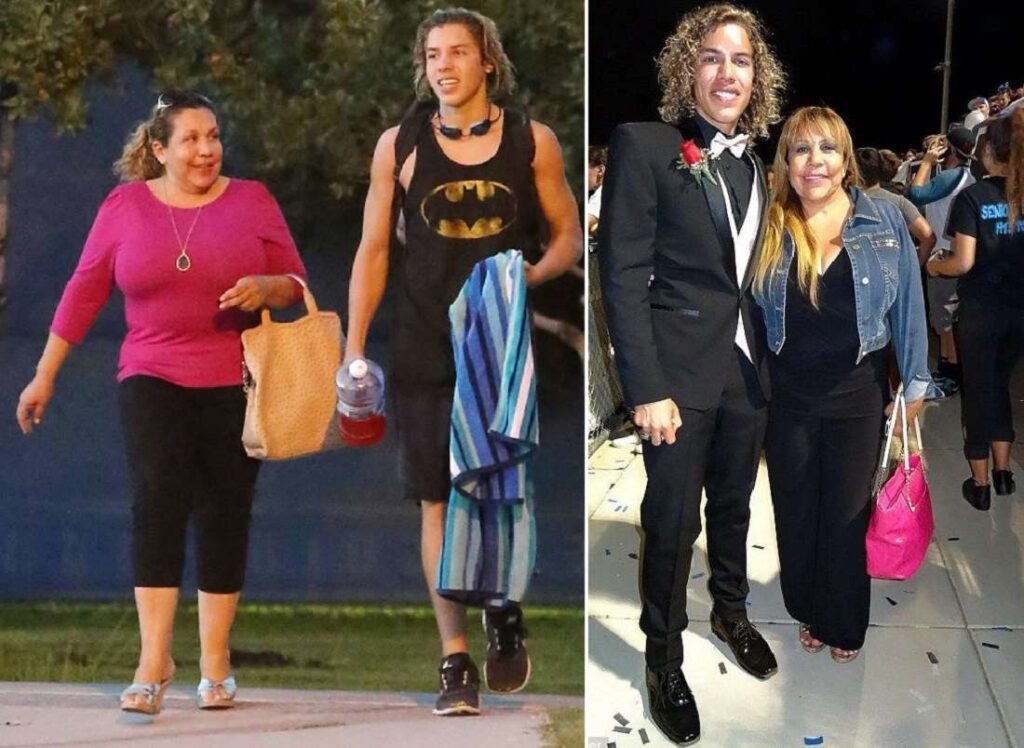 About Arnold Schwarzenegger's recent girlfriend – Heather Milligan
Arnold Schwarzenegger is currently in a relationship with physical therapist Heather Milligan. Their romance has been going on for almost 9 years now. The love birds were first spotted locking lips in 2013 in Santa Monica.
Heather Milligan is a Los Angeles-based physical therapist. She is also the founder of Elite OrthoSport, an orthopaedic and sports therapy organization. Born on November 9, 1974, Arnold's girlfriend is 47 years old as of September 2022. The duo seems to be very much into each other.
Arnold Schwarzenegger's children
As of September 2022, Arnold Schwarzenegger has a total of five kids from two different women. The famous bodybuilder welcomed four children with his ex-wife Maria Shriver. He also welcomed his last child with his former housekeeper Mildred Patricia Baena.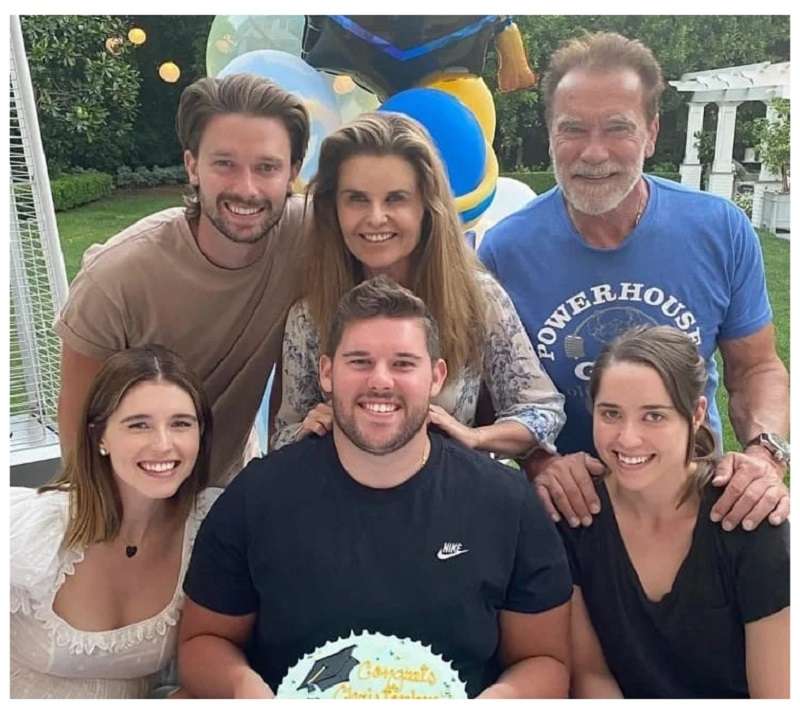 Full list of Arnold Schwarzenegger's kids
Here's the full list of Arnold Schwarzenegger's kids:
Katherine Eunice Pratt (née Schwarzenegger)
Christina Schwarzenegger
Patrick Arnold Schwarzenegger
Christopher Sargent Schwarzenegger 
Joseph Baena
1. Katherine Schwarzenegger
Katherine Eunice Schwarzenegger is the first child and first daughter of Arnold Schwarzenegger and his estranged wife Maria Shriver. Katherine Schwarzenegger was born on December 13, 1989. She is 32 years old as of September 2022. Arnold's first child doesn't dwell in her father's glory. In fact, Katherine has made a name for herself in the creative industry as an actress and author. The 32-year-old author married her beau, actor Chris Pratt in 2019. They currently have two children (2 girls) together.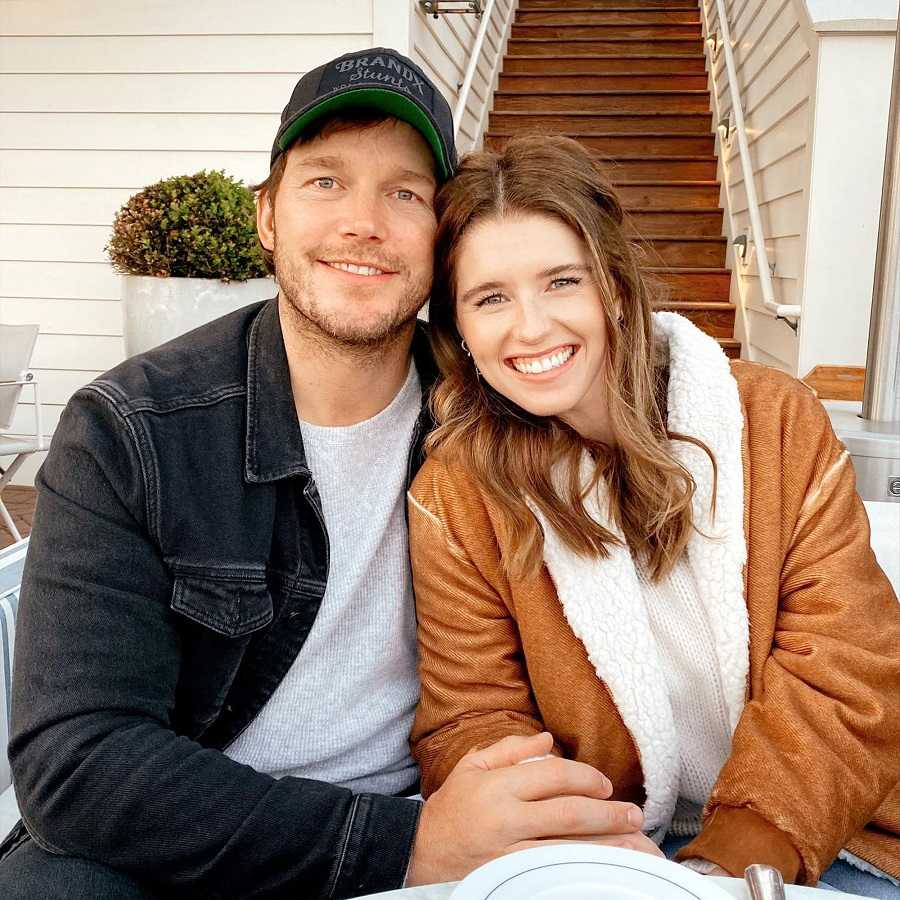 2. Christina Schwarzenegger
Christina Aurelia Schwarzenegger is the second child and second daughter of Arnold Schwarzenegger and his ex-wife Maria Shriver. Arnold's second child was born on July 23, 1991. She is 31 years old as of September 2022. Schwarzenegger's second daughter is an actress and movie producer. Christina Schwarzenegger, alongside her mom, produced the 2018 Netflix documentary "Take Your Pills". The documentary highlights the pros and cons of Adderall and other psychostimulant drugs.
The 31-year-old actress opened up about her struggles with attention deficit hyperactivity disorder (ADHD) from an early age. The condition made Christina Schwarzenegger addicted to Adderall. According to her, she used the medication frequently while she was in college.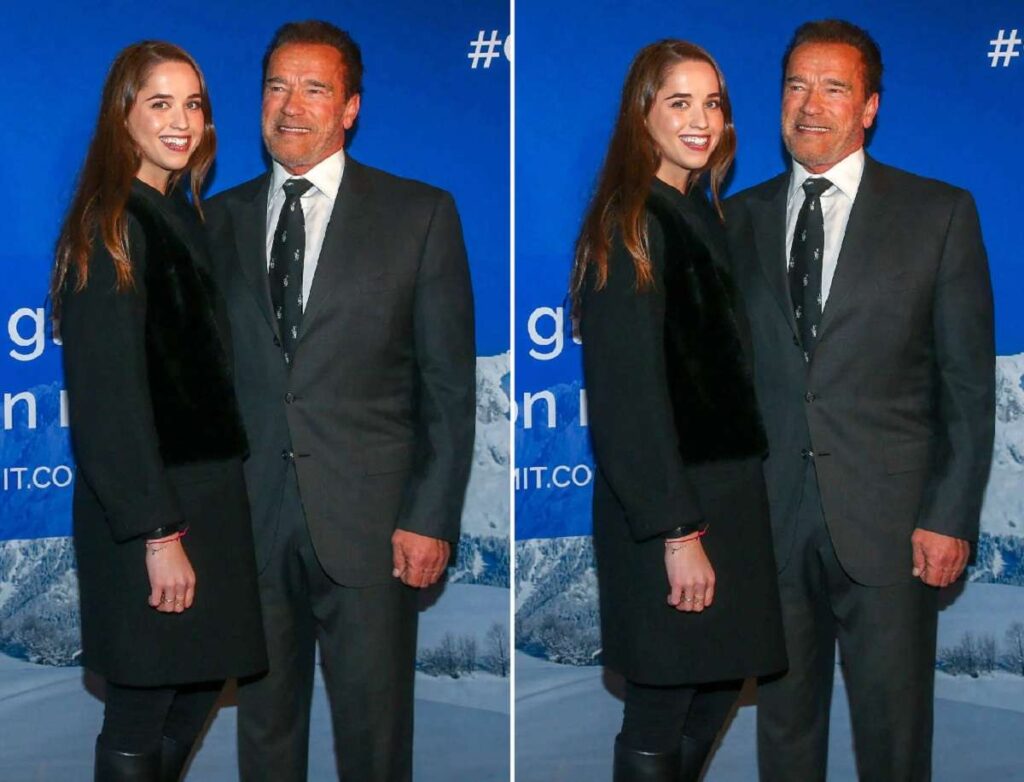 3. Patrick Schwarzenegger
Patrick Arnold Schwarzenegger is the third child and first son of Arnold Schwarzenegger and his ex-wife Maria Shriver. Born on September 18, 1993, Arnold's third child is 29 years old as of September 2022. Schwarzenegger's oldest son is an actor and also a model. He starred in the 2018 romantic movie "Midnight Sun."
The news that Arnold fathered a son with their domestic staff overwhelmed Patrick. Shortly after the news went viral, the 29-year-old model dropped his father's last name (Schwarzenegger) and picked his mom's last name (Shriver). Patrick Schwarzenegger and singer Miley Cyrus dated for roughly a year before breaking up in April 2015.
4. Christopher Sargent Schwarzenegger 
Christopher Sargent Schwarzenegger is the fourth child and second son of Arnold Schwarzenegger and his ex-wife, Maria Shriver. Christopher Schwarzenegger was born on September 27, 1997. He is 25 years old as of September 2022.
Detailed information about Christopher Schwarzenegger's personal life and interests is currently scarce in the media because he is a private person. However, he was in the news sometime last year for his visible weight loss. Christopher Sargent Schwarzenegger was formerly big-sized but he was sighted in October 2021 looking a lot slimmer.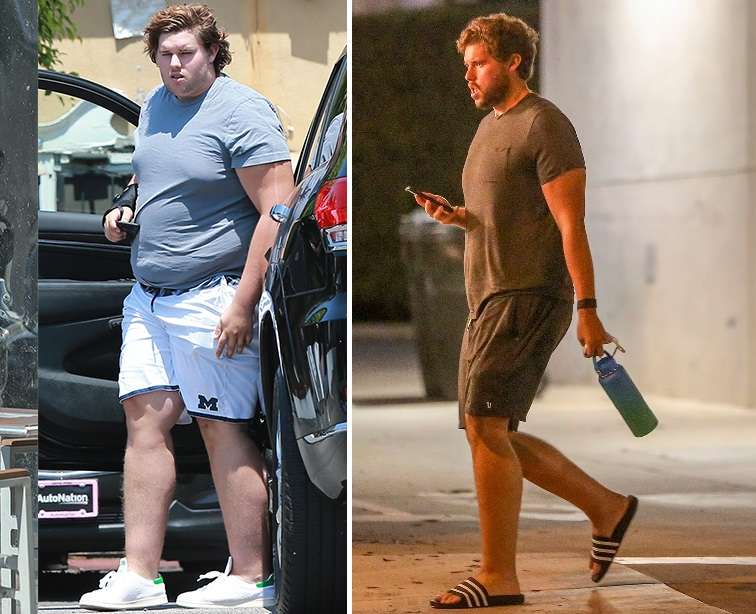 5. Joseph Baena
Joseph Baena is Arnold Schwarzenegger's youngest child and last son. Baena's mom is Mildred Patricia Baena, a former housekeeper in Schwarzenegger's home. Arnold and Mildred had a secret affair in 1996. This led to Joseph's birth on October 2, 1997. He is 24 years old as of September 2022.
For many years, only Mildred Patricia Baena knew that Schwarzenegger was her son's biological father. She hid the truth from the family because she wanted to protect her marriage and that of her benefactors. However, as Joseph grew older, he began to look a lot like Arnold. So the former Governor of California confronted the former maid who confessed immediately to him. Arnold took full responsibility for Joseph but the incident destroyed his marriage to Shriver.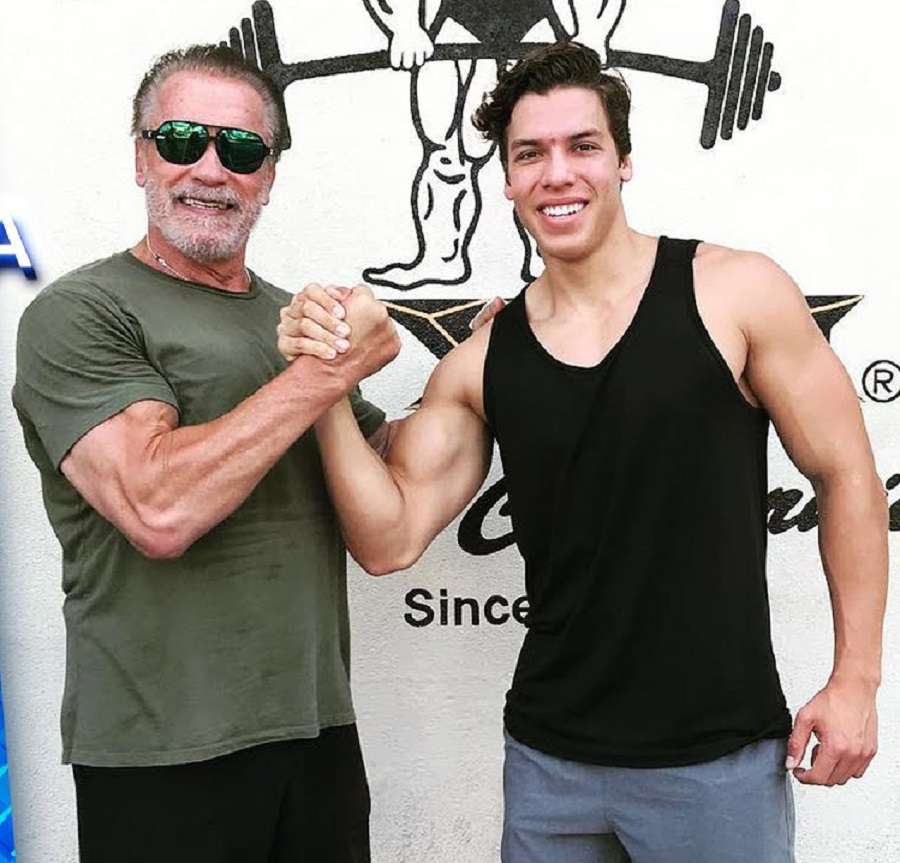 Just like his superstar father Arnold, Joseph Baena is also passionate about bodybuilding. The 24-year-old Arnold's son is also an entrepreneur. He is self-driven and wants to make a name for himself. For this reason, he chose not to go by his famous father's last name (Schwarzenegger) even though he has a beautiful relationship with Arnold.