Only months after Nigeria experienced its own spate, news reports has put death toll from devastating floods in Sierra Leone to more than 400 people with hundreds still missing in the stricken capital.

Mass burials were held for mudslide victims on Thursday amid the threat of further disaster.
The Red Cross has put the
death toll at 409 and Jens Laerke, spokesman for the UN Office for the
Coordination of Humanitarian Affairs in Geneva, said the toll "may
rise", noting the number of people still missing.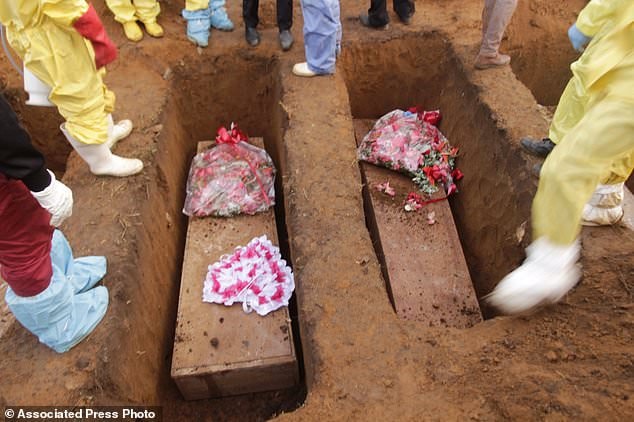 Large-scale burials in Sierra Leone while an estimated 600 people remain
missing. People continue to search through tonnes of mud and debris, hoping to find their missing relations.

What could cause a mudslide?
Mudslides occur when a large amount of water causes the rapid erosion of soil on a steep slope.
Rapid snowmelt at the top of a mountain or a period of intense rainfall can trigger a mudslide, as the great volume of water mixes with soil and causes it to liquefy and move downhill.
Floods and mudslides are usually caused by extensive rain from storms, when the ground cannot hold the excessive water and the water flows over ground.
However, floods can also be caused by storm surges, or very high tides, when the water from the sea floods inland.
Additionally, dam failure or breakage may cause a torrential amount of water the dam was holding up to pour downstream, causing a sudden flood.
What can be done?
Both structural and non-structural measures can be applied to mitigate flooding:
Structural measures include construction of dams for the purpose of river regulation, flood protection dykes to hold back water and proper drainage channels.
Non-structural flood mitigation measures include:

i. Undertaking river training works;

ii. Undertaking soil conservation measures;

iii. Establishment of early warning system;

iv. Assessment of climatic time series (climatic variability and climate change);

v. Study of the catchment characteristics;

vi. Floodplain mapping; and

vii. Proper delineation of the floodplain.

In general, the best long-term solution to flooding and mudslides could be the zoning of wetlands and provision of incentives for relocation, depending on the type of land use, because all other solutions, sooner or later, will show their problems.
Dykes disrupt, channels suffer deposition, dams are often insufficient and very expensive to construct.

Though not always easy, the safest thing to do in time of a flood warning might be to pack up and relocate!