by Staff writer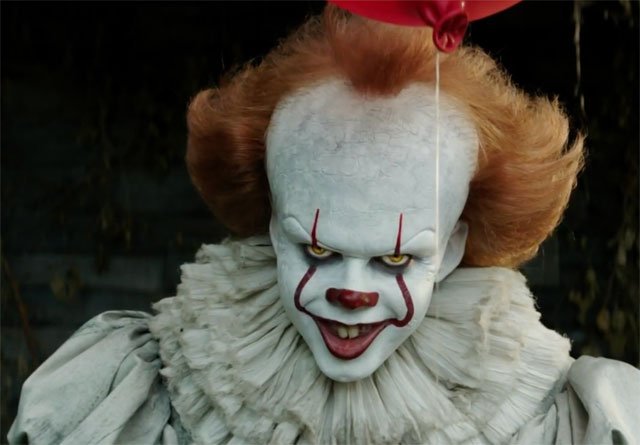 It is a 2017 American horror film directed by Andy Muschietti and based on the 1986 novel by Stephen King.
The film tells the story of seven children in a small town who are terrorized by a murderous clown.

The film was released in September, 2017 and has since set numerous box office records, including grossing over $371 million worldwide.
But one striking feature about the movie appears to be the far-reaching effects of its horror.
At one cinema showing earlier the week, it was clear how terrified those in attendance were.A clearly shaken Professor Green said: "I just f**king hate clowns!"
"Now I'm scared of clowns. I'm like, 'thanks guys, you've given me a new phobia'," added Love Island star Gabby Allen."Take people who are going to look after you afterwards," another cinema-goer Jorgie Porter advised.
While the movie has received generally positive reviews, Bill Skarsgard who played the role of the terrifying clown admitted in a recent interview that he found it hard to re-adjust to normal life once filming finished.
"It was weird," he told People Magazine. "I really enjoyed myself doing it, but the day after we wrapped, I went back home to Stockholm, Sweden, and it's always a weird experience when you work really hard on something and then you go back to regular life at your childhood home.
"And that's when I finally realized what an impact the character had had on me."

Skarsgard elaborated: "For the following two weeks I would have these really disturbing dreams about Pennywise the Clown.
"It was very strange, it was almost like a really slow exorcism to completely let go of him.

"The closest thing I can liken it to is being in a very destructive relationship, because you never really realize you're in one until you're out."



Meanwhile, those in professional clown business have slammed the movie, claiming it is damaging to their trade as people are now afraid to coming close to clowns.
They say there is nothing funny about watching bookings for events drop by 30 per cent because youngsters and adults alike are now terrified of clowns.
Tommy Bungles, 62, says bookings have plummeted since the trailers featuring child-killing demon clown Pennywise began to appear on TV. "People see a clown now and think they are evil killers, but they are not.
"The Hollywood image of clowns is frightening to people, and not just children.
"And the way they are portraying clowns now means the film is just another nail in the coffin for the clown industry.
"The adults are saying 'we don't like clowns now' and that affects the children, who also start thinking clowns are nasty."
Andy Davis, 45, who performs as Andy the Clown and is chief organiser of the annual UK Clown Gathering, said: "Parents are telling their kids "don't be scared of the clowns – but why should they be? Clowns aren't frightening.
"Coulrophobia, the fear of clowns or masks, became known in the mid 80s, which is when Stephen King's book came out, it's not new."
Still, the film has grossed over $100m dollars in its opening weekend in the US and a sequel is already planned.