by Staff writer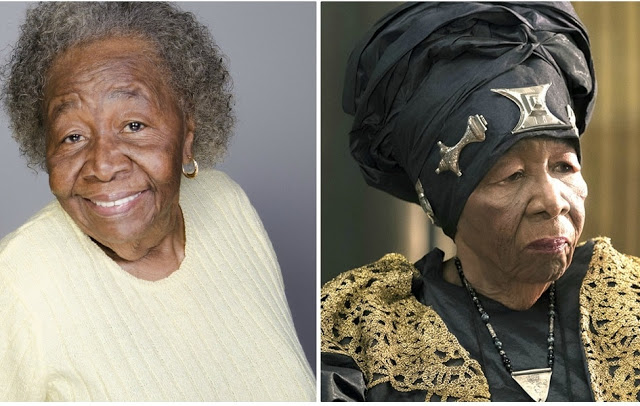 Dorothy Steel was already 88 when she started acting.
At 91, Steel was offered a chance to audition for a role in Black Panther.

But the nonagenarian was initially reluctant, saying she didn't want to audition for some "comic strip" movie she had never heard of.
Steel told herself there was no way she could learn how to speak with an African accent that the role required.
So in late November 2016, Steel asked her agent to kindly decline the invitation, and went about her day.
When her 26-year-old grandson, Niles Wardell, called, Steel casually mentioned the offer.
Wardell was stunned. This is not just comics, he told his grandmother, this is "Black Panther!"
This is a big deal. When Steel wasn't convinced, he decided to turn the tables on the woman who has been his source of wisdom for so long.
"My grandson said to me, 'You're always talking about stepping out on faith. I either want you to man up or shut up,' " Steel recalled, laughing at the memory.
Steel would later get another audition and this time she took the chance.
An hour after seeing Steel's audition tape, the Marvel casting producers called her agent, Cindy Butler. Within a day, she had the offer.
And now millions of people worldwide have seen her in the role of a merchant tribe elder in the 14th-highest grossing movie of all time.
At 92, Steel has become a celebrity in ways she couldn't have imagined even a year ago. Anytime she steps outside in College Park, Georgia, where she lives, she is greeted with fans asking for a selfie or autograph.
Steel's scene-stealing lines in the film — delivered in a convincing South African accent — have inspired people that it's never too late to try new things.
"Hopefully, somebody who at 55 or 60 has decided, 'This is all I can do,' they will realize they have 35 more years to get things together," Steel said.
"Start now. It's never too late … keep your mind open and keep faith in yourself that you can do this thing. All you have to do is step out there and try it.
"And if you don't make it on the first step, step out there again and you'll find something you can step out on. But don't just sit back. Life is not just about sitting back. Life is about stepping out."
After receiving her second offer to audition, Steel revealed she went on YouTube and listened to Nelson Mandela speeches for several hours a day.
She immersed herself into the character: Where was this woman educated? How did she become so powerful?
What had she done for her country, the fictional land of Wakanda?
And that's how Dorothy Steel got to know all the answers!


***


Credit: The Washington Post.