by Staff writer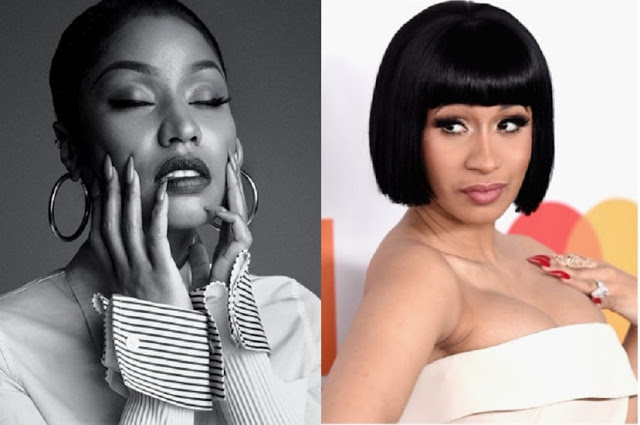 While Cardi B has insisted that she has no beef with Nicki Minaj, the "Chun-Li" singer begs to differ.
According to Minaj, 35, her feud with Cardi B began when she and Cardi, 25, were both featured on Migos' "Motorsport," which dropped in October.

Nicki said that the first interview Cardi did after the song came out really got her upset.
"The only thing with Cardi that really, really, really hurt my feelings was the first interview she did after 'MotorSport' came out," she said.
"I remember when I first came in the game, if a female of that stature had done a feature with me on it, I would only be singing their praises and saying thank you."
She added that she was upset about the way Cardi B addressed her verse on their 'Motorsport' collaboration.
"The first interview she did after 'MotorSport' came out, it just really hurt me," Nicki added.
"She looked so aggravated and angry. The only thing she kept saying was, 'I didn't hear that verse. She changed her verse.'


"I was like, 'What?'


"I remember when I first did a song with Trina for the first time, that's why 'til this day, I love Trina. She's the first female rapper that acknowledged me behind the scenes…You've never heard me speak ill of Trina because of that. That's very important."
She added that she did appreciate Cardi's most recent interview, in which the former stripper denied any feud with Minaj.
"I finally felt like she said something genuinely nice about me," Minaj told Beats 1 Radio on Thursday.
"With 'Motorsport' I felt ambushed … At the time I went on Twitter and I explained how 'Motorsport' came about and people said I was lying, so I texted Quavo and was like, 'Can you back me up on this?' Because I didn't want people to think I was lying," she said.
"And he didn't back me up … It hurt my feelings to know that people would watch me be slaughtered and not one person will step in to say the truth."
Crying, she continued, "They will run with that lie because … it's entertaining to make Nicki seem like a bad guy."
Minaj said that when Quavo first approached her to feature on "Motorsport," he was the only person on the track and that he asked for her blessing to eventually add Cardi to the song.
As for why Minaj and Cardi didn't film the music video for the song together, Minaj claimed it's because both ladies share a hairstylist and that the hairstylist had a scheduling conflict.