THREE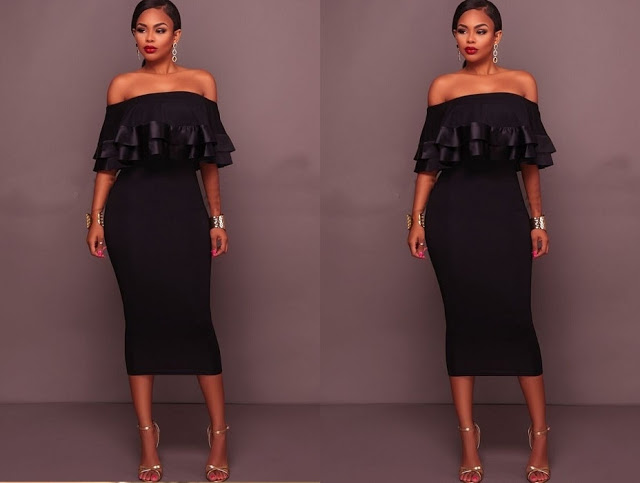 Nkiru's husband, Nnamdi, works with a property maintenance company whose reputation for owing their staff far outweighs their expertise in delivering satisfactory service to their customers.
So when that morning Nnamdi got a call from his boss to come to the office on a Saturday, he knew something was up.

Only a few days before he had written a very daring letter to the company, expressing his disappointment in "working for a company whose interest in the welfare of their staff is so low as to be compared with exactly what slaves got in the 16th century."
On getting to the office, Nnamdi's boss was the most straightforward he'd ever been in recent years.
"I feel deeply sorry that you hold this opinion of us, Mr Nnamdi," he told Nnamdi. "Taking all you wrote into serious consideration, I've decided it might be best to let you go. Perhaps there is an establishment out there that truly deserves your level of competency and dedication to work."
Nnamdi looked neither surprised nor hurt. He collected the letter and banged the door behind him.
***
Blessing's husband, Effiom, had for quite a while now known that he might be adding yet another addiction to the list of his many others.
Sex, sleep and alcoholic bitters are some of the things Effiom has over the years found himself helplessly attached to.
But now it seems it has come time to add football betting to the list.
And this is somehow starting to get him seriously worried. Because while he's yet to bring the others fully under control, the force this new one is coming with is nothing Effiom has seen before.
And each time he got addicted to anything the consequences that follow are usually severe.
He'd always blamed his failed attempt at family planning on his sex addiction. While he initially planned to raise just two kids, he now has four—that is if his suspicion is not true and that Blessing has not taken in again.
From his alcoholic bitters addiction, his formerly sparkling dentition dimmed, almost on the verge of turning brown.
His sleep addiction got him fired from his well-paying first job.
Effiom has wondered what bad luck this new football betting is eventually coming with. Perhaps adding more strain to his already troubled marriage, causing his beautiful wife to finally leave him.
***
Angel's husband, Segun, shares a special connection with his best friend, Jacob. Something a little more than just ordinary friendship.
They had gone to same primary school, secondary school and even university where they studied the same course—Mechanical Engineering—so of course it is not surprising why Segun had remained very close friends with Jacob.
Why they always hanged out together.
Why he picked Jacob to be his best man at his wedding.
Why Jacob is always the person to call in time of trouble, whose advice always mattered.
But sometimes this closeness could get a little bit too intimate as to cause unease.
Of course Angel, being the carefree person she had always been, never suspected a thing.
She always saw Jacob as her husband's closest pal, his most trusted confidant—someone who is just as dear to her as he is to her husband.
Accepting Jacob has not been any difficult at all—he doesn't smoke nor drink, or does he frequently take Segun to night clubs or any places of questionable integrity.
Angel didn't consider him a bad influence, so most times she feels grateful it was him that Segun had chosen as best friend.
***
Nkiru finally drank from the glass of wine Blessing offered her. "I just hope this is safe for me to drink."
"Babe, believe me, if I want you dead, I wouldn't use poison," Blessing said, taking back her seat. "It's too messy for a lady of my calibre."
Angel smiled, shook her head and sipped from her juice.
Nkiru crossed her legs. "So, tell me, asides from swindling people of their hard-earned money, what else are you into now?"
Blessing smiled. "I run a pleasure shop."
"Pleasure what?"
Angel dropped her glass and cleared her throat. "She sells sex toys!"
Nkiru's eyes popped.
Blessing turned to Angel, raising a finger. "Darling, I've told you to stop calling my little objects of mass satisfaction sex toys. It's very belittling and deriding to the great amount of work they do in people's lives."
"Why sex toys?" Nkiru asked. "Is your husband underperforming?"
"I wish!" Blessing said, smiling hollowly. "As if it wasn't Effiom's penchant for excessive sexual activity that inspired the business."
Angel's eyes sparkled with mild curiosity. "Can I ask?" she said to Blessing. "How often do you and Effiom have sex again?"
Blessing carried her glass of wine. "Three times a day…sometimes four."
Nkiru scoffed. "Liar!"
"How do you mean?" Blessing said.
"Which married couple in this Lagos at this period has sex that much a day with all the stress and noise, and even after so many kids?"
Blessing swallowed. "Effiom has a condition actually. He is on therapy for it already anyway."
"What condition and therapy are you talking about?" Nkiru asked.
"Sex addiction."
"What? Is that even a thing?"
"I didn't know too…not until I married Effiom."
"Wow!" Nkiru's eyes was fixed on her friend.
"That is it, my sister!" Blessing said.
"So what does this therapy entail?"
"It was actually our family doctor that recommended the specialist we are seeing. Treatment involves some psychological programs and behavioural changes. I've also been warned to stop doing anything that could be a trigger."
"Such as?" Angel this time.
"Not wearing just underwear to bed."
"This is serious!" Nkiru said. "Angel, can you believe this?"
"I felt same way when I heard too. If only the disease is transmittable and Segun somehow catches it, our marriage will be a lot happier now."
"How do you mean?" Nkiru asked.
Angel gave a light wave. "Forget it."
"No, I'm interested in knowing."
"Nkay, Segun has been—let me borrow your word—underperforming," Blessing answered for Angel. "Seriously."
"Really? Or perhaps he's just so caught up with work? I can count the number of times Nnamdi and I have had sex this month since he hasn't received his salary. Some of these things is just stress, I tell you."
"I used to think so too," Angel said, "but Segun's case is not stress."
"How can you be sure?"
"Because I know."
"How?"
Angel swallowed. "He is cheating."
Nkiru's eyes turned wider. "What?"
"Yes. And I'm only telling you because it's just us and I still presume we are still the friends we used to be."
"We are not sure yet actually," Blessing said. "It's just the signs."
"Actually, I am now," Angel said.
"What?!" Blessing and Nkay chorused.
"Yes."
"That innocent-looking Segun, who could have thought?" Nkiru said.
Angel crossed her legs, saying nothing.
"How did you confirm?" Blessing asked.
"I finally went through his phone. He's been exchanging love messages with a strange woman."
"Oh my God!"
"And what did he say when you confronted him?" Nkiru asked.
"I haven't. I only found out today."
"Oh wow."
"Yes." Angel wiped at her forehead. "I'm just so confused. I mean I really trusted hm."
"So what do you intend doing now?" Blessing asked.
"I really don't know, dear. I don't."
"Don't worry, I have a plan," Nkiru said.
The two women turned their eyes to her!
***
Back at Angel's home, Segun opened the door when someone knocked.
Jacob, tall and handsomely bearded, came through the door.
"Are you sure this is a good idea?" he asked Segun.
"Come on, we have time!"
Just then Nkiru's phone rang.