by Staff writer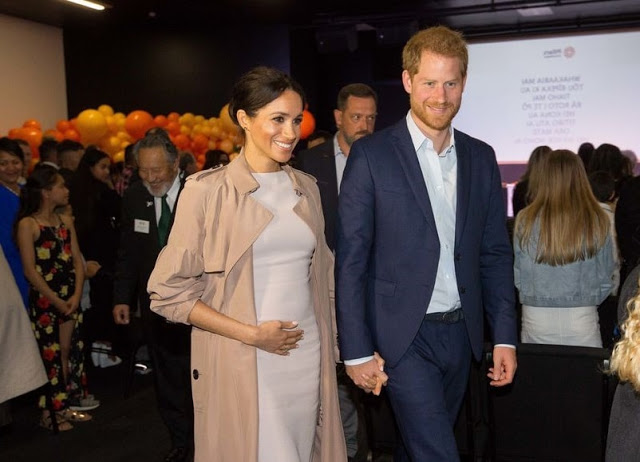 Meghan Markle's pregnancy has been mired in controversy from the very start—especially when it was rumored that some members of the royal family, notably Prince Andrew and his former wife, Sarah Ferguson, were upset that Meghan and Prince Harry chose to announce the arrival of their at their daughter Princess Eugenie's wedding to Jack Brooksbank.
Now a lot of people seem to be mad about the "fake" way the pregnant Duchess has been acting during her public appearances—particularly the way she always cradles her baby bump.

During her surprise appearance at the British Fashion Awards earlier this week, the Internet went wild when, in full view of the cameras, Meghan moved her hands over her stomach and closed her eyes as she appeared to be feeling the baby kick.

"If I see one more photo of Meghan Markle cradling that bump I am going to vomit. I swear she and Beyoncé think they are the only women in the world to get pregnant. You are pregnant……WE KNOW," wrote one person on Twitter.

The Daily Mail's article about the action has received more than one thousand comment—most of them negative.

"She acts like acts like she is the only one to have a baby … how truly annoying," sniped one commenter.

Another remarked, "Fondle the 'bump,' make sure everyone sees the ring, fix the hair, fondle the 'bump' some more while closing eyes—yep, she got her lines right!"

It seems the duchess' constant cradling of her baby bump is also needling professional people.

"I'm not sure she's aware of the impact of her behavior," says psychotherapist Dr. Robi Ludwig.

"The problem is in the court of public opinion. There's a lot of aggression out there towards pregnancy and pregnant women because it means a lot of different things to different people. Today, people don't hold back."

"She may not feel that way, but it comes off as attention-seeking behavior and a bit 'actress-y,'" the doctor adds.

"It would be wise for someone to explain to her that her presentation style is not serving her well," says Ludwig.

"If she were my patient, I would tell her to take a beat and be less visible for a period of time. If she's not careful, she could become a person people love to hate."

Author and feminist Chimamanda Ngozi Adichie claimed she kept her pregnancy a secret to avoid attention, saying she "feels like we live in an age when women are supposed to perform pregnancy."