by Staff writer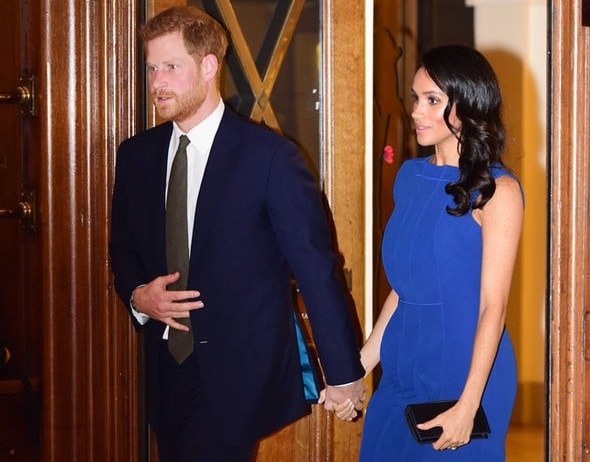 Duchess Meghan Markle sparked pregnancy rumors last month at the 100 Days to Peace Gala when she stepped out in a blue Jason Wu dress, which appeared to show a 'baby bump'.
Unfortunately for Royal fans, the photograph was taken at an unpleasant angle and the ruffles on her dress gave the illusion of the bump.

And despite tying the knot five months ago, etiquette expert Liz Brewer believes the Duke and Duchess of Sussex will wait before having a baby.
Speaking to Yahoo, etiquette expert Liz Brewer said: "He wants a family, but they're a young couple, embarking out on life, they don't actually have to have a family right now.
"What they want to do is they want to get involved in the world at large, in the Commonwealth, she wants to do what she's doing."
The presenter quizzed Ms Brewer: "You can do that with children."
But the etiquette expert responded by saying: "Then the children don't have the benefit of having you around, which they have at the moment with Kate."
Ms Brewer is adamant a Royal baby is not the plan for Harry and Meghan at the moment.
She added: "I think the plan is to wait at least a year, maybe longer, before getting pregnant."
Also, considering Meghan is about to visit a country with Zika virus, chances are she isn't hiding a low-key bump.
On October 16, Meghan and Harry will travel across the globe on their first Royal tour, visiting Australia, New Zealand, Fiji, and the Kingdom of Tonga.
Fiji and Tonga are affected by Zika virus and women visiting there are advised to wait some months before trying to get pregnant.