by Staff writer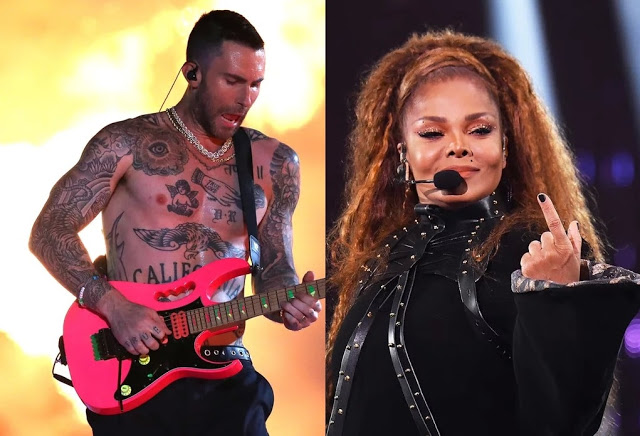 During his Super Bowl Halftime performance, Maroon 5's Adam Levine removed his shirt while playing the guitar.
The action has since caused controversy among fans who are questioning why Adam was able to purposely remove his shirt during the 2019 Super Bowl Halftime Show, while Janet Jackson was criticized for her infamous wardrobe malfunction during her 2004 Super Bowl set with Justin Timberlake.

Many people are reacting negatively to Adam's shirtless performance, recalling how Jackson, 52, was condemned after Timberlake went to remove her corset and accidentally tore off her bra too, exposing her bare breast.
Controversy ensued and Timberlake and Jackson issued apologies, but the Federal Communications Commission still charged CBS, the network that broadcast the game that year, a $550,000 indecency fine for the incident, dubbed "Nipplegate."
"So Adam Levine can perform shirtless but Janet Jackson can't? This is so very wrong haha," someone posted on Twitter.
"Janet Jackson seeing Adam Levine shirtless and I know she somewhere furious right now!" another wrote.
"Janet Jackson showed a nipple and the country went nuts. She had to move to Bahrain for 10 years. #AdamLevine just went full on shirtless. Guess he's gonna have to move to Riyadh #superbowl"
According to Timberlake, who spoke ahead of his performance at the 2018 Super Bowl, both he and Jackson have made amends since then.
"I stumbled through it, to be quite honest," Timberlake, now 38, told Beats 1's Zane Lowe last year of moving past the drama.
"I had my wires crossed and it's just something that you have to look back on and go like, 'Okay, well you know, you can't change what's happened but you can move forward and learn from it.'"
Jackson, however, has not been invited back to perform at America's most popular sporting event.