by Eniola Baruwa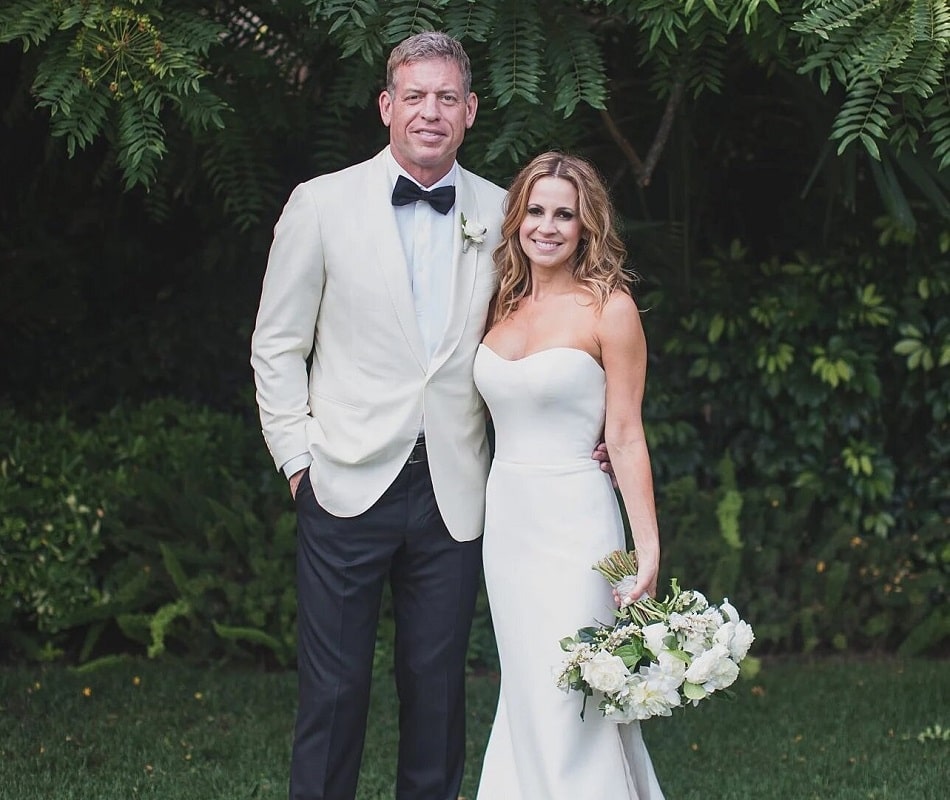 Troy Aikman became a household name in America when he led NFL team Dallas Cowboys to three Super Bowl victories. He played his entire career as a quarterback after being drafted as the first overall pick in the 1989 NFL draft. Troy Aikman featured for the Dallas Cowboys for twelve years before retiring in 2000.
He was previously married to former Dallas Cowboys publicist Rhonda Worthey, a union that gave the couple two children —Jordan Ashley Aikman and Alexa Marie Aikman. The couple got divorced in 2010, but emphasized that despite the separation both parties remain fully committed to their two daughters. Troy Aikman would go on to be a single father, until 2017.
Who is Catherine Mooty?
Catherine "Capa" Mooty is a retailer that deals in haute couture and other sophisticated, high-end fashion pieces. She was born in Dallas, Texas on October 13, 1970, as Catherine Cecile Person. Like Troy Aikman, Catherine Mooty (nicknamed Capa) was previously married. She had two children (Luke and Val, both boys) in her marriage to Jerry Mooty (Cowboys owner Jerry Jones' nephew). There isn't much background information about Catherine Mooty's early life or prior to her high profile marriage to Troy Aikman.
Catherine Mooty's Marriage to Troy Aikman
After a ten year union, Troy Aikman and Rhonda Worthey separated in 2010 after a divorce. Troy Aikman did not get into a serious relationship until 2016 when he met Catherine Mooty. 
Incidentally, Catherine Mooty had been through a divorce of her own and was dealing with the life of being a single parent when she met Troy. The two had an instant connection, on the basis of being single parents with a pair of children each, and they both found love afresh. 
Troy Aikman and Catherine Mooty got engaged while vacationing in Italy. After a year-long romance, the couple tied the nuptial knots on September 5, 2017, in a private ceremony that was held in Montecito, Santa Barbara, California.
Catherine Mooty's Age and Career
Catherine Mooty will be 50 in October. The fashion entrepreneur's zodiac sign is Libra—the seventh astrological sign.
Asides owning a fashion retail store, Catherine "Capa" Mooty is the co-owner of Luxeliner—a mobile boutique. Picture a food truck or moving truck but chicly designed to function as a boutique on wheels. Items sold out of the truck range from clutches, purses, fashionable belts to accessories like necklaces, printed scarves and fancy bangles.
Luxeliner caters for women's fashion needs. The business was launched on November 26th, 2012. Luxeliner is co-owned by Charlotte Jones Anderson, Jennifer Clark, Alyson Griffith, Wendy Poston and of course Capa Mooty. The five women are all friends.
Catherine Mooty is believed to have an estimated net worth of $1million.
Where Is Catherine Mooty Right Now?
Catherine Mooty is happily married to Troy Aikman and the couple will celebrate their third anniversary in September. The integrated family of six are supportive of one another, and both parents are very supportive of the children in their respective sports.
Other Interesting Details About Catherine Mooty and Her Marriage To Troy Aikman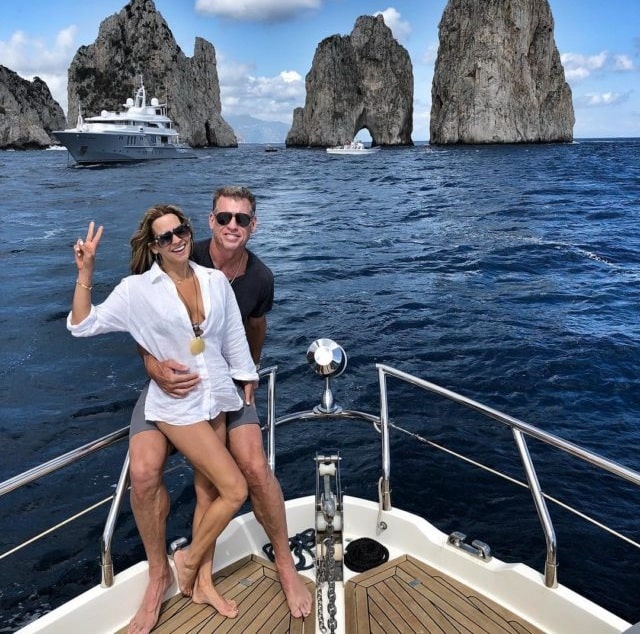 Understanding and will are often the most important factors when two people decide to get married. It is a big task integrating two families in marriage, more so when children are involved on both sides. But don't put it past Troy Aikman to do a good job. His leadership skills on the field have translated into a stable home. In a fusion of harmony, his family has doubled in size, and he finds himself the father of two boys and two girls.
His dedication comes to the forefront as he successfully juggles his job as a sportscaster for FOX and being a dad. Troy Aikman is also the assistant coach of his sons' private school, Episcopal School of Dallas' football team.
Troy Aikman as a father is teaching his children the same values that were passed on to him by his father, Kenneth. 'My focus on fatherhood has really been on making sure they're prepared for life whenever I'm not around', he said in an interview. He doesn't want his children growing up with a sense of entitlement or a bad attitude towards life. He acknowledged that he did spank his children a couple of times.
Troy Aikman—a captain on the field, an exceptional hall of famer and a leader in the home who is leading by example.