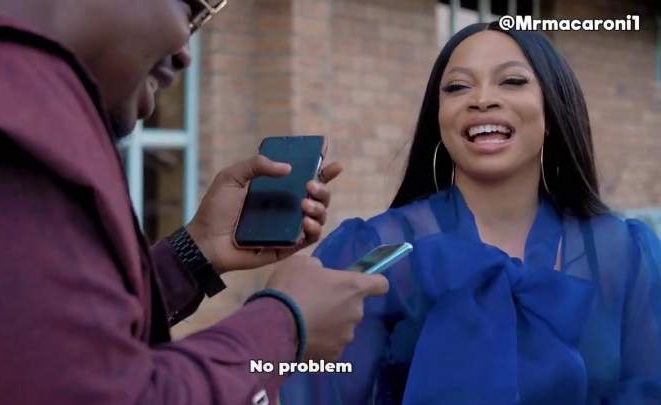 Mr Macaroni is slowly establishing himself as the king of internet comedy in Nigeria.
Macaroni whose real name is Debo Adebayo has featured Nigerian top-class celebrities and public figures in his skits including legendary actors Jide Kosoko and Ogogo and even the Ooni of Ife.
Mr Macaroni's latest comedy skit with internet personality and socialite Toke Makinwa titled "Benefit Papa" is super hilarious.
The story of the skit is also a fresh deviation from Mr Macarnoi's regular narrative of always sending huge amounts of money to ladies who scam him in return.
In this new skit called "Benefit Papa" featuring Toke Makinwa, Mr Macaroni approached Toke like he always does, introducing himself as a man of action.
"Call me Benefit Papa," Mr Macaroni told an amused-looking Toke Makinwa. He extended his phone and asked Toke to put in her account details, which Toke did albeit with some curiosity.
Mr Macaroni then announced that he has sent N300K to Toke's account. And that's where the skit took a different turn – Toke, looking as unimpressed as the word itself asked Mr Macaroni what she is going to use the money for.
Toke said to Mr Macaroni: "What am I supposed to do with that? Should I put petrol in my car? Give my driver for the weekend, or maybe change my tires? You are funny!"
She then demanded for Mr Macaroni's account number in return and sent him N10 million! Toke Makinwa told a completely flabbergasted Mr Macaroni to use the money and upgrade his car and take care of his wife and stop harassing young women.
She walked away, calling herself the real "BENEFACTOR!"
Watch the video of Mr Macaroni's skit with Toke Makinwa below and let us know if you enjoyed it: