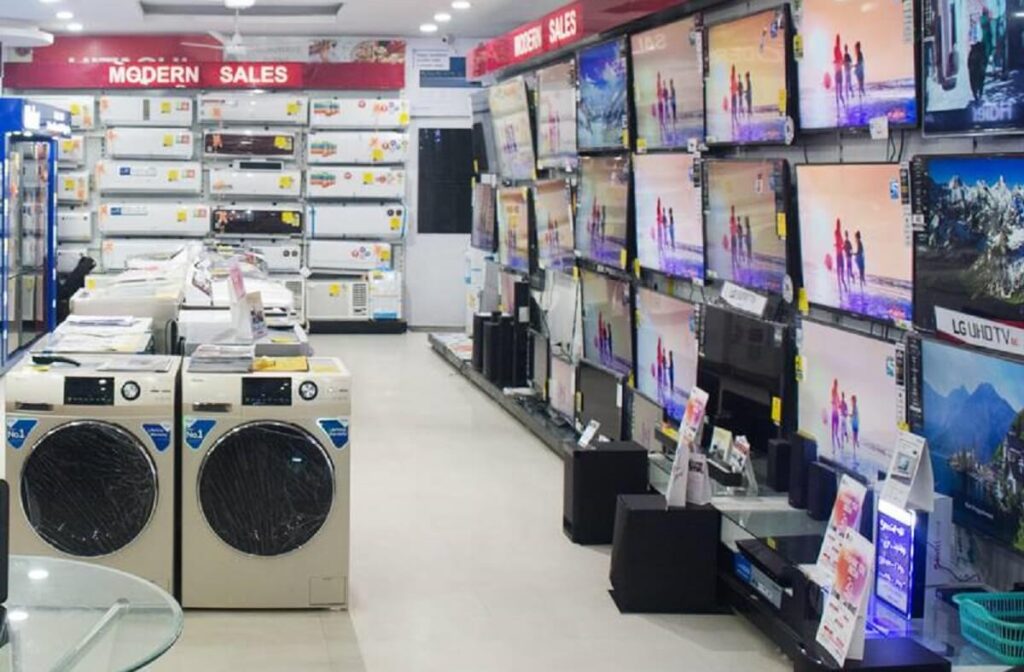 Nothing beats walking into a fully stocked electronics store where you are sure to see the appliances you want and get them at a good price too.
These days, some people order their electronic home appliances through online stores like Jumia and Konga but there are still those of us who like to visit a physical store, see what we are buying for ourselves and not just read a long text from the manufacturers describing features that may or may not be there.
There are many electronics stores in Lagos but not all of them are as well-stocked and friendly like the others. For this list, we will be judging the stories based on customer's reviews we have gathered on the following points:
i. How stocked they are
A good electronics and home appliances store should have different products of different brands in their showroom.
ii. Customer service
How friendly are their staff? There is this growing annoying culture in big electronics stores in Nigeria where their staff keep asking customers for money. Both the cashiers and the attendants, they keep begging you give them "something" after paying for a product. It makes no sense especially when they keep insisting, almost to the point of embarrassing you.
iii. After-sales support
Buying an electronic appliance does not just end there. Most customers will need after-sales support in case something goes wrong. A good electronic store should be able to attend to your after-sales needs in a friendly and supportive manner.
Here are 5 of the best stores to buy electronic appliances in Lagos, Nigeria:
1. Cash n Carry
You can get good price deals on many brands of products in this store. They also have a well-stocked showroom with a good range of products on display. They have about two outlets in the Ikeja area of Lagos. One is on 20 Kodesoh Street, very close to Computer Village and another in Allen Avenue. Both outlets are good and you will see a wide range of electronics to buy. There are also Cash n Carry outlets on the island.
The only lows are that there is no parking space and the staff keeps asking for money from customers, sometimes to the level, it becomes embarrassing.
2. Fouani Store
Fouani store is located in Allen Avenue, Ikeja. You can also find them in Ikeja City Mall and other locations in Lagos. The store outlets are well stocked and the staff are friendly. Fouani stores are heavy on LG, Hisense and Maxi products but you can also find other products. They also have a good social media presence. The sales attendants sometimes get too friendly it looks as though they are pushing you to buy the product. Sadly, a lot of the salespeople are actually only interested in completing the sale these days, sometimes without giving you the chance to fully express yourself and achieve what you want.
3. Divine Fortune Store, Yaba
The Divine Fortune electronics store in Yaba is located 322 Herbert Macaulay Street, Opposite Oando petrol station in Sabo, Yaba. They also have other outlets in Ikeja and around. They deal mostly in Haier Thermocool products but you can also find other brands including Hisense and Samsung. Their showroom might not be as big as the others but their service is not bad. They tell you the truth, unlike the overzealous sales attendants you find in Cash n Carry and Fouani stores who often lie just so you can buy a product.
4. Electromart Store
Electromart is located in Allen Avenue, Ikeja. Their staff is friendly and they have a good range of products from different electronic brands on display. You will most likely find anything you want here, from Smart and LED TVs to freezers, sound systems and the rest. A lot of customers have complained that their after-sales support is poor and they don't seem to be doing anything about it.
5. Elemea Electronics Store
This store is located in the Igbo Efon area of Lekki. They have a well-stocked electronics section where you can find all manner of home appliances from different brands. They are new and haven't been massively reviewed yet.
***
We hope you find this article helpful. If there is any store you used recently that needs to be added in this list, you can let us know in the comments section below.