Written by Dozie Fineboi Ejimofor, for DNB Stories.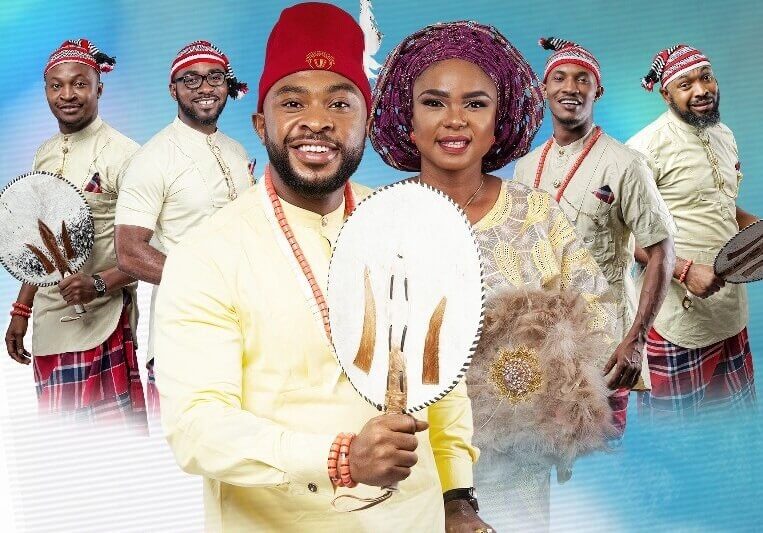 The 2018 Nigerian film 'SMASH' is, in my opinion, largely underrated for a class act romantic comedy it is. It so far remains the best Nigerian comedy film I've seen, and, quite frankly, I've seen a lot.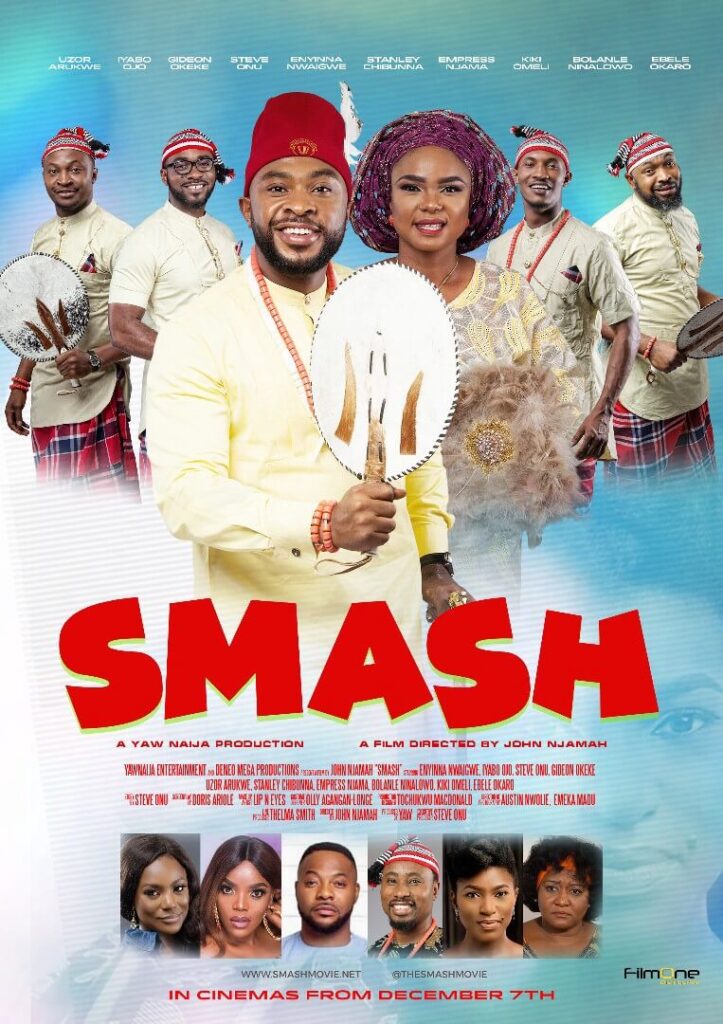 I completely get why Stanley Chibunna aka Funny Bone won the overall 'Best African Actor in a Comedy' at the 2020 AMVCAs. I had the time of my life watching him play the business card addict, Hector. He literally stole the scene in all his appearances in the movie. He stood out of the five male leads. His facial expression whenever he tries to get mischievous is a top highlight of the movie. Whenever Funny Bone opens his mouth, I literally roll on the floor. He was comedy to perfection!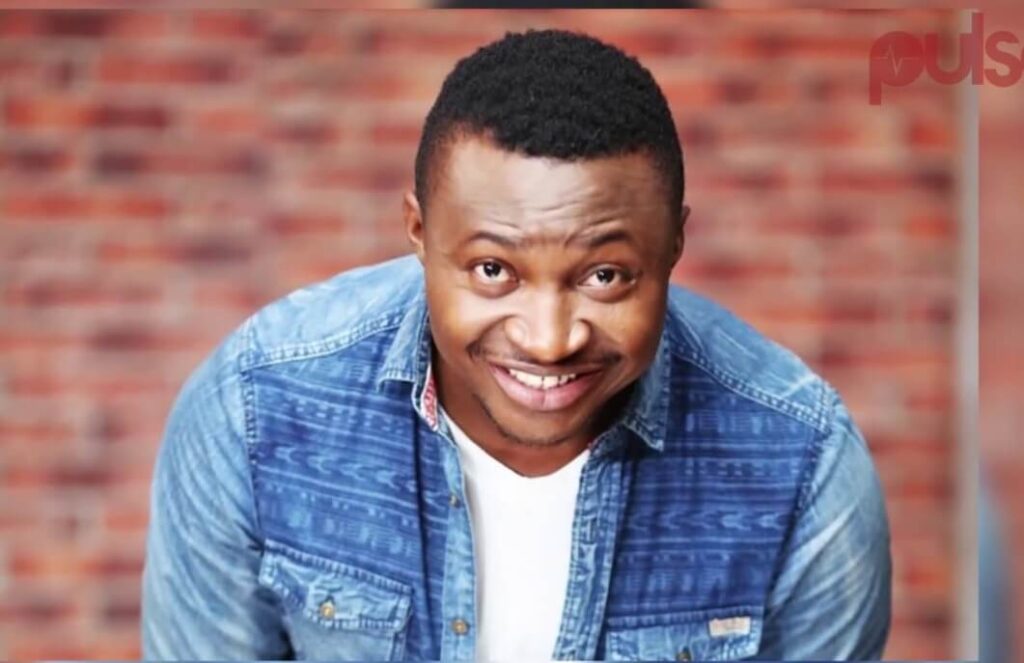 Right behind him in comic delivery is Tinsel star, Gideon Okeke. Gideon absolutely let it loose in this movie – taking a refreshing break from his usual stereotypical arrogance and entitled onscreen persona. It was breathtaking watching him breathe life into a comedy role, making me rue the day I permanently stereotyped him after watching him play the egotistical spoilt brat of a wealthy studio head in marathon seasons of Tinsel.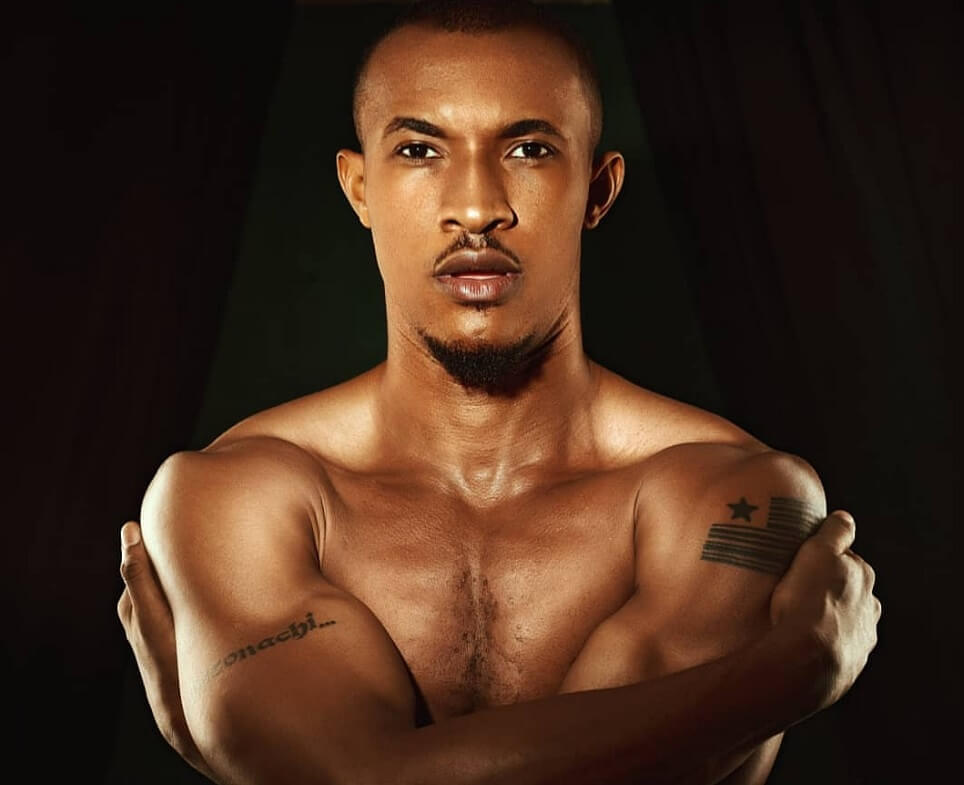 I have to admit, I never would have imagined Gideon Okeke had a funny bone in his body – no pun to the talented comedian mentioned earlier. It was just a great feeling seeing him play Madu – the suave, wealthy and generous philanderer stroke philanthropist of the group. I like the angle of them of always trying to take advantage of his generosity – very realistically Nigerian. Gideon embodied the personality of most rich young people – hygiene-fussy and hard to please. Kudos to you Gideon! I was legit impressed.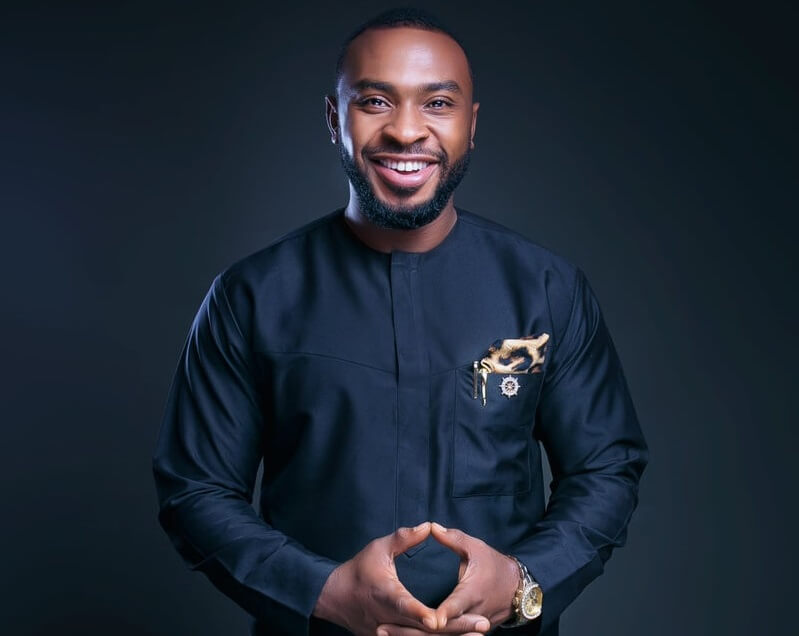 And then there is Enyinna Nwigwe who played Anayo. He's the most successful of the group and has a successful relationship with his bank manager fiancée Nike, played by Iyabo Ojo. He's also the quiet and, perhaps, the most reasonable one of the group.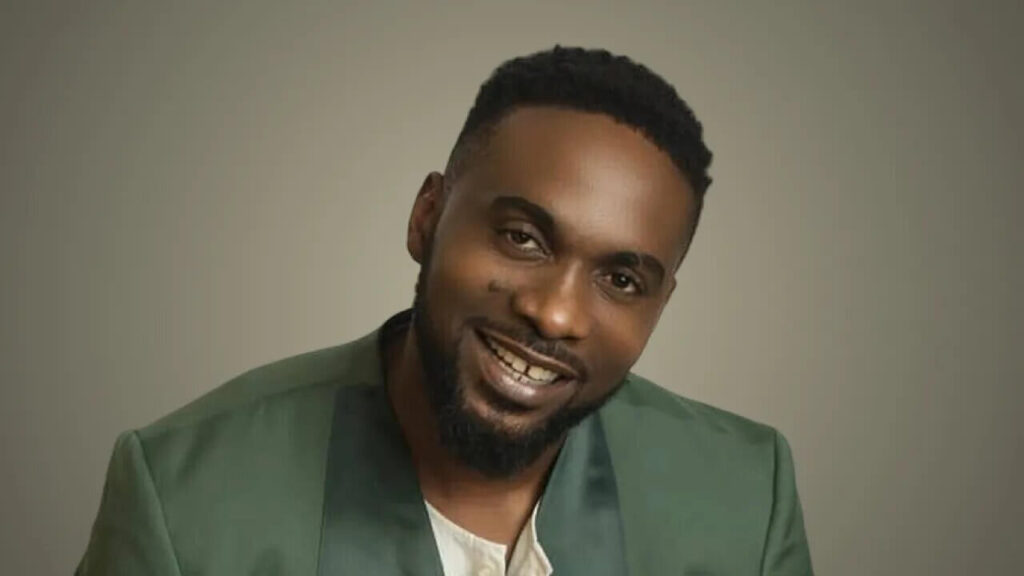 Uzor Arukwe played Somachi who believes every light-skinned woman is a "marine spirit" despite having a very light-skinned mother! Dude was legit scared of fair-skinned girls. I think there is a name for the condition – leukophobia.
And finally, we have Steve Onu (popularly known as Yaw) who played the character of Somto, the stingiest one of the group. Well, he is also the least successful, so it's understandable why he often tries to take advantage of Madu's generosity. That final scene they contributed N10 million for him to set up a business with captures the true essence of friendship. It was really sweet to watch.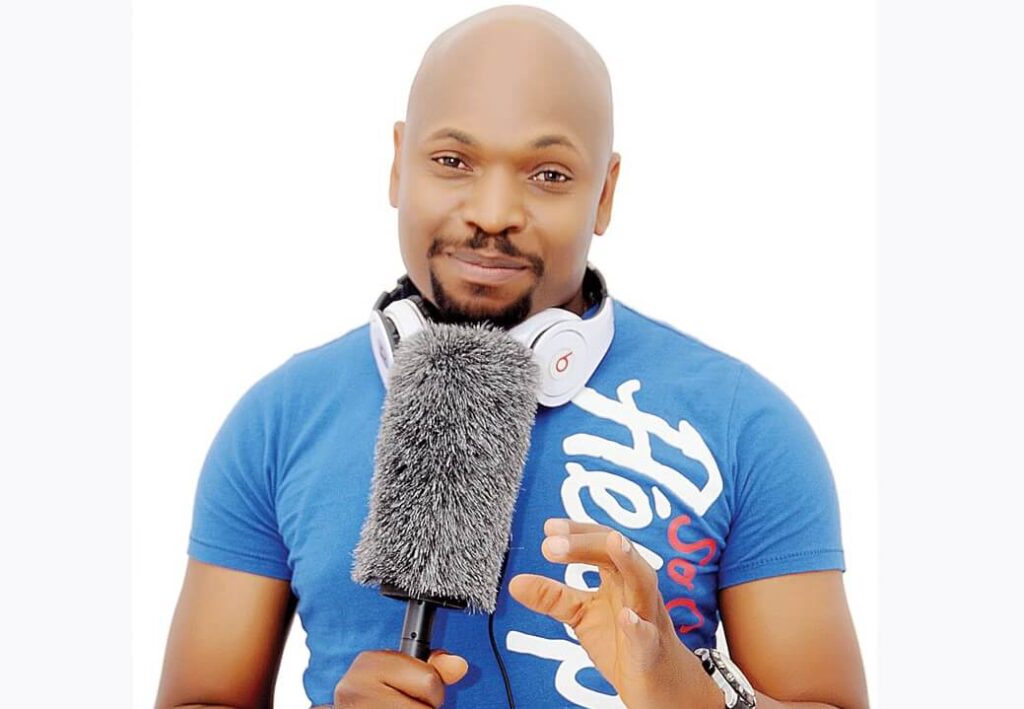 Also, Bethel Njoku (Senator), though not part of the big five stood out in his close-to-life portrayal of Madu's troublesome, chieftaincy-title-obsessed uncle – Thadius.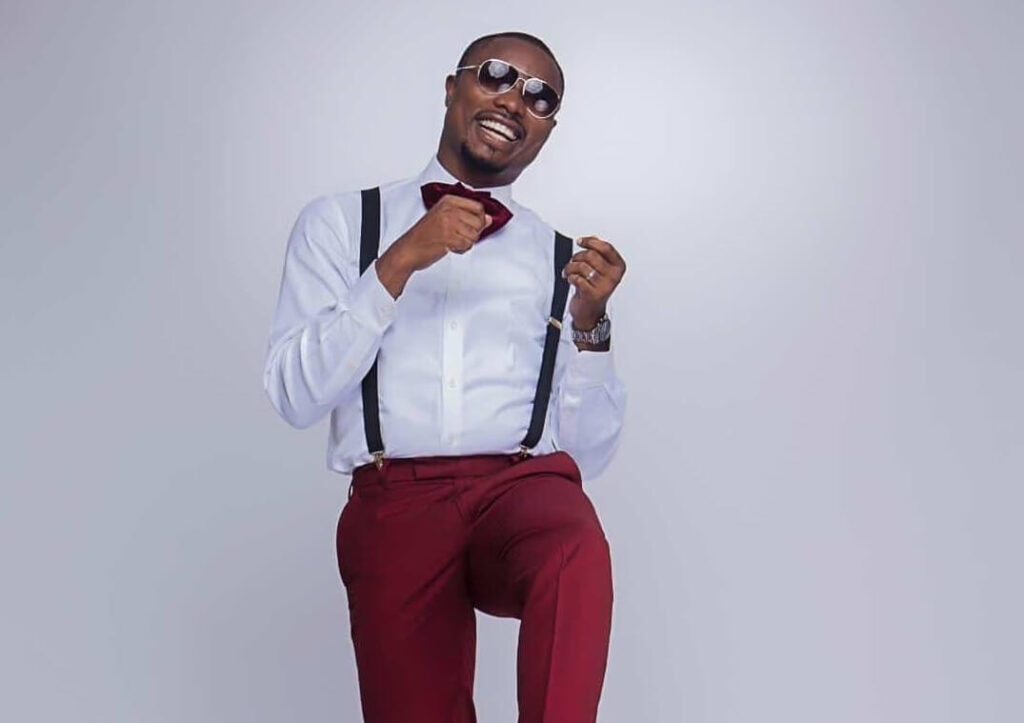 In case you are not aware, S.M.A.S.H is actually an acronym of the names of the five friends: Somto, Madu, Anayo, Somachi and Hector. Quite an interesting and catchy title, right?
All five male leads did an excellent job. And I understand that this movie was produced by Yaw as his debut? I thought it was interesting how he assembled most of the cast from Basket Mouth's family comedy series, My Flatmates, of which he is also a regular cast. A super-perfect first attempt, I must say.
SMASH movie is the male-centric equivalent of the kind of films we often see a group of women navigating the pressures of marriage. It was great to see the male perspective. My most memorable moment in the movie was the scene where Madu (Gideon Okeke) announced to the gang that he finally found a wife and is now off the philandering market.
Suddenly, the group burst into wedding preparations with Hector (Funny Bone) at the helm of the planning. They're gathered together and he tries to tell each person the colour they'd wear on the wedding day. Telling Madu (the groom) that he'd be wearing "pepper red" in order to pepper his many ex-girlfriends who might be attending the wedding.
He goes on telling Somto (Yaw) that he'd be wearing tortoise purple, probably wanting to say "turquoise purple" and getting it wrong.
He told Somachi he would be wearing "bluish Burgundy" and then looked at Anayo (Enyinna Nwigwe) from head to toe and told him to his face to wear "moi-moi yellow" to complement his yellow complexion.
And then he revealed to the group that he, as the upcoming politician that he is, would be wearing sparkling white for his people to know that he doesn't have a dent.
After that, he opened a bag full of business cards he got from people both dead and alive and proceeded to tell them what each card giver does for a living. He didn't go halfway into the tale before they stood and left one after the other. Obviously, they're used to his never-ending explanation of business card histories!
I also loved the scene where they were at the cinema and trying to purchase movie tickets, with the two moochers of the group (Hector and Somto) in front of the line demanding for tickets for themselves and the girls they came with, and also asking for popcorns and drinks.
And when the salesperson asked for payment, they turned and shouted in unison "Madu, Madu, come and pay them!"
The chemistry of the boys was very admirable – the representation of five different personalities and life situations that have a found a way to maintain an inseparable friendship. I also like the generous infusion of Igbo Language whenever the five gather.
Wait, did I forget Empress Njamah's part as Barrister Amaka Okoro? The no-nonsense barrister that Anayo's mum (Ebere Okaro) was pushing for him to marry instead of Nike (Iyabo Ojo) who is Yoruba. Anayo's mum (Ebere Okara) was hellbent on Anayo marrying Amaka Okoro until she showed her pepper.
And please, for your own safety, never you forget to add the "Barrister" title when addressing Amaka. Empress Njamah outdid herself in this role.
SMASH is an excellent comedy movie and the only flaw it had, for me, was that the ending was a bit rushed. They could have gone over 2 hours – the story was that enthralling.
All in all, I'm giving this movie 4 and a half out of 5 stars. ⭐⭐⭐⭐⚡!
As I said earlier, SMASH is the best Nigerian comedy movie I've seen in recent times and, trust me, I have seen quite an avalanche of Nollywood comedies.
SMASH makes other comedy movies like Sugar Rush, TWP, Chief Daddy, Merry Men, Your Excellency, Isoken, Love Is War, Mom's At War, Pay Day, Dear Affi, Banana Island Ghost, Wives on Strike and Okafor's Law, look like a walk in the park.
And I'm not casting aspersions on the relevance of these movies. It is just how I feel. Yes! I recently just saw SMASH. And now I wonder what I've been doing with the cinematic side of my life this entire time to have missed such a deliciously hilarious offering.
Please go and see this movie for the sake of your ribs, and if you have, kindly let us know what you think of it and my rating.
Have a blissful week ahead!
***
Dozie Fineboi Ejimofor is a banker, writer, movie critic and an all-round entertainment enthusiast. Dozie lives in Abuja.