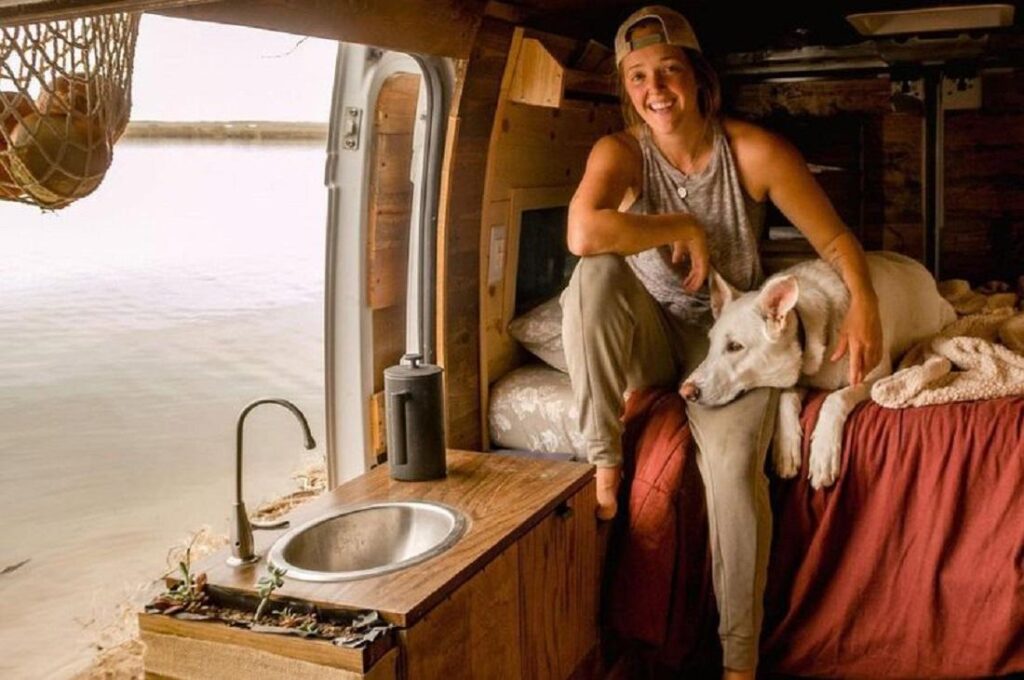 Linnea Schmelzer forfeited her 5 years relationship and her job as a field instructor for a wilderness therapy company to live a nomad life after she bought a van and converted it into a mobile home for herself and her dog.
The 26-year old who is a native of Wisconsin in the United States spent $7,500 in savings on a van, turning it into a home on wheels for herself and her German Shepherd dog, Akela.
Linnea did most of the van fittings herself, though she described it as risk-taking. She said she only had an idea for the layout but never really drew a design.
The van which she called 'Togo' has a bed, electricity, cabins and mirrors just like a home should, but lacks shower, water pump or toilet. The nature lover explained that she wanted to keep the mobile home simple, earthy and comforting.
She explained that her reason for choosing this nomad lifestyle was because she wanted something different from the just happy, 9 to 5 lifestyle she once had. She said she wanted something different and more fulfilling, something with more depth, purpose, travels and experience.
Linnea described her beloved dog Akela, as "the ultimate travel partner and companion" for her new contented lifestyle. She added that the dog is protective of the van and herself which makes her feel much comfortable knowing that she has a guard to send danger signals whenever danger is lurking around.
The nomad has made it clear that she has no plans at the moment to end her nomadic lifestyle as she is endeared to spending time on her own in nature.