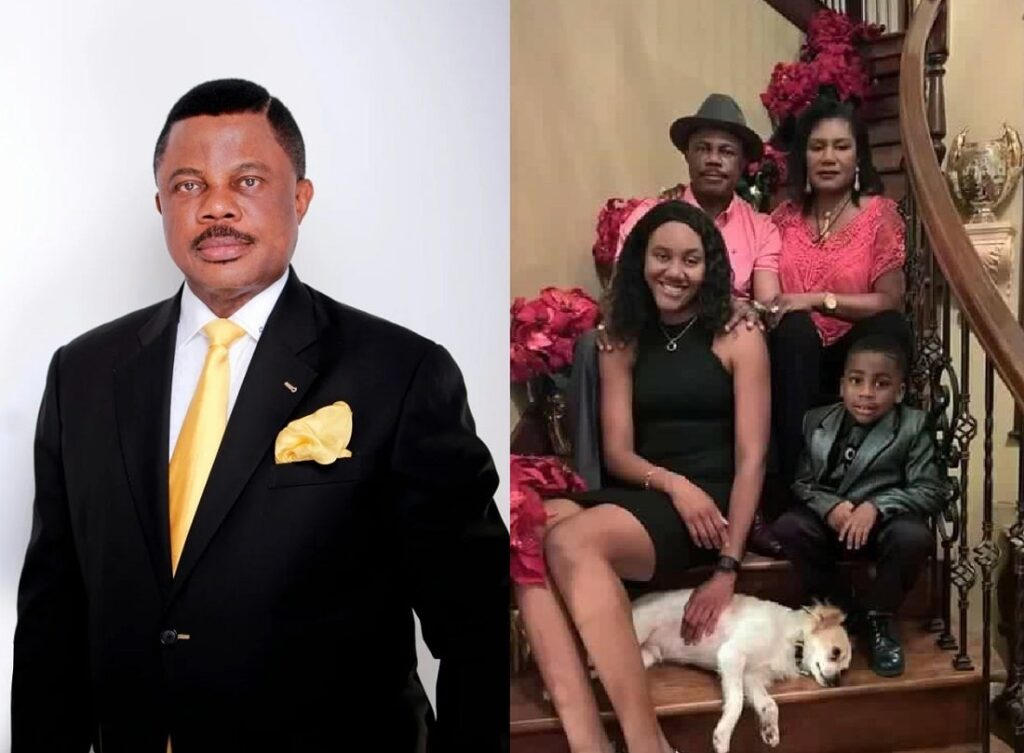 Who is Willie Obiano?
Chief Willie Obiano is a Nigerian banker, technocrat and politician. He served as the Governor of Anambra state from 2014 to 2022. He was the fourth democratically elected Governor of the state. Prior to his joining politics, Willie Obiano worked as a banker. He graduated from the University of Lagos with a Bachelor's degree in Accountancy. He later got his Master of Business Administration (MBA) from the same university.
Willie Obiano was born on August 8, 1955, in Aguleri, Anambra State, Nigeria to his parents: Phillip Obiano and Christina Obiano. His father was a catechist and his mother was a fish seller. As of June 2022, Willie Obiano is 66 years old.
Willie Obiano has siblings, including brothers and sisters but, at this time, information about them is scarce in the media.
About Willie Obiano's career
Willie Obiano began his banking career in 1981 at the First Bank of Nigeria. Later on, he left to join Chevron Oil Nigeria Plc as an accountant. While at Chevron, Willie Obiano rose to the position of Chief Internal Auditor. He was one of the many auditors that audited the Texaco Refinery in Rotterdam, the Netherlands in the year 1989. In 1991, Willie Obiano obtained an appointment to work as Deputy Manager and Head of Audit Unit at the Fidelity Bank. He was later promoted to the position of Executive Director in 2003.
In 2013, Willie Obiano left the banking industry and contested in the 2013 Anambra state governorship elections under the platform of the All Progressives Grand Alliance (APGA). Willie Obiano won the election and was sworn in on March 17, 2014, to succeed Peter Obi. On November 18, 2017, Willie Obiano was re-elected as the Governor of Anambra state. His tenure ended on March 16, 2022. He was succeeded by Charles Soludo.
About Willie Obiano's marriage and wedding
As of June 2022, Willie Obiano is married to his wife, Ebelechukwu Obiano. Their marriage is blessed with two children. Willie Obiano and Ebelechukwu Obiano got married in 1988. As of June 2022, they have been married for 34 years.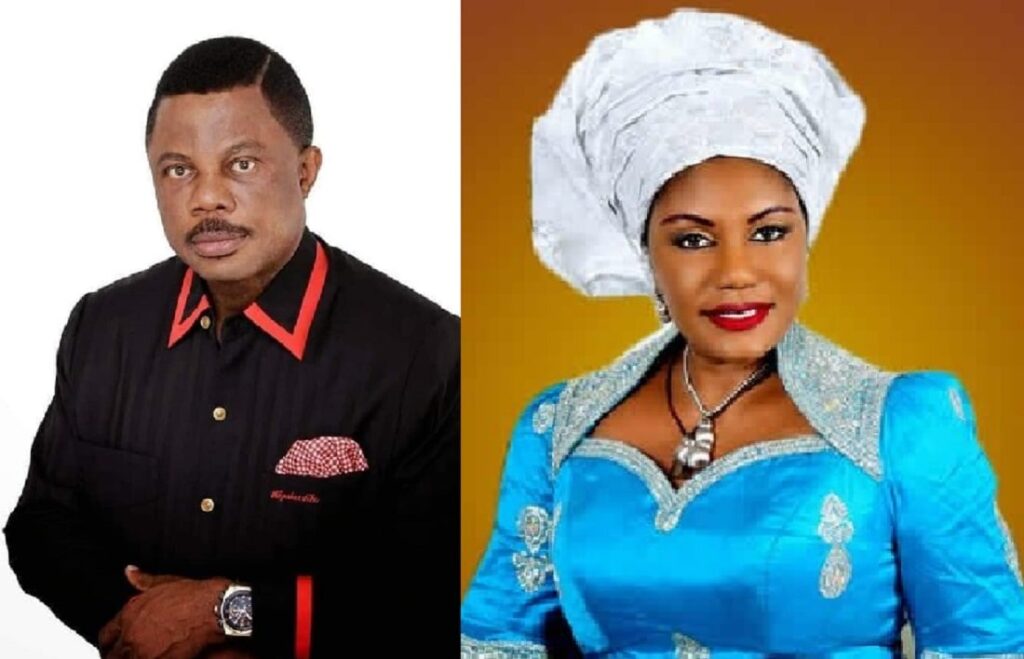 About Ebelechukwu Obiano
Ebelechukwu Veronica Obiano is the wife of Willie Obiano and the former First Lady of Anambra State. She also goes by the nickname "Osodieme". Her year of birth is unknown but she was born on October 7. There are speculations that she is in her late 50s or early 60s. Ebelechukwu Obiano is a philanthropist and an advocate for the "No Genotype, No Marriage" movement. She shows concern for children with special needs or disabilities and widows.
About Willie Obiano's children
As of June 2022, former Governor of Anambra State, Willie Obiano and his wife Ebelechukwu, have two children – a boy and a girl.
a. Ogechi Obiano: Ogechi Obiano is the first child and daughter of Willie Obiano and Ebelechukwu Obiano. Her date of birth and age is currently unknown. In 2017, she graduated from the University of Texas, UTHealth McGovern Medical School in Houston, Texas.
b. Willie Obiano's son: Almost nothing is known of Willie Obiano's second child and only son, other than the fact that he is a boy. He has a sister, Ogechi Obiano.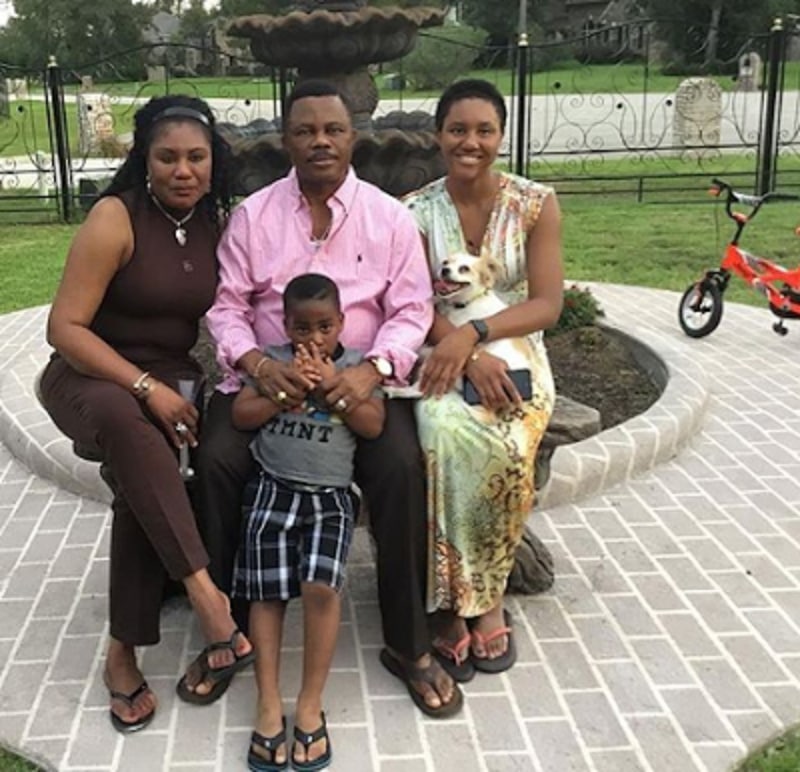 About Willie Obiano's corruption allegations
In November 2021, months after Charles Soludo was elected as Obiano's successor, it was revealed that the Economic and Financial Crimes Commission (EFCC) had placed Willie Obiano on a watchlist. Although the EFCC did not state the reason for this action, speculations that the former Governor was under investigation for charges related to corruption began spreading.
On November 30, 2021, the People's Gazette revealed exclusive bank documents showing that on March 29, 2017, Willie Obiano had withdrawn over four billion naira from several Anambra security votes allocation accounts without any explanation. The Anambra Commissioner for Information and Public Enlightenment, Don Adinuba said that the documents did not appear to be genuine and the figures quoted by the media publication were extremely ridiculous.
However, on March 17, 2022, hours after Willie Obiano left office and lost his immunity from prosecution as a result, he was arrested by the EFCC at the Murtala Muhammad International Airport, Lagos. The reason for his arrest remains unknown, however, the EFCC claim that it is connected to the watchlist placement and Obiano's attempt to escape from Nigeria.
About Ebelechukwu Obiano and Bianca Ojukwu
During the inauguration of Charles Soludo as the Governor of Anambra State, former First Lady of the state, Ebelechukwu Obiano and the widow of former Biafra president, Bianca Ojukwu were involved in an altercation.
Although there are contradictory reports about how events unfolded that day, sources told DNB Stories Africa that Bianca Ojukwu was calmly seated with the other dignitaries at the event when Mrs Ebelechukwu Obiano approached her to verbally attack her. During the encounter, Bianca slapped her. The altercation called the attention of the security guards who pulled Mrs Obiano off Bianca Ojukwu. Bianca Ojukwu was said to have been very shocked.
Other reports claim that the incident occurred shortly after Charles Soludo had taken the oath of office. He was in the process of signing the papers when Ebelechukwu Obiano arrived. She allegedly went straight to where Bianca Ojukwu was seated and said:
"You said we will never win the governorship and here you are. You are a witch."
Instantly, Bianca slapped her and a fight ensued until the security agents stepped in. Ebelechukwu Obiano and Willie Obiano left the ceremony shortly after but Bianca Ojukwu stayed till the end of the ceremony, DNB Stories Africa gathered.