ONE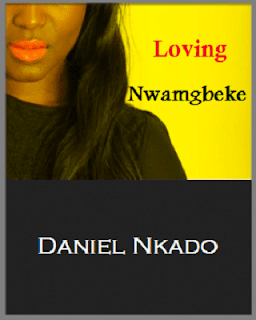 Nwamgbeke sat on a white plastic chair in front of the house, her legs joggling from temper.
Ikechukwu will hear nwii today.
It wasn't long that Ikechukwu honked outside.
Samson was running to the gate when Nwamgbeke stood and called, 'Samson!'

Samson stopped and turned. 'Aunty?'
'Step out, I open the gate myself, you hear?'
'Ok, Aunty.'
'Good boy.'
Ikechukwu honked again.
Nwamgbeke untied the wrapper above her blouse and retied it firmer.
The gate open, Ikechukwu's Jeep swung into the compound and eased into the garage.
He got down, looking surprised and confused.
Nwamgbeke finished locking back the gate and walked back to him.
'Why are you the one that opened the gate? Ikechukwu asked. 'Where is Samson?'
'Forget gate, come here. You think I not catch you abi?'
The confusion on Ikechukwu's face deepened. 'Catch me? How?'
'How many phone you buy come from Lagos, Ikechukwu?'
'Ha.'
'Answer me!'
'I bought two phones, why?'
'You buy two phone abi?'
'Yes.'
'Good. How many you give your sister?'
'One.'
'Good. How many you give me?'
'I gave you one, why the interrogation?'
Nwamgbeke gave a small ominous laugh. 'Ikechukwu!' Another chuckle. 'Ikechukwu, intalacassion has not start o, the real intalacassion is coming.'
'My darling, what is it?'
Nwamgbeke put up her hand. 'Eh-eh! Don't dali me, you hear me? Don't never try it!'
'What is wrong, tell me.'
'What is long? You asking me what is long abi?'
'Yes.'
'You tlavel go Lagos, Ikechukwu, I is here. I is here playing for you, playing seliosly, morning, afternoon and night for the business to work. Tell me, finally the business work abi it not work?'
Ikechukwu was staring.
'Answer! It work abi it not work?'
'I got the contract, yes, can you now tell me what the matter is?'
'Eh-eh-eh! Ikechukwu, don't call Martha into this biko. Don't menshur my mother's name at all, Ikechukwu, you hear me?'
'Okay, I have heard. What is it?'
'You tlavel go Lagos, no accident, thank God. Under my players, business work. You buy two phone come back, one is big, one is small, and you carry the big one give your sister, Ikechukwu, is fair? Through to God, Ikechukwu, is fair?'
Ikechukwu began to laugh instead.
'You are laugh. I talking and you are laugh, okay. I pack my bag already, first thing tomolo morning, Ichida straight! No retreat-No surrender.'
Ikechukwu stopped laughing. 'What? You packed your bags?'
'I have talk my own.' She threw the phone at him. 'Take your kpangolo phone! Beef!'
Ikechukwu picked the phone and ran after his wife.
Upstairs, he tried to open the door to their bedroom and found it locked.
He knocked. 'Honey?'
He knocked again. 'My darling, come and open the door please.'
'Step out! Beef!'
'Me, beef?'
'Goat beef, that's what you are!'
Ikechukwu decided to try another way. 'Gbeki?' he called, teasingly. 'Gbeki, it's me o.'
'You is who?'
'It's your Ikechukwu o.'
'Step out! Go and talk that one with your sister, not me.'
'So you will not open the door for me?'
Nwamgbeke pitched a long hiss—so loud Ikechukwu heard it from outside.
'Honey, but what I gave you is an iPhone.'
'High phone gbakwa oku! Why does you not give it your sister?'
'So you prefer her Tecno to the iPhone I gave you?'
'Ikechukwu, I am not kid. Abulom nwata. I may not go school but I have sense.'
Ikechukwu nodded. 'Of course, you have sense, my darling.'
'Good. Thank God you knows.'
'Can you come and open the door now?'
'Abia!'
'Gbeki?' Ikechukwu's phone started to ring. He pulled it out from his pocket.
Seeing the caller, he walked away into the sitting room.
'Rose, what is it?' His voice was hushed.
A pause.
'Which picture?'
Another pause.
'Oh, the picture of your naked boobs, yes I saw it. Lovely mammary glands you got there.'
'What?'
'You want me to touch them?'
'Feel them, oh.'
'Okay. So, is it like to feel them and check them for possible malignant lumps or just feel them to see if they are real and not plastic?'
Rose cut the call.
Ikechukwu smiled. He heard noises in the kitchen.
The kitchen door squealed as it opened. Ikechukwu walked in. 'Oh, so you finally came out?'
Nwamgbeke said nothing to him. She began to sing instead. 'I ga-asi m efenaya, obugi ga emele m ihe ona emele mu o, I ga-asi m efenaya…'
Ikechukwu came to stand behind his wife. He wanted to hold her and Nwamgbeke picked the kitchen knife and swung back to him with force.
The knife stuck to Ikechukwu's belly.
He groaned and fell face-front to the tiled floor.
…to be continued.
Make sure to subscribe to our updates.