Who's Tom and Who's Jerry?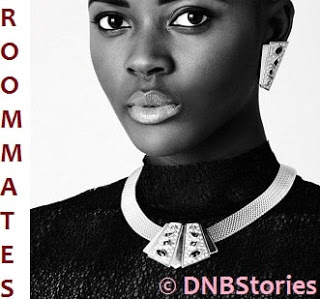 Georgina pushed the door open.
Nwamgbeke was setting her bag at the corner of the wardrobe.
'Hey, you,' Georgina called.
Nwamgbeke turned to her. 'Nne, how far?'

'Take yourself and your bag out of the room, let me have a word with my friends.'
'Eeh?' Nwamgbeke said.
'Take yourself and your bag out of the room first!'
Nwamgbeke turned confused in the face. 'Nne, but why na?'
'Lady, please move outside,' Georgina said, looking at her as though she couldn't fathom what breed of a human being she is.
Nwamgbeke sighed and walked to the chair to sit. 'Let me sitting down on the chair so you talking what you want,' she said.
Georgina pitched a long hiss. She walked straight to Nwamgbeke's bag and lifted it.
Nwamgbeke caught her at the door. With one smooth movement, she jerked her bag off Georgina.
Then she opened the door and swept her out.
She bent and bolted the door.
From outside, Georgina started banging on the door.
April and Loveth appeared to draw back in fear as Nwamgbeke turned.
'Let her lemaining there for the night,' she told them. 'Tomolo morning we opening the door for her.'
***
Far away on the other side of town, the man called Anthony rose on the bed with a start.
He'd had another weird dream. He'd been having them ever since a woman paid him and his gang to abduct and torture a young student and he later found himself drawn helplessly to the girl.
He looked down on himself now and saw that his manhood was strong and stiff.
He rose from the bed and pulled off his boxers.
He stood before the large mirror, staring at his sweaty naked self—from his built and swollen chest down to his shimmering abs and then to his pulsating erection.
He exhaled and picked the bottle of Vaseline lotion on the table. He pressed some cream into his palm, held his rigid organ and started to stroke.
All the while he pleasured himself, his eyes were fixed on the photograph of a smiling young lady pasted on the wall beside the mirror.
A while passed and the velocity of his stroking increased and then his face twisted.
He shivered and let out a great muffled groan as milky drops of his sticky discharge fell to the floor.
He gasped repeatedly, recovering.
Then he leaned forward and kissed the image on the wall: Loveth.
***
Georgina continued to pound at the door till her palms began to sting.
Exhausted, she rubbed her palms together and leaned her back to the wall beside the door.
Slowly, she slid down till her bottom was on the ground and she stretched out her legs.
Inside the room, Loveth raised her hand up like a student that wants to ask a question in class. 'Please can I say something?' she said.
'Nne, talk,' Nwamgbeke told her.
'It's getting late, please can you open the door for her?'
'Yes,' Nwamgbeke said. 'I open it in the morning.'
'But she can't sleep outside.'
'Ha. What is there? I been sleeping outside since rast month.'
'Nwabekee please open the door for her,' April said.
Nwamgbeke turned to her with a smile. 'Fine girl, it is Nwa-Mgbeke not Nwa-Bekee, inu?'
April nodded. 'Ok.'
'Yes. But if it still harding you to say, you can calling me Gbeki for short.'
'Are you a student of this school?' Loveth asked her.
'For where?' Nwamgbeke returned. 'But I follow light this Post-JAMB wey just end last week.'
'What course did you fill?' April asked.
'Raw.'
'What?' April and Loveth chorused.
'Na that one I want do. I want to become rawyer.'
'Oh,' April said.
'Yes.'
'Are you sure you can cope with law?' Loveth asked, staring rather suspiciously at her.
Nwamgbeke smiled. 'Why not, if not. Forget that I not speak English well, I get better sense.' She tapped at a side of her head. 'Something is here.'
'What was your JAMB score?' April asked.
'204.'
April made a face. 'That's fair enough,' she said.
'It's even because time no dey, I for leach 300,' Nwamgbeke said. 'Na as I just turn my paper like this, that orobo invigorator start to dey scleam, 10 minutes more-10 minutes more!'
'You mean the invigilator?' Loveth said.
'Yes, that one.'
'If I may advise, why not take up something simpler,' April said. 'Law is quite a tough course, especially in this school.'
Nwamgbeke shook her head. 'No,' she said. 'Na that one I want do. I needing it. I needing it seliously. Let me ask you, hard thing no be person dey do am?'
April shrugged in concession. 'Well, as long as you are fully up for it.'
'I am vely vely up, Nne. Akwum chii ka amu! [I'm as erect as a dick!]'
April glanced at Loveth with a slightly amused face. 'Ok.'
'So can we now open the door for Georgina?' Loveth asked.
'Eeh?'
'Please.'
'Ok, you can opening it now,' Nwamgbeke said. 'But telling her not to giving me wahala o, I have suffer vely much since beginning of this year.'
'It's okay,' Loveth said. 'I'm sure she will be quiet.'
'Ok. Opening the door for her.'
Loveth stood and walked to the door. She opened it and there was no sign of Georgina.
But her fancy green flip-flops were there. And the beads of her bracelet were scattered on the floor.
***
Next on Roommates Season 3 – A Vigil for Georgina